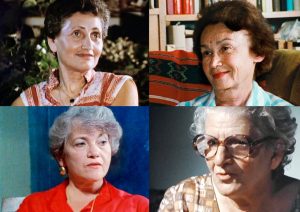 ---
Screenplay
Claude Lanzmann
---
---
Cast
Paula Biren, Ruth Elias, Ada Lichtman, Hanna Marton
---
Synopsis
From interviews shot by the director of SHOAH in the 70s, four Jewish women from four different areas of Eastern Europe –Paula, Ruth, Ada and Hanna– provide their testimonies about how they survived the Holocaust. SHOAH: LES QUATRE SOEURS is a four-part documentary series made for the TV channel ARTE France.
---
---
World Sales-Distribution
ARTE France
---
Filmography
FILMOGRAFÍA SELECCIONADA / SELECTED FILMOGRAPHY:

2018 SHOAH: LES QUATRE SOEURS / SHOAH: FOUR SISTERS
2013 LE DERNIER DES INJUSTES / THE LAST OF THE UNJUST
2001 SOBIBÓR, 14 OCTOBRE 1943, 16 HEURES / SOBIBOR, OCT. 14, 1943, 4 P.M.
1999 UN VIVANT QUI PASSE / A VISITOR FROM THE LIVING
1985 SHOAH

---
Notes
In collaboration with the ULPGC philosophy room Manuel Alemán, the session will feature the presence and participation of Alberto Sucasas, Doctor of Philosophy, specialist in Jewish thought and testimonial literature of the Holocaust and author of the book El campo fuera de campo. Cine y pensamiento en Claude Lanzmann. See p.XX.
---