The Film Festival will screen his latest work Red Rocket before its theatrical release, and will show Prince of Broadway, Starlet and The Florida Project, too
The filmmaker, alongside producer and actress Samantha Quan, will talk with film critic and journalist Luis Martínez (El Mundo) in an open session for those attending Red Rocket's screening on Wednesday, April 27 (5 p.m.)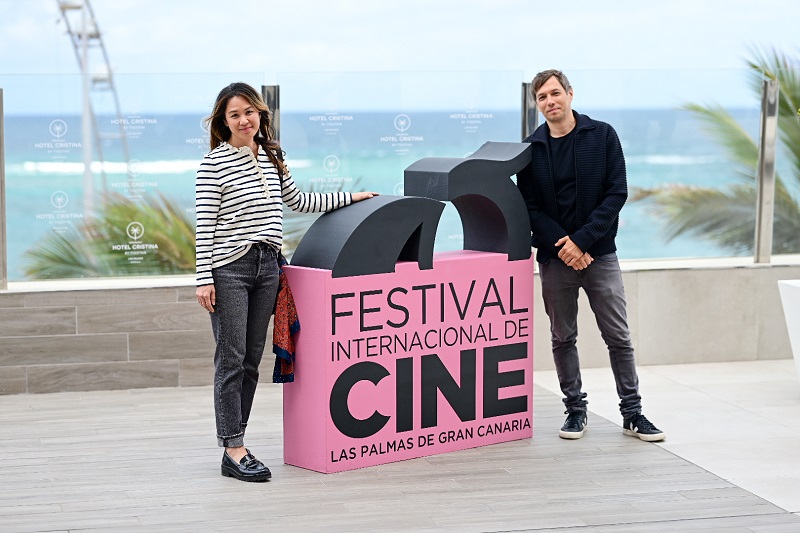 Las Palmas de Gran Canaria, Tuesday 26 April 2022.- Sean Baker's filmography is authentic, honest and chain-free. American independent cinema's current prodigal son, one of the most distinguished directors of the last few decades and an essential author within the festival circuit, has come to the Las Palmas de Gran Canaria International Film Festival to introduce the titles included in the partial retrospective the Festival has dedicated him. Among them is his latest work, Red Rocket, which will be screened tomorrow April 27 at 5 p.m., nine days prior to its Spanish theatrical release. 
Baker's cinema stands out due to his inclination to focus on characters marked by different circumstances and deprived experiences, as well as for giving voice to those who lack it. This is the case of his latest work's main character, a porn actor who nobody misses anymore in his Texas hometown. Red Rocket has been selected at Cannes and shown at the San Sebastian Film Festival, and is distributed in our country by Universal Pictures International Spain.
It depicts Mikey Saber's story, who, after working as a porn star in Los Angeles for years, returns to his hometown in Texas. However, his neighbors don't welcome him with open arms. In fact, nobody seems to want him back or miss him.
A movie that intends to show "the most mundane aspect of porn industry," as Sean Baker explained this Tuesday, April 26, during a press conference in which he was accompanied by producer Samantha Quan. Likewise, the director said that his latest work is "a covid film", shot during the pandemic and because of the pandemic. In fact, after The Florida Project, another film that'll be screened at the Festival, he spent 2-3 years developing a completely different project that centered on drug user activism in Canada. But due to its magnitude and the health situation the American filmmaker decided to work on a smaller production. "We had this idea of Red Rocket already on the back burner (…), had fleshed it out to a certain degree and knew that we could accomplish it with a small budget and during the pandemic," he pointed out.
The project, according to Baker, originated in a research he did about adult cinema in Los Angeles, California, which he also captured in Starlet (103 min.) in 2012. This is another title the 21st FICLPGC will show. Its screening will take place on Friday, April 29, at 8 p.m.. Prior to that, the audience will be able to enjoy The Florida Project (2017, 115 min.) on Thursday, April 28, at 7:30 p.m.; as well as the aforementioned Red Rocket (2021, 128 min.). 
A very special work will give a grand finale to this partial retrospective: Prince of Broadway (2008, 100 min.). This film won the 2009 Golden Lady Harimaguada, the Gran-Canarian Festival's most important award, granted by the jury for his essential survivor story. Even though Baker couldn't receive it in person, he used this opportunity to express his gratitude for that award which, as he admitted, has a "significant" meaning for him because "it wasn't so easy with distribution back then." "Having the support and the love coming from film festivals such as this one for that film truly helped," he claimed.
The filmmaker also thanked the side activities dedicated to his work, which will include a meeting with the audience who comes to Cinesa El Muelle to watch the films he's selected. During tomorrow's screening he'll be accompanied by Samantha Quan, and together they will talk with film critic and journalist Luis Martínez (El Mundo newspaper).
A retrospective that'll allow the Festival audience to delve into the work of a director who belongs to a select group of filmmakers that have chosen to show reality's flip side. All that without downplaying humor's power in his creations, which are always open to freedom and improvisation since they are "an 80% prepared 20% not prepared, so that 20% is left to happenstance and serendipity and just happy accidents."
Sean Baker, a visit that has come true for the Festival
The meeting with Sean Baker is probably the most expected one from this year's program. In Luis Miranda's opinion, the director is one of the biggest names of this 21st edition as well as of the Festival's history. "He's one of the filmmakers we've followed and for whose work we've always felt a significant affinity." After recalling Prince of Broadway's appearance at the Official Section and its growth, since then, within the festival circuit and this century's film culture, Miranda stressed that Baker's filmography "represents in an exemplary manner what best characterizes American independent cinema." He is a filmmaker, he continued, whose films "show a radical commitment to that daily reality inhabited by characters who, despite their deprived and precarious situation, are full of an absolutely undomitable vitality."
In addition to their vitality, his film works also stand out, said Miranda, due to their "ability to capture the oral and gestural languages of these characters that are conditioned by their origins or circumstances but who are rich in reality," because Sean Baker "is a creator of characters within current cinema." He added that "it is moving how his films leave out completely all the excuses that have to do with the ethics of success. They are characters who, maybe reluctantly, and in many cases just by being on a totally different vibe, move on the margins of that ethics of success which would be the ecosystem they are forced to inhabit in a country such as the United States."
During the press conference, Miranda also expressed his satisfaction from having Sean Baker and producer Samantha Quan at the Festival. Contact between both parts had began in 2015 and continued throughout the years, until the meeting finally came to fruition in this 21st FICLPGC. 
The Las Palmas de Gran Canaria International Film Festival, organized by the Culture area of the Gran-Canarian capital's City Council through Promoción de la Ciudad de Las Palmas de Gran Canaria, has received public assistance by the ICAA [Institute of Cinematography and Audiovisual Arts] and the program for the internationalization of Spanish culture, PICE Visitantes, of Acción Cultural Española (AC/E).
Among the Festival's collaborators we may find Cinesa El Muelle, El Muelle Shopping Center, Hotel Cristina by Tigotan, the Elder Museum of Science and Technology or Casa África, places which also function as seats or hold activities; as well as other institutions and companies such as Audiovisuales Canarias, Music Library & SFX or the International Bach Festival. Likewise, its market, MECAS, has been possible thanks to the sponsorship of the Gran Canaria Film Commission-Sociedad de Promoción Económica de Gran Canaria and the support of Canary Islands Film and Proexca.
The University of Las Palmas de Gran Canaria, the Mid Atlantic University, the Audiovisual Cluster of the Canary Islands, CIMA Canarias, the Asociación Microclima Cineastas de Canarias [Association of Filmmakers of the Canary Islands 'Microclima'] and Repeople are also collaborators of the Festival.