➢ The psychological drama by Danish filmmaker Martin Skovbjerg is competing in the Official Section of the FICLPGC
➢ The Danish film will premiere in Spain as part of the Las Palmas de Gran Canaria International Film Festival
➢ This disturbing story will be screened today, April 21, at 5:45 p.m. at Cinesa El Muelle Screen 9, after being introduced by its director, and on Sunday, April 23, at noon at the same screen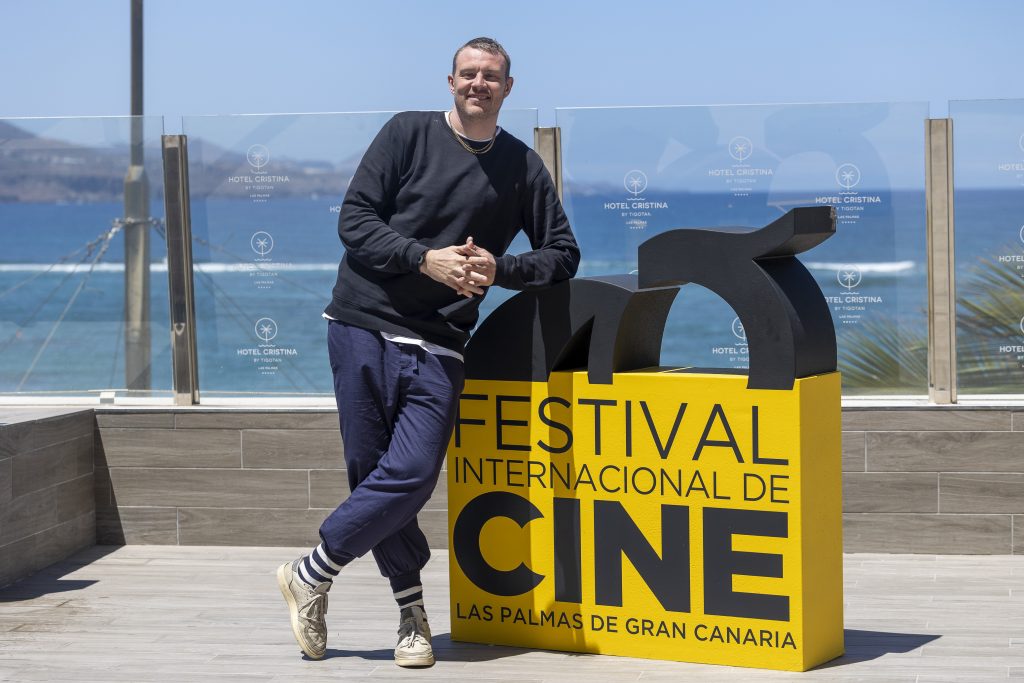 Las Palmas de Gran Canaria, Friday, April 21, 2023.- A young man is interrogated by the father of his lover, who has disappeared without a trace during the couple's trip to a remote island. Such is the premise of Copenhagen Does Not Exist (Denmark, 2023, 98 min.), by Danish filmmaker Martin Skovbjerg, which will premiere in Spain as part of the Las Palmas de Gran Canaria International Film Festival. His dramatic thriller, which is competing for the Golden Lady Harimaguada of this 22nd edition, invites reflection while exploring unconventional love. A story about isolation, it will be screened today, April 21, at 5:45 p.m. at Cinesa El Muelle Screen 9, after being introduced by its director, and on Sunday, April 23, at noon at the same screen.
Copenhagen Does Not Exist is based on the novel Sander, written by Norwegian author Terje Holtet Larsen. The film is scripted by Eskil Vogt who, together with Joachim Trier, wrote the original screenplay for the Oscar-nominated The Worst Person in the World.
It is the second feature film directed by Martin Skovbjerg, who gave a press conference this Friday in which he talked about different aspects of his disturbing tale. The filmmaker pointed out that his goal was to tell a story about isolation that revolves around a radical love story of two unconventional people.
The idea behind the title, said Martin Skovbjerg, "is that, in some kind of way, if you think about that nothing exists, then you exist." Existence is something that can be interpreted in different ways, he claimed. "Because existence is a lot of things, there's a lot of people existing but not really existing." One such possible interpretation of existence, he said, is that of Sander, the main character.
Sander is the partner of Ida, a young woman who disappears without a trace. When she does not return nor is her body found, her father and brother ask him to agree to rather unorthodox ways to discover the truth about what happened while he is voluntarily filmed and interrogated. His story causes them to stumble upon something they could never have expected because Sander is not telling the whole truth.
"One of the biggest things about the movie is that the lead character is not doing anything, he's not like a hero or anything, and I just loved that," he noted about the feature film's main character. "Everything is inside his head and we need to go into it and understand what he has with him." The audience, he continued, "shouldn't connect to him, they should connect to his love to Ida . . . in some kind of way, when he closes his eyes and he has these memories, that's the connection."
The Danish film, screening in Spain at the 22nd edition of the Gran-Canarian Film Festival, premiered at the Rotterdam International Film Festival and was nominated in the category of Best Nordic Film at the 2023 Göteborg Film Festival.
The special thing about the screenplay, the director noted, "is that is about meeting like the world is, you meet some people, you're with them for one and a half hour and then they're out of it again." Another "special thing" about the script, he added, is that "there's more questions than answers . . . and it's the same in real life." He worked a lot with the screenwriter, "trying to get into his brain, understanding what he wanted to do and combining that with what I wanted to do." Regarding his film, he admitted, "either you just fall in love with it or either you're in another place."
"I love improvisation, but the screenplay was amazingly written," he said, "and when you read it it felt like it was cut, also, so we needed to push it and there was a lot of improvisation . . . you have the story here, but there's always magic just around the script, you can play around it and you can find amazing stuff."
With an absorbing aesthetic and mystery, the Danish film offers a plot open to interpretation that makes it difficult for the audience to understand who is really the cat and who is the mouse. The twisted and complex personalities of the characters, who live, although in the middle of a big city, isolated from the world, invite to reflect while exploring unconventional love. Ultimately, in Copenhagen Does Not Exist, nothing is what it seems.
The Las Palmas de Gran Canaria International Film Festival, organized by the Culture area of the Gran-Canarian capital's City Council through Promoción de la Ciudad de Las Palmas de Gran Canaria, has received public assistance by the ICAA [Institute of Cinematography and Audiovisual Arts] and the program for the internationalization of Spanish culture, PICE Visitantes, of Acción Cultural Española (AC/E).
Among the Festival's collaborators we may find Cinesa El Muelle, El Muelle Shopping Center, Hotel Cristina by Tigotan, the Elder Museum of Science and Technology or Casa África, places which also function as venues or hold activities of the film event; as well as other institutions and companies such as Sagulpa, Hospitales San Roque, Audiovisuales Canarias, Music Library & SFX or the International Bach Festival. Likewise, its market, MECAS, has been possible thanks to the sponsorship of the Gran Canaria Film Commission-Sociedad de Promoción Económica de Gran Canaria and the support of Canary Islands Film and Proexca.
The University of Las Palmas de Gran Canaria, the Mid Atlantic University, the the CIFP Felo Monzón Grau-Bassas, the Canary Islands Film Institute, the Audiovisual Cluster of the Canary Islands, Digital 104, CIMA [Association of Women Filmmakers and Audiovisual Media], the Asociación Microclima Cineastas de Canarias [Association of Filmmakers of the Canary Islands 'Microclima'] and Tusity are also collaborators of the Festival.