 These two French filmmakers' works reveal their passion for genre cinema from the 60s, 70s and the early 80s
 Their work has been recognized with several awards at important film festivals related either with genre films or with artistic risk-taking cinema
 The Monopol Multiplex will screen tomorrow Monday the titles "Belladonna of Sadness", "Catharsis+La Fin de Notre Amour+L'étrange Couleur des Larmes de Ton Corps", "Meshes of the Afternoon" and "Red Deep"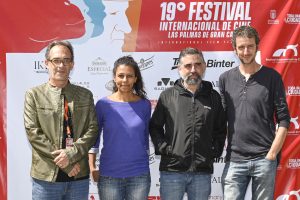 Las Palmas de Gran Canaria, Sunday 24 March 2019.- The 19th Las Palmas de Gran Canaria International Film Festival discovers Hélène Cattet and Bruno Forzani's world with a cycle that includes these two Brussels-based French filmmakers' filmography. A selection of titles that reveal their passion for genre films and that feed from "strong images" developed in a sensory way.
The two directors presented in a press conference this Sunday, March 24th, Cattet & Forzani, a cycle accompanied by a filmography that reveals their passion for genre films and, specially, for giallo, the Italian thriller-horror and fantastic cinema of the 60s, 70s and early 80s.
The filmmakers' couple showed their deep gratitude to the festival's organization because, for them, "the exchange of opinions, not only with the audience but also with professionals, is very inspiring".
Within Spanish filmography, films such as Bilbao, Tras el cristal or Cría cuervos have also been inspiring for them. In that regard, they emphasized that they feel very influenced by Spanish cinema and that they have "a very privileged relation with Spain". In fact, they participated with their first short film, back in 2000, in Sitges and other national festivals.
This filmmakers' couple "works in a natural way" that feeds from "strong images" that make them forget about the films but that remain stored inside them with the later need to "translate them into something". Thus they develop their themes in a "non-educational but sensory" way. "Our films feed from those strong images that are very symbolic and that we develop with certain cinematographic tools through sensations and emotions".
From Cattet and Forzani's passion comes a visceral, stylized and sensorial way of filmmaking, made of very elaborated pictures seeking the communion between character and spectator, and which does not hide such varied and striking influences as Dario Argento or Maya Deren's experimental films, according to what they told to Cine Transit after the great discovery the screening of Amer (2009) meant a decade ago at Sitges.
Lucio Fulci, Giulio Questi, Mario Bava, Umberto Lenzi, Sergio Martino, Massimo Dallamano, Luciano Ercoli, Fernando di Leo or Joe d'Amat also belong to Cattet and Forzani's must-see list. Some references film buffs will not only be able to sense in their work, but also verify directly because the cycle includes other titles selected by them at the Festival's request so that we learn a bit more about their preferences, obsessions and most decisive influences.
Deep Red (1975), by Dario Argento, Meshes of the Afternoon (1943), by Maya Deren, or La bouche de Jean-Pierre (1996), by Lucille Hadzihalilovic, who is also the author of Evolution, one of the best films shot in the Canaries in past years, are among the selected ones.
These filmmakers' work has been recognized with several awards at important film festivals, either related to genre or artistic risk-taking films, such as the Danish CPH PIX, the Portuguese Fantasporto, the French Gérardmer Film Festival, the Montréal Festival of New Cinema, the Swedish Fantastic Film Festival or the Nashville Film Festival, as well as the Spanish Sitges, Molins de Roi or the Málaga International Week of Fantastic Cinema, in addition to being nominated at Locarno, the Chicago Film Festival or many other international festivals.
Luis Miranda, the Film Festival's director, emphasized that this year the festival wanted to look at a couple of filmmakers who work having in mind the codes of European genre cinema.
For his part, Fran Gayo, programmer and organizer of the cycle, compared Hélène Cattet and Bruno Forzani's cinema to "a kaleidoscope full of traps and holes you may fall down into, and that's precisely where the film's true journey begins, when you get lost in those corridors and in those tunnels their works contain".
A kind of cinema that is not thought of as "nostalgic" but made by connoisseurs of the caligraphy of European genre films from the 60s, 70s and early 80s that they use for "creating something new, genuine, contemporary and very personal".
Screenings scheduled for this Monday, March 25th, at the Monopol Multiplex
Belladonna of Sadness (Eiichi Yamamoto, Japan, 1973, 86 min.) 5 pm (Monopol 5)
Catharsis+La Fin de Notre Amour+L'étrange Couleur des Larmes de Ton Corps (2013, 102 min.) 7 pm (Monopol 5)
Meshes of the Afternoon (M. Deren, A. Hammid) + La Bouche de Jean-Pierre (L, Hadzihalilovic) 9 pm (Monopol 1)
Deep Red (Profondo Rosso) (Dario Argento, Italy, 1975, 126 min.) Restored copy. 9:45 pm (Monopol 2)