 "La igualdad marca el ritmo", with Tremenda Jauría, Cintia Lund and Flor de canela's concerts, opens on Friday, March 22nd, the Monkey Nights of the Festival after its opening ceremony
 The Canarian bands GAF, Birkins, Monkey Faces —Carlos Ramos, Carlos Ortega, Manolín Lorente and Fede Beuster— and DJs Miss Sasa, Hada Verde, El Especialista Manel Ruiz, Mono/Stereo Selector, Sergio Miró and Whateque Selector complete the musical program prepared by the Film Festival's programming team at The Paper Club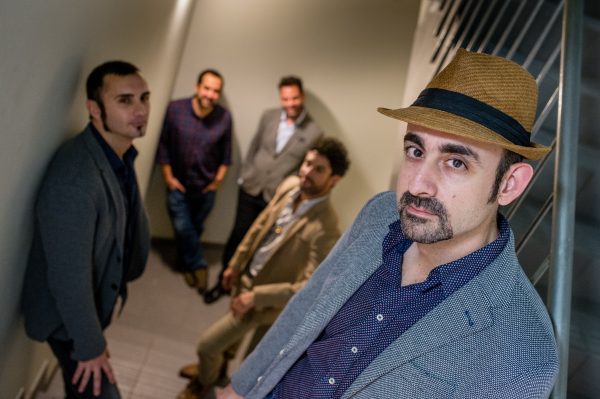 Las Palmas de Gran Canaria, Monday 18 March 2019.- French musician Michel Legrand will be one of the protagonists of the Las Palmas de Gran Canaria International Film Festival's Monkey Nights' second edition. Guitarist Yul Ballesteros has developed the arrangements for some of the most famous works of the composer of "Les parapluies de Cherbourg", who passed away last January 26th, to take them to The Paper Club's stage (10 Remedios Street) on Monday, March 26th, at 10 pm. He will play alongside four fellow Canarian musicians: Suso Vega on the drums, José Vera on the saxophone, José Alberto Medina on the keys and Tana Santana on the double bass.
The Yul Ballesteros Canarian Quintet's concert (free entrance until filled to capacity) was a direct assignment the Festival asked the Gran-Canarian musician. The performance will revolve mainly on the works of Legrand awarded with the Oscar and belonging to the films películas "The Thomas Crown Affair", "Summer of '42" and "Yentl". Yul Ballesteros, with a jazz career and training, will also explore alongside his quintet Legrand's career directly related to jazz, with songs like "Round Midninght", "I Love Paris", or the aforementioned "Les parapluies de Cherbourg".
Michel Legrand (Paris, 1932 – 2019) left behind a significant number of scores, two Oscar awards and almost thirty works —between nominations and awards— that appeared in the Grammys. He recorded during his career with great jazz references such as Miles Davis, Bill Evans, Coltrane or Hank Jones.
DJ Mono / Stereo Selector's session will put a follow-on to the night
The Monkey Nights will start three days before, on Friday, March 22nd, after the Festival's open ceremony with the "La igualdad marca el ritmo" [Equality sets up the rhythm], programmed in collaboration with the Department of Equality and Citizen Participation of the Cabildo de Gran Canaria. Under the heading "Feminist concert", the first of the Monkey Nights will present the performances of Madrid-based collective Tremenda Jauría, singer Cintia Lund and band Flor de canela, starting at 10 pm.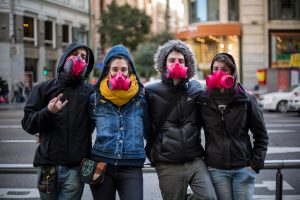 Tremenda Jauría is a Madrid-based DIY collective of urban music with reggaeton, cumbia and other tropical sounds as war cry. After their LP Mordiendo (2016) and the EP Cuentas Pendientes (2017) these four women released in 2018 the album Codo con codo, and now in 2019 their last work IV.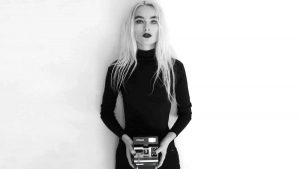 Cintia Lund, charged with closing the night, is one of the great revelations of the indie scene debuts with a collection of hypnotic dream-pop songs with folk strokes and flashes of electronica. She signed with one of the best Spanish indie companies, Subterfuge, and now lives in between Madrid and New York. Some of her influences are The Doors, The Beatles, Goldfrapp, Holly Golightly, Velvet Underground, Portishead, Peggy Lee, Film soundtracks…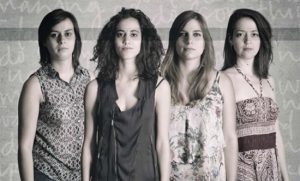 Núria Balaguer, Paula Vegas, Marta Bautista and Xerach Peñate, with their band Flor de canela, will open this women's night. Their music combines jazz works with Latin sounds and is nurtured by a vocabulary with pop and indie traces.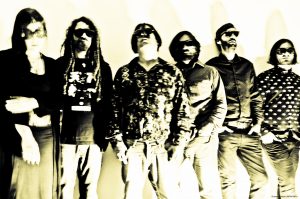 On the second night designed for music-lover cinephiles, that of Saturday 23rd, the Monopol Music Festival's program (MMF) meets the Monkey Nights: the former leader of hardcore punk band Standstill, Enric Montefusco, will play his new vibes, to be later followed by one of the greatest exponents of Spanish psychedelia, the Tenerife-based sextet GAF, and by Sergio Miró DJ Set.
Since 2010, GAF has been editing with the Barcelona label, Foehn Records. Their latest album, Gamma Bay, released in 2018, is an approach to psychedelic rock and shoegaze, its sound being more energetic, dark and dense than in previous works. The performance will hold its own songs and extended versions of their reinterpretations of Nino Rota's music made for the opening ceremony of the Festival.
The MECAS Party, on Tuesday, March 26th, will start at 10 pm with Monkey Faces, the reunion of Carlos Ramos (guitar and programming) and Carlos Ortega (voice) and their old intention to bring a shared musical proposal and the incorporation of two major musicians in the Canary Islands: Manolin Lorente (Bass) and Fede Beuster (drums and percussions). The route of the musicians is wide and diverse, passing through groups as relevant to the Canarian scene as Hermanitas, Palmera, Cebolla Jazz Band or Zurych.
The night devoted to the Market of Almost-Finished Films (MECAS) will end with DJ El Especialista Manel Ruiz's session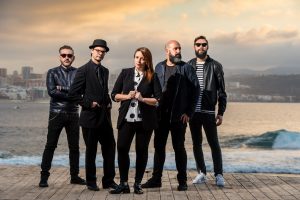 Half way through the week, on Wednesday, March 27th, the Official Party will gather Gran-Canarian band Birkins and DJ Hada Verde. Birkins, formed by Cristina Santana, Alby Ramírez, Sergio Miró, Thiago Gomes and Rafa Daza, characterizes by their colorful pop, French chanson, rock and psychedelia of their songs, which has led their music to be labeled in some media as "neochanson" or new French song. The past few weeks Birkins have been immersed in their fifth studio work's release, You Are Not Alone, a review of David Bowie's classic, "The Rise and Fall of Ziggy Stardust and The Spiders From Mars".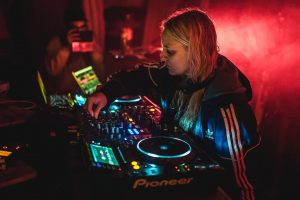 On Friday, March 29th, from 1:30 am on and after the MMF's concerts, DJ Whateque Selector will put an end to the night. The last of 2019 Monkey Nights, The Clausura Party, will be held the following day with another late DJ session by artist and gallery owner Miss Sasa. She will be the one to put an end to the Festival's musical nights at The Paper Club, after the MMF's night at the plaza de Santa Ana [Santa Ana Square].
Miss Sasa's sets are are an extreme and non-repetitive collection of violence, disaster and revisitation of dance music. We never know where it will take us, from Technotronic to Suicide and beyond. Silverio, Dellarge, Joe Crepúsculo, Ellen Allien, David Carreta, Alexander Robotnick, Lily Waters, Sasha Funkel or Rework, are some of the names with which she has shared a booth during almost two decades of musical journey that could be defined as experimental eclectic punk, electro-techno feminism or as she calls her latest sets Electrohardware Listen; Recording & Destroyed.
The Paper Club, as a collaborator of the festival, will also open its doors to the public each afternoon the unequaled El Séptimo Vicio, from Radio 3 and hosted by Javier Tolentino, broadcasts a show, with musical performances included, in their club. El Séptimo Vicio will take the Paper on Wednesday 27th, Thursday 28th, Friday 29th and Saturday 30th*.
THE MONKEY NIGHTS program
FRIDAY MARCH 22ND · LA IGUALDAD MARCA EL RITMO: FLOR DE CANELA + TREMENDA JAURÍA + CINTIA LUND THE PAPER CLUB. Doors opening: 9:30 pm. Free entrance.
SATURDAY MARCH 23RD · THE MONKEY NIGHTS + MMF: GAF + ENRIC MONTEFUSCO + SERGIO MIRÓ DJ SET · THE PAPER CLUB. 9:30 pm. Doors opening: 9 pm. Ticket: 10 €.
MONDAY MARCH 25TH · CANARIAS CINEMA PARTY: YUL BALLESTEROS CANARIAS QUINTET: Tribute to Michel Legrand + DJ MONO/STEREO SELECTOR· THE PAPER CLUB. 10 pm. Doors opening: 9:30 pm. Free entrance.
TUESDAY MARCH 26TH · MECAS PARTY: MONKEY FACES + DJ EL ESPECIALISTA MANEL RUIZ · THE PAPER CLUB. 10 pm. Doors opening: 9:30 pm. Free entrance.
WEDNESDAY MARCH 27TH · OFFICIAL PARTY: BIRKINS + DJ HADA VERDE · THE PAPER CLUB. 10 pm. Doors opening: 9:30 pm. Free entrance.
FRIDAY MARCH 29TH · POST PARTY DJ AFTER MMF: DJ WHATEQUE SELECTOR · THE PAPER CLUB. 1:30 am. Free entrance.
SATURDAY MARCH 30TH · THE CLAUSURA PARTY: DJ AFTER MMF'S CONCERTS AT SANTA ANA: MISS SASA DJ · THE PAPER CLUB. 1:00 am. Free entrance until capacity is reached.
* Wednesday 27th, Thursday 28th and Saturday 30th (at 5 pm) and Friday 29th (1 pm): live recording of the show El séptimo vicio (RNE – Radio 3) with Javier Tolentino. Live performances. Free entrance until capacity is reached.