 The director of "La ciudad oculta" explains the shooting of the second feature film competing in the Canarias Cinema section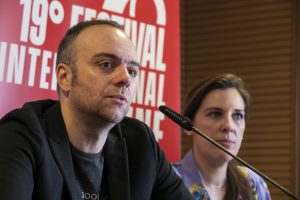 Las Palmas de Gran Canaria, Saturday 23 March 2019.- Víctor Moreno, director of the second competing feature film, presented today, March 23rd, La ciudad oculta. The film has provided him with the opportunity to portray something that has never been done before, as it happens to be the subsoil of a city, thus allowing him "to play with an imaginary world", which, as a filmmaker, has made him "feel really free".
The Canarian director explained how long and hard was to obtain the license to shoot in the city's subsoil, which took them a year, as well as finding the locations. He also talked about the difficulties he encountered during the shooting itself because of his decision of not using any artificial light and instead trying to play from darkness. He referred, too, to the narrow, close places, which where difficult to reach with heavy equipment.
Despite these obstacles, "he is motivated as a filmmaker" because if he had to make cinema in the streets he probably wouldn't make it because he "likes the idea of filming in inaccesible places". He then specified that in La ciudad oculta he started with the idea that shooting underground "meant to deal with an unexplored territory that he was going to imagine as he wished".
In that regard, he added that "cinema has something of a revelation because it helps us see what we are not used to", and that's why his cinema, he explained, "is based on looking and hearing".
Candidate for the Richard Leacock Award, La ciudad oculta, which competed in the last edition of the Seville Festival, has been maded by a large number of Canarian filmmakers. Its director, Víctor Moreno, also worked on the screenplay besides Nayra Sanz and Rodrigo Rodríguez, while the production of the film was in the hands of José A. Alayón and the editing on those of Samuel M. Delgado, all of them regulars of the festival.
Regarding the screenplay, Nayra Sanz explained that "it was a very particular work having to document a place you don't know". She also pointed out that "it was about imagining through feelings and based on all the elements, like water, fire and earth".
The other three feature films competing in the Canarias Cinema section are Searching for Oscar, by Octavio Guerra; Platón, by Iván López, the only fiction feature of this selection; and Milagros, by David Baute.