 Claudia Torres is the first to mount the Film Festival's winner's podium with a work that has been included in the Canarias Cinema Short Film selection
 Digital 104 founders and filmmakers Jonay García, Jairo López and Domingo J. González have decided to grant the award to the Canarian filmmaker's debut film
 MECAS, the Festival's market, has announced its awards: La mala familia has won the Almost-Finished Film Award and Celosos hombre blancos has obtained the Film to Be Made Award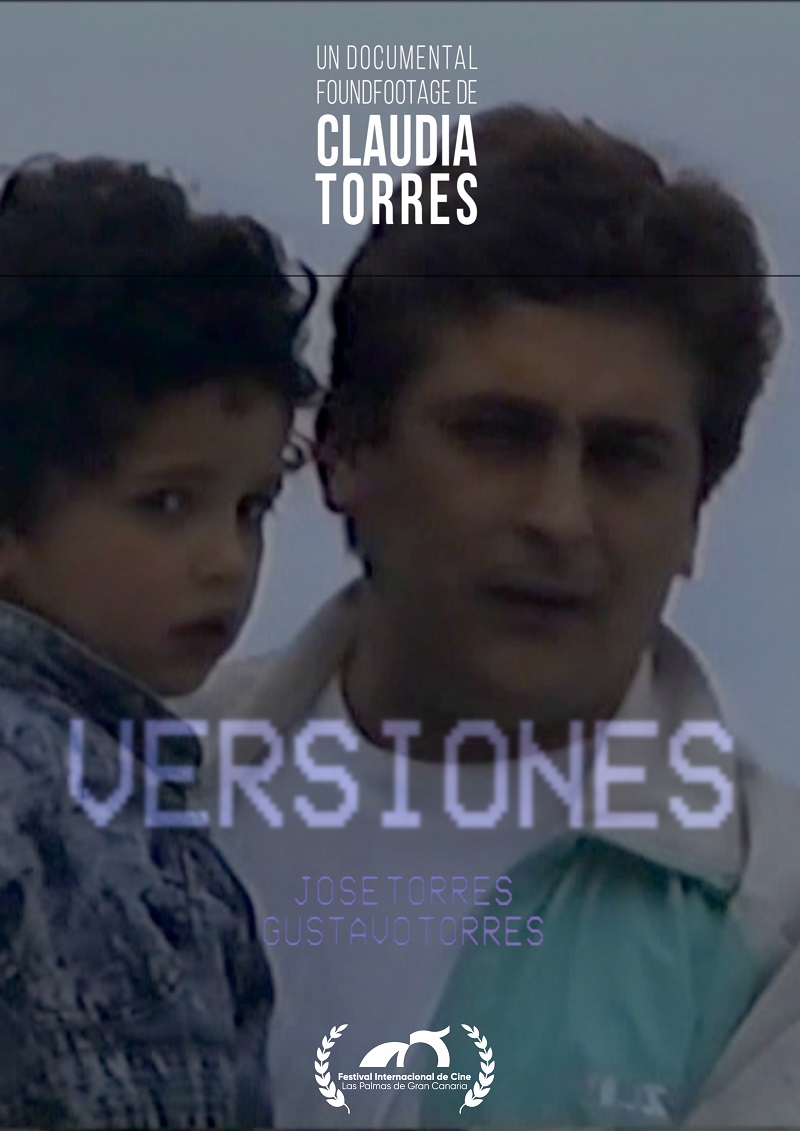 Las Palmas de Gran Canaria, Tuesday April 13, 2021.- Claudia Torres' debut film Versions, a bold and personal work, centered around her own father and brother's evolutions and which reconstructs authentic material preserved for years by her family in VHS tapes, has been favored by the Digital 104 jury "due to its suggestive ability of transcending the intimacy of home recordings, getting the audience to question the reality hidden behind all systems of representation."
It was thus confirmed by Jonay García, Jairo López and Domingo J. González, filmmakers and founders of the distribution company that has supported for seven years the films included in the Canarias Cinema section with an international distribution award.
Versions, therefore, will be subject to a strategy for international distribution, advising, management and submission to a hundred festivals around the world carried out by Digital 104. The young Canrian filmmaker, who has debuted in the 20th edition of the Film Festival, was thus notified last Monday night.
Even before presenting her work Claudia Torres confirmed to the Festival that she was very excited because "since I first saw the Festival, I knew it wouldn't be easy, because it's well-prepared and top-level. Being able to be there", she finished, "is great". And when she was told the decision of the jury, she admitted that it took her a while to answer because "I was screaming and jumping and crying."
MECAS AWARDS
In parallel, the Festival's Market as well: MECAS has announced its fourth edition's awards: La mala familia has won the Almost-Finished Film Award "because of its necessary political impact and due to it showing male stereotypes' fragility" and Celosos hombre blancos has obtained the Film to Be Made Award.
On Monday night it was announced, too, Island Mecas' decision, whose award, granted by Canary Islands Films, has been given to Tal vez by Arima León.
Rocío Mesa (My Deer Films), Susana Santos (Rotterdam International Film Festival), Dailo Barco (president of the Association of Filmmakers of the Canary Islands 'Microclima'), Lluis Miñarro (Eddie Saeta), Isona Admetlla (Berlinale World Cinema Fund) and Joan Sala (Filmin) have been the ones in charge of judging the 19 projects selected in this edition and deciding the awards of the international markets focused on Almost-Finished Films and Films to Be Made, which consist on a €8,000  prize for the former (La mala familia by Nacho A.Villa and Luis Rojo) and a €5,000 prize for the latter (Celosos hombres blancos, by Iván Granvosky). This jury has also decided to grant a special mention to Balearic by Ion de Sosa due to his brilliant pitch.
On the other hand, the jury made up of Gloria Bretones (Begin Again Films), Luis Ramírez (executive producer), Rubén Zarauza (Birdland Entertainment), Shopie Erbs (Cinéma Defacto) and Beli Martínez (Filmika Galaika), in charge of judging the projects included in Island MECAS, decided to give the €1,200 prize granted by Canary Islands Films to Arima León's project "because, despite having a very local identity, it presents a conflict and some characters with great possibilities of internationalization."