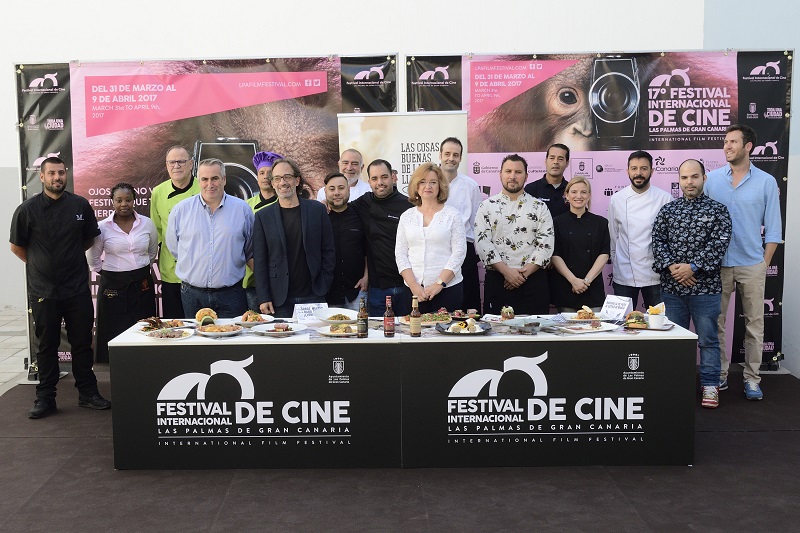 Las Palmas de Gran Canaria, Wednesday, March 29, 2017. The Las Palmas de Gran Canaria International Film Festival has presented its 1st Gastronomic Tour, an initiative coordinated by Javier Suárez, sponsored by Dorada Especial, and which includes twenty restaurants from Triana and Vegueta.
The Las Palmas de Gran Canaria City Council's Culture councilwoman, Encarna Galván, together with the Film Festival's director, Luis Miranda, presented a gastronomic tour orchestrated by the director of Radio Marca Gran Canaria's program Locos por la gastronomía, Javier Suárez, who attended the meeting with the media, accompanied by Paris García, Dorada Especial's representative, as well as with fifteen representatives from the twenty restaurants that joined the initiative.
During the presentation, the chefs showed their creations and the attendees could taste some of their proposals. According to Suárez, the Gastronomic Tour seeks to form alliances between the film and restaurant industries, while getting the citizens involved so that they become interested in and enjoy a Festival in which the city is integrated through different ways: screenings, debates, courses, workshops, and gastronomy, too.
More than forty establishments have shown their interest in taking part in this tour that, in its first edition, has opted for diversity as selection criteria. Thus, out of the twenty selected, eighteen restaurants are in Triana and Vegueta: María y Stuart Kitchen Bar, La Pepa de Triana, Tu Tiempo… Your Time, Dara Feeling Good, Allende Triana, La Perra Chica, Majuga, El Patio del Cuyás, La Jamonería de la Quinta, La Champiñonería, Boccanegra Wine and Food, Tres Jolie, Vai Piano, Scooter's Las Ranas, El Herreño, 200 gr Burguer Cairasco, Manso Las Palmas and El Canalla; and two other selected according to the same criteria, but seeking to reach other areas related to the Festival, like the Bodegón Casa Fataga, close to the Elder Museum of Science and Technology (where the No Future film series' screenings will take place) and La Bodega de la Marea, a crossing point for those filmmakers and guests staying in the area.
Apart from offering a special dish for the Festival, each restaurant will work as usual, maintaining their menus, so that, from March 31 to April 9, clients can share the same space with the audiovisual sector present in the city, due to the Film Festival.
Gastronomic Tour's list of restaurants and dishes:
-María y Stuart Kitchen: Duck Ropa vieja
-La Bodega de la Marea: Black pork pressed and sweetened in its own juice
-Tu Tiempo, Your Time: Beef jaw covered in a reduction of its own juices, mortar potatoes and glazed grapes
-Allende Triana: Honeyed rice with oxtail and vegetables
-La Perrachica: Iberian loin with false risotto
-Majuga: Goose maigret cooked in three atmospheres with potato biscuit and balsamic mousseline of little fruits
-La Jamonería de la Quinta: "Ham, ham" A special Iberian ham selection with foie and Canarian cheeseboard
-Casa Fataga: Black pork cannelloni with cheese fondue and black truffle slices
-Champiñonería: Warm mushroom and apple salad
-Boccanegra Wine and Food: "Kill Bill" Double boiled spiced entrecote, with strawberry barbecue sauce and red wine, on top of roast apple with rosemary honey and wrinkled potatoes with its mojo
-Tres Jolie: "The Great Beauty", House spaghetti with shrimps, cherry tomato, mushrooms and zucchini.
-Vai Piano: Risotto al Prosecco with orange, asparagus and foie.
-Scooter's Las Ranas: Pizza Love Story
-200gr Burger Cairasco: Burger "Life is Beautiful" 160gr beef meat, arugula, pesto and dried tomato
-Manso Las Palmas: Iberian pork taco with pickle vegetables and sweet chili mayonnaise
-Tasca el Canalla de Vegueta: "The Silence of the Lambs" Rosemary infused roast lamb ribs
-Dara Feeling Good
-La Pepa de Triana
-El Herreño: Roast lamb shank with local potatoes
-El Patio del Cuyás