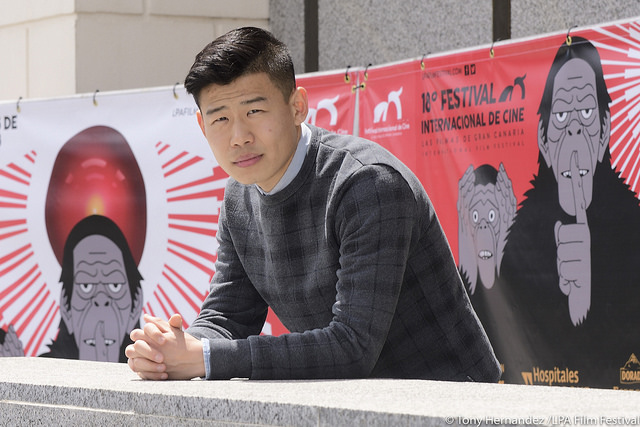 Director Tian Tsering presented this Thursday, April 12, at the Pérez Galdós Theater, his film Barley Fields on the Other Side of the Mountain, which is competing in the Las Palmas de Gran Canaria International Film Festival's Official Section. The Chinese filmmaker, accompanied in the press conference by writer and film critic Antonio Weinrichter, stressed that his intention of telling a story "about family and personal relationships" in Tibet, though he admitted that in this case "it's impossible to do it disregarding its political background".
The Chinese director, a London resident, shot a film that depicts the story of a teenage girl must choose between supporting her family after her father's political imprisonment or joining a group of oppressed nuns on their journey to freedom. Tsering emphasized that his feature, which is his directorial debut, was filmed "with non-professional actors who are refugees living in India; it was undoubtedly one of this work's most memorable things".
Regarding his personal motivations for tackling this work, Tian Tsering mentioned that "when I was a child I was in Tibet, and I liked the trip, the landscape and the experience, but I wasn't aware back then of its political situation. After university, I came back to the North of India, to the Himalayas, and found something quite resembling of what I remembered, I thought it was the perfect opportunity to shoot a film".
During the production, the young director could meet refugees "that had made a huge effort to get on foot to India from Tibet and who knew they could not come back. That marked me a lot". At first the idea he had was telling the story of a nun from this region, "but in the end the experience these refugees had lived took me in another direction, into a reality in which even the Chinese army shot them in some parts of the road. I did not have any political intentions, but the stories they told me led me there by force".
When asked about his first shooting, Tsering said that "it has been a wonderful journey. For most of the technical team this was their first job in cinema, and together we've been able to explore everything related to the industry. It has changed us all".
Barley Fields on the Other Side of the Mountain was finished "in five or six weeks, but it was not necessarily complicated. The hard parts were pre-production and post-producion, until we were able to take the film to a festival like this one", explained its director.
Tsering was asked is he expects any kind of impediment for the film on behalf of China, to what he answered "I don't know, it's none of my business. I'm sure they won't like the film. But I didn't make it for the Government, not even for a Chinese audience: I have made it for my family. They'll probably censor it…". At this point, the filmmaker emphasized that the film "is a tribute to my grandmother, who died during the shooting. Not everything has a political meaning, I also saw her in the film's grandmother".
The Chinese director stressed that "I can't tell a story set in Tibet disregarding its political background, though my real interests are personal relationships, family…, a universal subject".
Barley Fields on the Other Side of the Mountain will be screened this Thursday, April 12, at the Pérez Galdós Theater at 9:30 pm; and at the Monopol Multiplex tomorrow, April 13, at 5 pm.