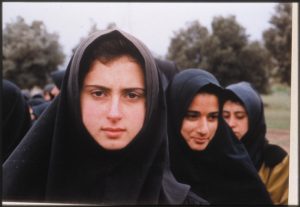 Director
Abbas Kiarostami
---
Screenplay
Abbas Kiarostami,
---
Cinematography
Hossein Jafarian, Farhad Saba
---
Producer
Abbas Kiarostami, Alain Depardieu
---
Cast
Hossein Rezai, Tahereh Ladanian, Zariefh Shiva, Farhad Kheradmand, Mohamad Ali Kesharvarz, Babek Ahmad Poor
---
Synopsis
A movie crew moves into a small Iranian village that has been shocked by an earthquake. A local guy starts working as an assistant for the team, also playing a small role in the film, where a young girl works as well. The guy is madly in love with this girl, but cannot marry her because of his parents opposal.
---
---
World Sales-Distribution
Mk2 Films
---
Filmography
FILMOGRAFÍA SELECCIONADA:
2018 BAD MA RA KHAHAD BORD / THE WIND WILL CARRY US
1997 TA'M E GUILASS / TASTE OF CHERRY
1994 ZIR E DARAKHATAN É ZEYTON / THROUGH THE OLIVE TREES
1990 NEMA-YE NAZDIK / CLOSE-UP
1987 KHANE-YE DOUST KODJAST? / WHERE IS THE FRIEND'S HOME?

---
Notes
Festivals: Cannes, Chicago, Sao Paulo, Valladolid
---