 The Las Palmas de Gran Canaria International Film Festival starts this Wednesday 14 April, at Edificio Miller, the afternoons devoted to the most irreverent horror films in the circuit: a proposal that, with its short films, also present the Basque freak, redefines the serial killer concept and revisits the Godzilla character
 Once again, Jesús Palacios puts together a compelling programming for all fans of the genre, in the most complicated year ever, but not without stressing that "we freaks are more than prepared for this: we come from a school that teaches us not to be so openly unprotected"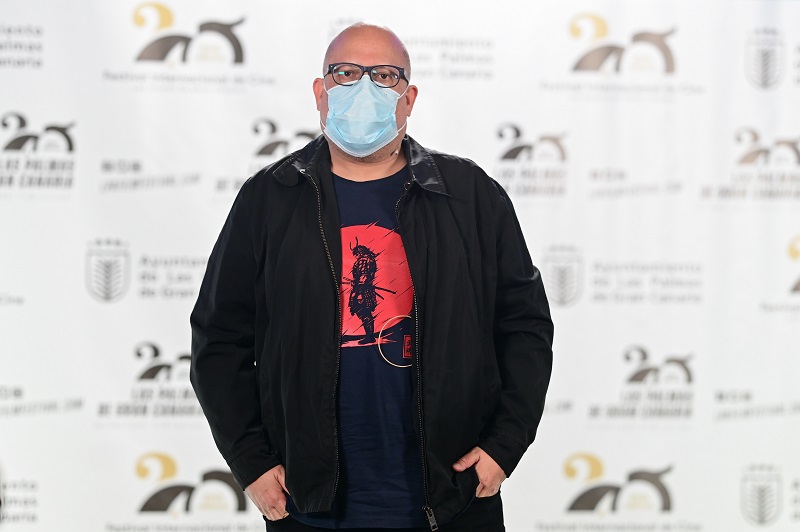 Las Palmas de Gran Canaria, Tuesday 13 April, 2021. Freak imagination is one of Las Palmas de Gran Canaria International Film Festival's identity features: a ground-breaking festival in Spain in regards to including a marathon of films characterized by screams, frights, gore, and unique humor and which has become famous under the title "The Freakiest Afternoon". But these are pandemic times, and new formats are now needed. Something that, in this case, means that Jesús Palacios, usual programmer of this section, will have to spread the usual screenings, now under The Freakiest Afternoon name, over three days: on April 14, 15 and 16, at Edificio Miller at Santa Catalina Park.
Putting together the 2021 program, in any case, "has not been that different from years past. We've needed to adapt to lots of new conditions, from screenings to schedules. And go without the night's traditional format, when these are very nocturnal films: rescheduling for the afternoon is something completely different. But," stressed Palacios, "let's hope it is but a temporal issue. Freak reality is very different from freak fiction, and for those of us who are fans of horror, extreme and black humor cinema, it somehow catches us a more prepared. We've seen plenty of pandemics. If there is an audience prepare for this, is this one."
In other words, this section's usual audience perfectly knows where to shoot a zombie to finish its threat (to the head, always to the head). "Yes, for sure," agrees Palacios, who has not been intimated by such a really complicated exercise of assuming a task whose results are definitely identified with the Gran-Canarian Festival. "This year," he explains, "it's been more difficult to oversee new titles, and festivals, when they've been held, have been shorter. Logically, there have been less releases, too. But in the end we've been able to put together a program that has nothing to envy those of previous editions."
Although, evidently, difficulties for programming have been the least inconvenient in a very freak year, as Palacios himself have defined it. Though, he claims, "I have no doubt that we freak fans are definitely more prepared for human existence's most tragic contingencies. With the pandemic everything has almost reached the point of a catastrophic sci-fi movie. And this also occurs, in general, with the society we live in, in which we increasingly have more dystopic experiences. We are more prepared for this that fans of Julia Roberts' romantic films, for sure," concludes Palacios, with that characteristic irony-covered serious tone of his. "This is a school that teaches us not to be so openly unprotected."
Basque freak and the lacto-apocalypse
In the first freak afternoon, on Wednesday 14, the audience will be able to enjoy the short film Dar-dar (2020), by Pablo Urquijo, who has been lately the revelation of the genre. "Fantasies associated to Basque folklore are his topic," points out Palacios, who recalls that Errementari: el herrero y el diablo (2017) was "a real breath of fresh air in Spanish cinema in general."
Vanamehe Film / The Old Man Movie (2020) is the first afternoon's feature. An Estonian film, directed by Mikk Mägi and Oskar Lehemaa, "which has been this year's revelation for all fans of the craziest animated films. It's an apocalypse story that has to do with a cow. The lacto-apocalypse, really. This has been a total surprise. Though, evidently, animated films from the old soviet republics have always been great," concludes the programmer.
Psycho Killer and Indonesian Horror
Feathers (2013), by Quique Francés, is a short film scheduled for Thursday 15, which Palacios "was bent on bringing it to the Festival, because I found it a very fun idea, an interesting twist to the serial killer myth. I think it's going to surprise those who doesn't know it a lot." It should be remembered that this comes from an authority on the topic, author of the book Psycho killers: anatomía del asesino en serie (1998) [Psycho killers: anatomy of the serial killer], a reference work on the subject still today.
For that same afternoon it is scheduled Ratu ilmu Hitan / The Queen of Black Magic (Indonesia, 2020), a film by Kimo Stamboel. "It's a country that's been making this sort of cinema since the fifties and sixties," stresse Palacios. "This film, in fact, reexamines an 80s classic. It's funny, with a roller-coaster of special effects and frights. It uses in a particular way Budism and Asian hell iconography. It is not alien to Western cinema either: it will surprise fans of Sam Raimi or Romero. It's very Evil Dead-like, but with than more Asian universe.
Godzilla revisited and pure Alan Moore
On Friday, the last freak afternoon of the Festival, an old acquaintance of the genre comes back, although through a new perspective. Familie Zilla Macht Picknick / The Zillas Have a Picnic (2019) Christian Franz Schmidt's surprising proposal. A German optic to revisit a contemporary Japanese icon. "It is good that a sense of humor is recovered, and this is a very funny and amusing version of the character," says Jesús Palacios, who has saved for later an authentic load of depth.
That is, The Show (2020), a film directed by Mitch Jenkins… and written by Alan Moore. The debut in this role of one of the biggest names in contemporary graphic novels. "This is a British work that includes surrealism, horror, within a universe characteristic of its writer," points out Palacios, not without recalling that Moore "has been haunted by the curse of not being able to see his work adapted to films in the way he would've liked to. That didn't happen with V for Vendetta or The Watchmen."
Mitch Jenkings, continues the programmer of The Freakiest Afternoon, "has collaborated with Moore in several short films, and now makes this feature, which is based in no comics. It's something thought for the big screen. That being said, what the audience is going to see is pure Alan Moore, with a very particular mixture of occultism and cities' secret life. It's a very absurd and classic plot, with a very interesting neo-noire esthetic.
The Freakiest Night's legacy
In perspective, Jesús Palacios notes that "The Freakiest Night has been a very recognizable feature of this Festival. Until then, non-specialized festivals wouldn't include this sort of films, except in isolated cases. And they had never thought about devoting them a place such as this. It's not an invention of the Festival, it had already been done in Toronto or Sundance. And in Anglo-saxon cinema there has always existed that concept of a night marathon. But there wasn't anything like it in Spain. We've been ground-breaking in that sense: and this model has been later adopted by other festivals. And, yes, I think outside we are recognized because of this. These past years in social networks have done a lot in that sense, and have expanded people's knowledge in regards to the Festival's freak programming".
THE FREAKIEST AFTERNOON 2021
(Screenings at edificio Miller, Santa Catalina Park)
Tickets at entrees.es: 4€
Wednesday 14 April. 7 pm. THE FREAKIEST AFTERNOON (1)
SHORT FILM: Dar-Dar (Paul Urkijo, Spain, 2020)
FEATURE FILM: Vanamehe Film / The Old Man Movie (Mikk Mägi, Oskar Lehemaa, Estonia, 2020)
Thursday 15 April. 7 pm. THE FREAKIEST AFTERNOON (2)
SHORT FILM: Feathers (Quike Francés, Spain, 2013)
FEATURE FILM: Ratu ilmu Hitan / The Queen of Black Magic (Kimo Stamboel, Indonesia, 2020)
Friday 16 April. 6:30 pm. THE FREAKIEST AFTERNOON (3)
SHORT FILM: Familie Zilla Macht Picknick / The Zillas Have a Picnic (Christian Franz Schmidt, Germany, 2019)
FEATURE FILM: The Show (Mitch Jenkins, United Kingdom, 2020)
The screenings are subject to all security measures fighting the spreading of COVID-19, so masks are compulsory and social distances need to be observed at all times during screenings.