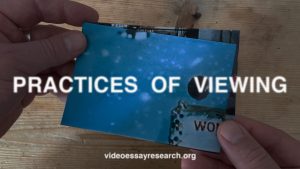 FRIDAY 29. 11 AM (Private screening)
Screening of the video essay series PRACTICES OF VIEWING (Switzerland, 2021) with a master class afterwards, given by the director Johannes Binotto.
Johannes Binotto is senior lecturer in cultural and media studies at the University of Zurich and Lucerne University of Applied Sciences and Arts, experimental filmmaker and video essayist. His research is focused on the intersections between media theory, psychoanalysis and philosophy of technology. He has published widely on spaces of the uncanny, the queer body, and the unconscious of cinematic technology. Since 2021, he has led the research project videoessayresearch.org. His experimental video essays have been shown at film festivals such as the International Film Festival Rotterdam, Kurzfilmtage Winterthur or Fisura in Mexico. In the international poll "Best Video Essays of 2021" hosted by the British Film Institute and Sight and Sound magazine his videos received the most nominations.