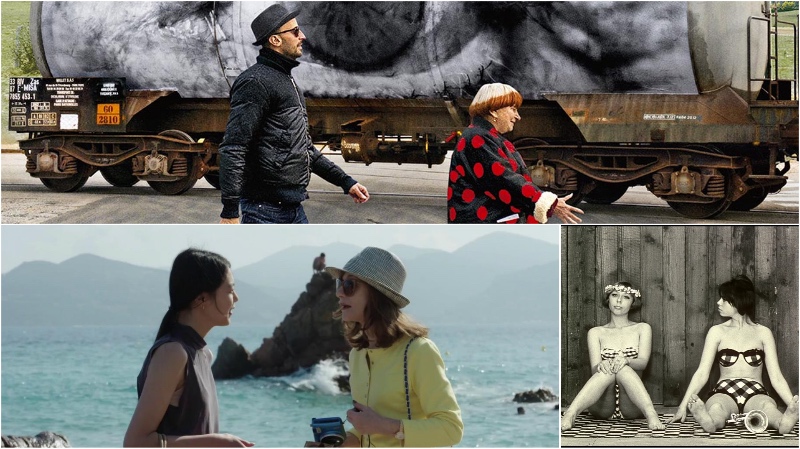 Hong San-soo and Agnès Varda, in the Panorama section
The Festival's Panorama section gathers, as its fans probably know, some of the best films screened at last year festivals. Friday 13 is, too, French-like thanks to the South-Korean-French production La caméra de Claire, the last film by one of the Las Palmas de Gran Canaria Festival's favorite directors, South Korean Hong San-soo; as well as thanks to Visages Villages, by other outstanding 20th-century independent director, Belgian Agnès Varda, who made this feature alongside urban artist JR.
In La caméra de Claire, shot during the 2016 Cannes Festival, Hang San-soo casts again two excellent actresses: Isabelle Huppert (with whom he shot In Another Country in 2012) and Kim Min-hee (2015 Right Now, Wrong Then's leading actress). Huppert plays Claire, a school teacher who travels to Cannes and meets there a woman recently fired from her job and also a film director whose one-night stand with the woman was the reason for her firing. La caméra de Claire has been at Cannes, Hong Kong, Gante and Valdivia, among others. Its showing will be at 5:30 pm at the Monopol Screen 2.
The documentary Visages Villages, shown at the Cannes, San Sebastián, Telluride and Toronto festivals, among others, talks about the relationship between its director and artist JR, their meeting and their respective artistic expressions, cinema and open-air photography. The film will be shown at 7 pm at the Monopol Screen 5.
Single screening of Sedmikrásky (Dasies), by Czech pionnering Věra Chytilová
After almost eight days of Festival, there are still great films to be seen at the Monopol's screens. The May 68 film series presents in a single showing a feature by Czech avant-garde pioneering cinema director, who also renew European cinema, Věra Chytilová (passed away in 2014): Sedmikrásky (Dasies) (Czechoslovakia, 1966, 79 min.), which was censored for years and which, like the rest included in the film series, meant a formal and conceptual break at the time. Chytilová's film depicts two teenage girls wreaking havoc in an attempt to attack all forms of social conventions.
Its inclusion in the May 68 film series has been possible thanks to the Madrid Czech Centre's support. Its single showing will take place on Friday 13 at 7:30 pm at the Monopol Screen 2.
Second night of Monopol Music Festival's concerts at The Paper Club with Cintia Lund and Guadalupe Plata
Cintia Lund, accompanied by Yanara Espinoza (Papaya) and Cristian Muñoz (Texxcoco) will be the one opening the secont night of Monopol Music Festival's concerts at the Remedios street club. Lund comes back to her native city turned into one of the breakout artists of Spanish independent music. She moved to Stockholm when she was only three months old, then to Brooklyn when she was seventeen, and from there she went to Madrid, where, being just twenty-three years old, she has signed up with Subterfuge to release her debut album. A sinuous and street rock, with a classical touch, but at the same time of perfect fitting within the current music scene.
The second band of the night, Guadalupe Plata, brings all the necessary elements for a great show: boogie, blues, and rock and roll with a little flamenco touch by this group from Ubeda. Little wonder they have become one of the most international renowned Spanish bands, having already in their possession awards such as the Impala Award for the best independent album in Europe. Their music has appeared, too, in shows such as Shameless (Showtime) or How to make it in America (HBO). At 10:30 pm at The Paper Club. Advanced tickets at ticketea.com.