Slash gets us closer to the "No Future" at the Elder Museum. The first screening of Slash (Clay Liford, USA, 2016, 100 min.) will be at 6 p.m. at the Elder Museum of Science and Technology, "a brilliant teenager dramedy", points out the coordinator of the "No Future" cycle, Jesús Palacios, "that shows us with wit, humor and moral ambiguity the role that science fiction, specially within the fanfiction online world, plays for a disoriented youth, eager to find its place in the world and discover their true identity… included the sexual one". Slash will also be screened on Friday, April 7, at 10 p.m. at the Monopol's screen 5. Films with Web! Energgy Drink.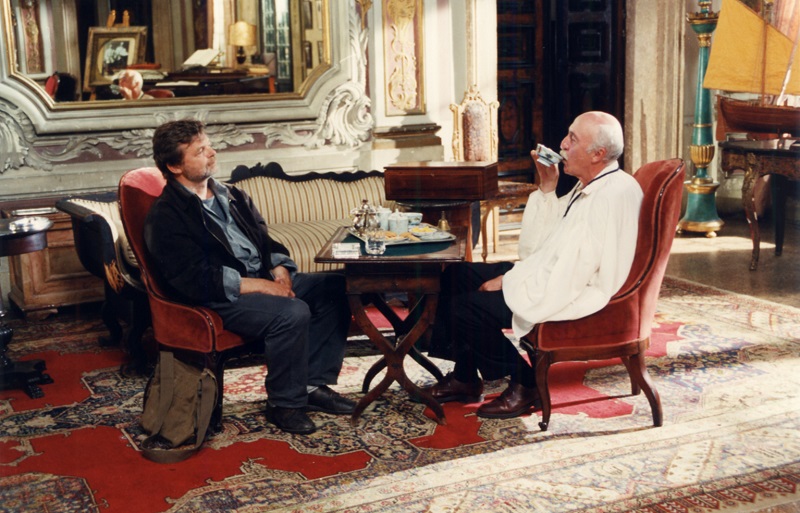 Monday Morning's first screening, included in the "Iosseliani and company" film series. The Georgian filmmaker Otar Iosseliani, guest at the 17TH Film Festival, won the Silver Bear for Best Director at the Berlinale for this film. Monday Morning (France, 2002, 122 min.) gave him, too, the FIPRESCI at Berlin and the Best Film Award at the Pula Festival. In Monday Morning, Monday morning marks the beginning of another uneventful week for Vincent, a family man who works as a welder in a factory. But he has the soul of an artist and decides to take a trip to Venice, hoping to break the monotony of daily life and maybe change his fate. Its first screening is on Thursday 6, at 6 p.m., at the Monopol's screen 6. The "Iosseliani and company" film series is supported by Audiovisuales Canarias.
Last screenings of Kékszakállú and Félicité, participants in the official section. There is still a possibility on Thursday of attending the last screenings of the competing feature films Kékszakállú and Félicité. The French-Senegalese filmmaker Alain Gomis focuses his fourth feature film, Félicité (France, Germany, Belgium, Lebanon, Senegal, 2017, 123 min.) on the story of a singer who works in a café in Kinsasa. Its protagonist, Congolese actress Véronique Tshanda Beya, has been in Las Palmas de Gran Canaria to present the film thanks to the support of Casa Africa. Félicité will be screened at 6 p.m. at the Monopol's screen 2.
At 10:15 p.m., also at the Monopol's screen 2, the Argentinean feature film by Gascón Solnicki, Kékszakállú (2016, 72 min.), will be screened. The filmmaker won the FIPRESCI award at Venice for this tale of several young women, a choir film lost into a culture in an economic and spiritual crisis. It is his first incursion in fiction after the documentaries Sudën and Papirosen (Best Argentinean Film at 2012's Bafici); the movie premiered internationally at the Venice Festival, and has been, too, at the Toronto, New York, Vancouver, Rio de Janeiro, Mar del Plata and Rotterdam festivals, among others.