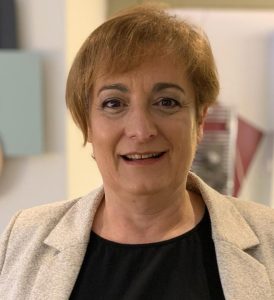 Degree in Law from Complutense University of Madrid. She has worked at Alta Films since 1986, when the company only had three employees. Simultaneously, she held several positions as a distributor programmer, responsible for Marketing, Traffic and programmer of the multiplex chain. She worked as the company's managing director, witnessing and actively participating in the growth of a company that for many years was a leader in the distribution of original version independent films and film exhibitions, and managing 200 theatres. She was responsible for the distribution and marketing plans for films such as SECRETS OF THE HEART, LUCKY STAR, SON OF THE BRIDE, THE CHORUS, THE LIVES OF OTHERS, THE SECRETS IN THEIR EYES, MIDNIGHT IN PARIS or THE ARTIST.
She has also participated in the production of some feature films including GUANTANAMERA, MY NAME IS JOE, RENCOR, TAKE MY EYES, FUERTE APACHE, THE NIGHT OF THE SUNFLOWERS or ORANGE HONEY, in the latter as executive producer. Since 2016 she has led the distribution and production division of the company SUPER 8.
She currently distributes and develops some feature film projects under the ME LO CREO brand and supervises the development programme CIMA IMPULSA, whose second edition has just concluded.