The Film Festival retrieves in its 20th edition this film masterpiece by American David Lynch
Prior to the screening of the film, on Saturday, April 10, at 5:45 pm at Cinesa El Muelle, the Festival will pay tribute to its creator by presenting him with an honor award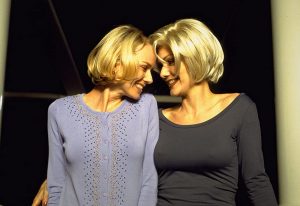 Las Palmas de Gran Canaria, Tuesday 6 April 2021.– The Las Palmas de Gran Canaria International Film Festival retrieves in its 20th edition the masterpiece Mulholland Drive (USA, 2001, 174 min.), by David Lynch, one of Hollywood's most significant and influential filmmakers over the past decades. Named one of the 21st century's best films, it will be screened at Cinesa El Muelle, on Saturday April 11, at 5:45 pm, after the tribute to Claudio Utrera, founder and ex-director of the Festival.
Twenty years after its birth, Mulholland Drive remains, even today, as one of the most surrealist psychological thrillers ever made, one where nothing is what it seems.
Praised by critics and scholars alike, after appearing at Cannes, Toronto and Sitges two decades ago, Mulholland Drive has won over forty awards and sixty nominations, including an Oscar nomination for Best Director and two Golden Globes nominations for Best Director and Best Screenplay. In addition, it earned David Lynch Cannes International Film Festival's Best Director Award.
Naomi Watts, Laura Harring and Justin Theroux star in Mulholland Drive, which was originally devised as a television series. With a solid plot, it tells (Naomi Watts) Betty Elms' story, a young aspiring actress that arrives to L.A. to become a movie star and stays at her aunt's apartment. There she meets Rita(Laura Harring), an enigmatic brunette suffering from amnesia caused by a car accident. Between castings and crazy dreams, both women set off to solve the second woman's identity. Ann Miller, Robert Forster and Melissa George also star in the film.
Besides this film, the Las Palmas de Gran Canaria International Film Festival also celebrates its 20th anniversary. That's why this edition will pay tribute to the first promoter of the Festival, Claudio Utrera, presenting him with an honor award. The ceremony honoring him, a man who directed the Festival for fourteen years, will take place before Mulholland Drive's screening, at the same screening room. Las Palmas de Gran Canaria's mayor, Augusto Hidalgo, and the current director of the Festival, Luis Miranda, will be present.
The Film Festival's full program is available at lpafilmfestival.com, and tickets are on sale through their seats' traditional portals: entrees.es for Miller's programming (Camera Obscura, The Freakiest Afternoon and certain special sessions related to French filmmaker Chris Marker's centenary anniversary); and, from today onwards, cinesa.es (Cinesa's website) will offer the rest of the program, except for Déjà Vu, which will be screened at the Elder Museum of Science and Technology (where MECAS will be held, too).