T26| 22:00h
MECAS PARTY
Free entrance
Doors opening 21:30
|MONKEY FACES|
22:00h
The origin of Monkey Faces arises with the reunion of Carlos Ramos (guitar and programming) and Carlos Ortega (voice) and their old intention to bring a shared musical proposal. The next step was to complete the band with the incorporation of two major musicians in the Canary Islands: Manolin Lorente (Bass) and Fede Beuster (drums and percussions). The route of the musicians is wide and diverse, passing through groups as relevant to the Canarian scene as Hermanitas, Palmera, Cebolla Jazz Band or Zurych.
|DJ EL ESPECIALISTA MANEL RUIZ|
23:00h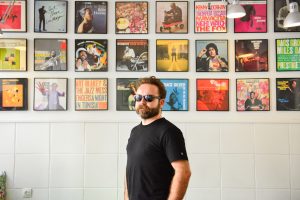 El Especialista Manel Ruiz, Catalan living in the Canary Islands, a deep hertzinas' classic, with more than 18 years of experience with the turntables, a regular figure of the dance floors and festivals of the islands and peninsula, with sessions full of rhythm and attitude, without losing elegance. If you want to know why Bossa Nova can be the prefix of any musical style, why Jazz is more than just music for scholars and why it's so popular,  why  Afrobeat, the great unknown, combines with Boogaloo's frenzy, we invite you to listen the identity sounds, in vinyl, in this case will be on CDs,  of El Especialista Manel Ruiz.