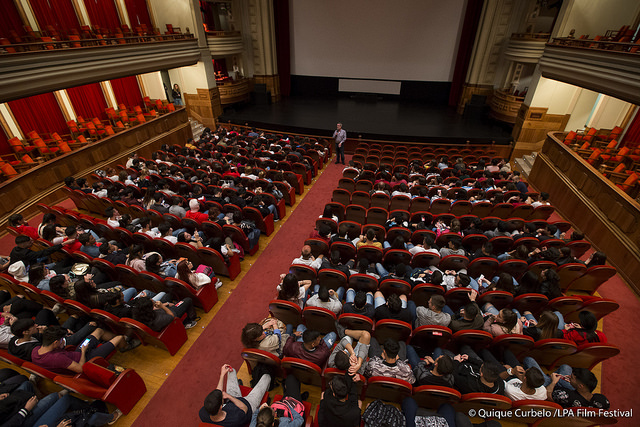 From Monday to Friday, the Pérez Galdós Theater has held the screening of five films related to new technologies and the Internet
Since last Monday, April 9, until this Friday 13, both included, the Pérez Galdós Theater has housed 1,582 teenagers during the screenings of The Magic Lantern cycle within the Las Palmas de Gran Canaria International Film Festival. Coming from different secondary schools around the city and from other associations and entities as well, thanks to the Festival's call, in collaboration with the City Council's Concejalía de Juventud, the teenagers have been granted the chance to debate and discuss on five films portraying new technologies and the Internet under very diverse points of view:
Social Network (David Fincher, USA, 2010, 121 min.), Catfish (Ariel Schulman, Henry Joost, USA, 2010, 94 min.), 10.000 Km (Carlos Marqués-Marcet, Spain, 2014, 99 min.), Citizenfour (Laura Poitras, USA, 104 min.) and Mary is Happy, Mary is Happy (Nawapol Thamrongrattanarit, Thailand, 127 min.).
In addition, during the two weekends the Festival covers, The Magic Lantern has programmed two animated films for all audiences: The Big Bad Fox, winner of the César Award for Best Animated Film in 2017, and Revoltin Rhymes, an adaptation of Roald Dahl's tales, nominated to the Oscars for Best Animated Film in 2018 and winner of the same category 2017 BAFTA. Revoltin Rhymes will be shown on Saturday 14 at noon at the Monopol Screen 3; on Sunday 15, also at noon, The Big Bad Fox will be shown at the same screen. All films are shown in original version with Spanish subtitles.