 The Festival consolidates its educational work with parallel activities that invite students from industry-related disciplines to participate in the programming of other sections and activities
 Child and young audiences will be able to enjoy the screenings of Nahuel and the Magic Book and Kim Min-Young of the Report Card
 Déjà Vu rescues from oblivion seven titles directed by Mohammad Reza Aslani, Adolfas Mekas, Kinuyo Tanaka, Helma Sanders-Brahms, Wojciech Jerzy and Ana Mariscal
Las Palmas de Gran Canaria, Wednesday 6 April 2022.- The 21st Las Palmas de Gran Canaria International Film Festival resumes its Magic Lantern's program oriented to young and family audiences and, in particular, the industry's young talents in the Canary Islands. To this end, the section will screen two films aimed at children and teenagers and will include industry-related students (acting and audiovisual) in activities such as the Second Conference on Film Work, the meeting with Sean Baker and Lucile Hadzihalilovic or sections like Camera Obscura or Déjà Vu, among others.
Thanks to this initiative, the Festival consolidates its informational and educational compromise by highlighting the importance of cinema as a cultural asset. It does it, two years after the pandemic started, with a program divided into a family-oriented section and another one of parallel activities. The former, according to programmer Saray Benítez, "includes films for the youngest members of the household and for those who are midway between childhood and adulthood and feel the need to recognize themselves on the big screen"
These two titles, both Spanish premieres, will introduce young people to cinema "through different cultural realities" and in original version. Nahuel and the Magic Book, directed by Germán Acuña and nominated to the Cristal Best Feature at the 2020 Annecy International Animated Film Festival, will be one of the programmed films. In it, the child audience will get into a world of self-improvement alongside its main character, Nahuel, who will have to face his fear of the sea in order to rescue his father from the claws of an evil wizard.
With Kim Min-Young of the Report Card, Korean cinema will appear once again at the Festival, after its premiere at the Jounju International Film Festival in 2021. This coproduction by young filmmakers Lee Jae-eun and Lim Jisun, which arrives at Las Palmas de Gran Canaria after being at other festivals such as Mar del Plata or Rotterdam, portrays the changes a relationship of three friends from a poetry club suffers once they enter university.
Regarding parallel activities, according to Benítez, they intend to introduce students of acting and audiovisual disciplines to films as a job by inquiring and deepening "the motivation of renowned authors within the international market, the dialogues with classical works and experts from a contemporary cultural perspective", as well as the debate "on the role of women filmmakers and their relevance in cinema's history" or the reflection "on the ways of looking at films in the digital era".
Thus, the Festival proposes through Magic Lantern that industry-related students participate in other sections such as Déjà Vu, which, according to its programmer Gloria Benito, seeks to "draw attention to certain filmographies so they aren't forgotten" through the restoration of "essential titles" that remain mostly unknown to the public. Because some of them are, in fact, new in Spain, their restored versions will premiere in our country.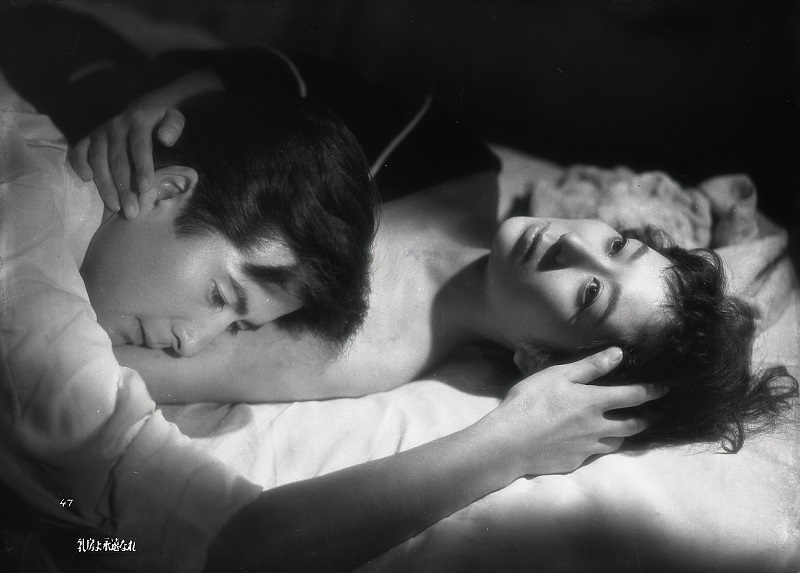 Among these seven wonders that'll be screened at Cinesa El Muelle, we shall find the family thriller The Chess Game of the Wind, directed by Iranian Mohammad Reza Aslani in 1976 and which, after receiving ferocious critics, was only shown twice in its filmmaker's home country. The film was restored in Paris after being found at a junk shop in 2014. Hallelujah the Hills, Adolfas Mekas' crazy comedy, will be another jewel rescued by the Festival, which also recovers two films directed by one of the most famous faces in Japanese classical cinema: Kinuyo Tanaka. The actress shows in The Moon Has Risen clear influences from the filmmakers she worked with; while in Forever a Woman, the first Japanese film to deal with breast cancer, she left her personal stamp. The first of Tanaka's films will be screened on Sunday 24 and the second one on Monday 25, both at 5 pm. Irene González-López, teacher of Japanese Studies at Birkbeck, London University and associate researcher at Kingston University, will be the one in charge of introducing both works.
Helma Sanders-Brahms deals with another delicate topic in Germany Pale Mother, a title in which she narrates with her own voice the experience of her mother during the Third Reich and that stood as a clear example of feminist cinema for her generation. The Hourglass Sanatorium, on the other hand, a comedy considered one of the most important films in Polish cinema and directed by Wojciech Jerzy Has, will introduce the audience to the surrealist adventures of a man who is looking for his father in one of these mental health centers.
Finally, The Path, by Ana Mariscal, will be the last work programmed in the section. The filmmaker, a pioneer in Spain, adapts Delibes' novel with an Italian-neorealism-like aesthetic. After its screening on Tuesday 26, there will be a talk with David García Rodríguez, son of the filmmaker, and Virginia Guarinos, teacher at Seville University and expert on female directors in Spanish cinema.
Camera Obscura, whose second edition will screen, again, silent films with live music on April 23, 17 and 28 at Edificio Miller, is also dedicated in part to young industry talents in the Canary Islands. They will be able to attend the screening of Friedrich Wilhelm Murnau's greatest success, Nosferatu, the iconic vampire who turns a hundred years old and who will open, too, the 21st edition of the Festival. In addition to this, they will be able to enjoy two other centenary titles: Nanook of the North, by Robert Flaherty; one of the 23 Kino-Pravda newsreels by Dziga Vertov, Elizaveta Svilova and Mikhail Kaufman, as well as The Passion of Joan of Arc, released in 1928 by Carl Theodor Dreyer.
Likewise, Magic Lantern has scheduled for April 29 two special sessions at Cinesa El Muelle. The first one will include the screening of the series of video essays Practices of viewing, which will be followed by a masterclass taught by its director, Johannes Binotto. He is senior lecturer in Cultural and Media Studies at the University of Zurich and Lucerne University of Applied Sciences and Arts, experimental filmmaker and video essayist, and his experimental video essays have been shown at film festivals such as the International Film Festival Rotterdam, Kurzfilmtage Winterthur or Fisura in Mexico.
The second special screening of the day will be Babi Yar. Context, directed by Sergei Loznitsa (Ukraine, Netherlands, 2021). As with the previous screening, at the end of the film there'll be a talk with Alberto Sucasas, who has a PhD in Philosophy and lectures at A Coruña University and presented his last book at the Las Palmas de Gran Canaria International Film Festival and the Manuel Alemán Cultural Forum in 2019, Shoah. El campo fuera de campo. Cine y pensamiento en Claude Lanzmann (Shangrila, 2018). Daniel Barreto, the other speaker, has also a PhD in Philosophy and is a member of the Manuel Alemán Cultural Forum.
The students are also invited to participate in other activities such as the second edition of the "Conferences on Film Work", which will take place at Edificio Miller on April 22 and 23, or to attend the screening of the film Red Rocket and the following talk with its director (and the protagonist of one of this edition's cycles) Sean Baker and its producer Samantha Quan at Cinesa El Muelle on April 27. They are also expected on April 28 at the same venue for the cycle dedicated to Lucile Hadzihalilovic, that will screen her work Évolution and after which there'll be a meeting, too, with the French filmmaker.