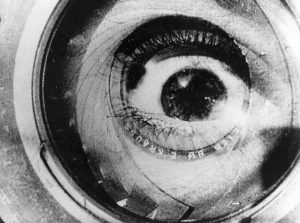 • The screenings of Film and Philias, a cycle by Días de Cine, start at the Monopol
Dziga Vertov's documentary jewel The Man with a Movie Camera (Soviet Union, 1929, 67 min.) and Bergman's masterpiece Persona (Sweden, 1966, 81 min.) are the first two titles of the cycle Film and Philias, which has been programmed by the team of Televisión Española's show Días de Cine.
Divided in four sections, the members of Días de Cine have selected "films that look at cinema from love, from humor or even from uneasiness. Because there are many kinds of love.": Love / Passion / Cinema; Shot / Reverse Shot; Soundtrack and Film Apparatus / Camera Obscura. The first two titles, The Man with a Movie Camera (Monopol 5, 5 pm) and Persona (Monopol 4, 8 pm), belong to the last section. They both reveal cinema's material nature, the substance dreams are made of. Over the next few days the cinephile audience may keep on recovering and enjoying this exquisite selection.
• South Korean filmmaker Hong San-soo returns to Panorama section with Hotel by The River
He is one of those acclaimed filmmakers whose work is constantly present in Las Palmas de Gran Canaria Film Festival's catalogue, which thus offers the possibility of enjoying titles that are commercially released in Spain in few occasions. The first screening of South Korean Hong San-soo's last film, Hotel by the River, is scheduled within the Panorama section for Friday 22nd, at 5 pm, at the Monopol Screen 2.
The film, winner in Locarno of the Leopard Award for Best Actor for Ki Joo-bong, is set in a hotel by the Han River. A poet, close to his death, is staying there when he is visited by his two sons, one of them being a famous film director. Simultaneously, the South Korean artist tells the story of two friends, one of whom has just suffered a love betrayal. Hong San-soo made a black and white existential tale in which he approaches mourning and death topics with his usual serenity and elegant plastic beauty. Critics reviews have praised the film, which has been programmed in festivals such as Locarno, Toronto, Gijón and Mar del Plata.
• The Festival keeps track of Romanian filmmaker Radu Jude's path
In 2018, the Festival devoted a retrospective to Romanian filmmaker Radu Jude —Radu Jude 41/2 + 4—, whose work was already familiar to the audience of the festival. In 2019, the Panorama section has included his last and celebrated feature, I Do Not Care If We Go Down In History As Barbarians, winner of the Crystal Globe at the Karlovy Vary Festival and the Best Director (ex aequo) and Best Production Design at the Gijón Film Festival.
Over the course of 140 min., Jude tells the story of Mariana, a Romanian theater director who is trying to put on the stage of a Bucarest square a play which shows Odessa's jew massacre, made by her own natal country under Marshall Antonescu's regime, an ally to the Nazis. The Holocaust's negationism, maintained to this day, will endanger Mariana's work.
• The Festival screens Bi Gan's second film, the director who won 2016 Golden Lady Harimaguada with Kaili Blues
In 2016, young Chinese director Bi Gan's first feature film, Kaili Blues (2015, 110 min.) won the Golden Lady Harimaguada. His second film, Long Day's Journey into the Night (China, 2018, 140 min.), is now on the Festival's screens within the Panorama section. The feature has been in prestigious festivals such as Cannes, Toronto and Rotterdam, among others, where it has gathered nine nominations and five awards, three of them at the Taipei Film Festival. Long Day's Journey into the Night portrays a man's return to the Chinese province of Guizhou and his search for a woman. It is a story, as critics have pointed out, of striking beauty, in between melodrama and noir genres.
• They provide the music for the first Monkey Night
Music-lover cinephiles' nights will start on Friday, March 22nd, at 10 pm with the concert "La igualdad marca el ritmo" [Equality sets up the rhythm]. Three groups with a total of nine women will get on The Paper Club's stage (10 Remedios Street) under the heading "Feminist concert": the Madrid-based collective Tremenda Jauría, singer Cintia Lund and band Flor de canela, in charged of opening the concert. Tremenda Jauría is a Madrid-based DIY collective of urban music with reggaeton, cumbia and other tropical sounds as war cry. After their LP "Mordiendo" (2016) and the EP "Cuentas Pendientes" (2017) these four women released in 2018 the album "Codo con codo", and now in 2019 their last work IV. Cintia Lund, charged with closing the night, is one of the great revelations of the indie scene debuts —she signed with one of the best Spanish indie companies, Subterfuge— with a collection of hypnotic dream-pop songs with folk strokes and flashes of electronica. Núria Balaguer, Paula Vegas, Marta Bautista and Xerach Peñate, with their band Flor de canela, will open this women's night. Their music combines jazz works with Latin sounds and is nurtured by a vocabulary with pop and indie traces.
The first Monkey Night is programmed in collaboration with the Deparment of Equality and Citizen Participation of the Cabildo de Gran Canaria.