➢ Miguel G. Morales presents Ekaterina: a fiction story revolving around what could've been and wasn't, Cuba's project for a nuclear city
➢ Álvaro Pinell offers a romantic animated piece full of symmetric balances in Time(L)Over
➢ zIREjA has made the intimate [be e e e e e e e e e e e e e e 'e e], about Beatriz Ballester's creative process in El Hierro
➢ Animator Carlos Baena captures horror in live action in his striking Tranvia
➢ Miguel Mejías plays with the concept of time and escape in a dystopian setting in The Foundation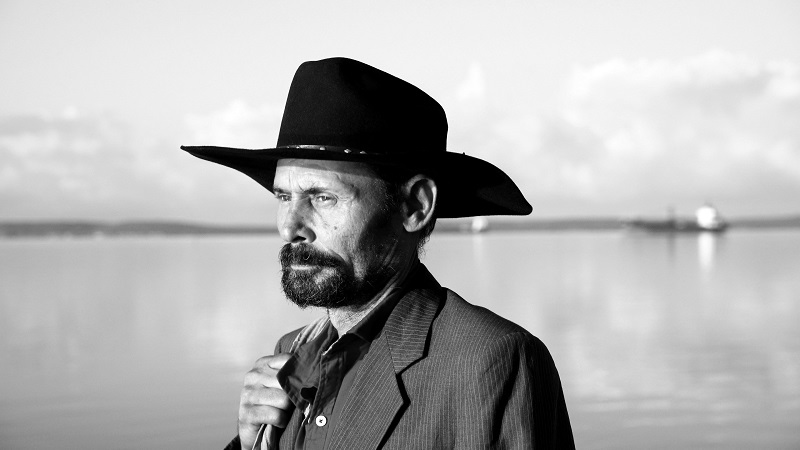 Las Palmas de Gran Canaria, Friday 22 April 2022.- Canarias Cinema offers a third short-film session in which the audience's feelings may vary from the horror and the most disturbing dystopian setting to the most intimate reflection, to the observation of an artist's creative process or even to impossible love. Five titles the Las Palmas de Gran Canaria International Film Festival will screen on Sunday 24 at Cinesa El Muelle.
Ekaterina, by Miguel G. Morales
Miguel G. Morales is, with Silvia Navarro Martín, the author of the referential On the Name of the Goats (2019), one iconic piece of the new Canarian cinema. And another proof of the Tenerife-native filmmaker's tendency to challenge the limits of documentaries, often between the research and the essay. Short films such as Ángel Caído (2018), Pozo negro (2017), Hombre que hace que duerme (2015) or Retina (2014) have shown his personal touch when dealing with camera work, a job he began at the end of the 90s. And recently, he's succeeded in revising the historical discourse traditionally associated to the Canary Islands.
A regular of the Las Palmas de Gran Canaria International Film Festival, always committed to showing his work in his Archipelago, Morales now presents in Canarias Cinema his particular fiction about what has remained of the nuclear city dream of Juraguá: a failed project whose remains (roads, landscapes and houses portrayed with devastation) the main character, Rafael Fonseca, seems to carry on his face. The director has taken to the screen a script by Cuban poet Atilio Caballero, who got to live in the CEN (Nuclear City of Juraguá), very close to his native Cienfuegos.
"He created a theater company, shared his experience with me and I could read his texts about the city," recalls the filmmaker. "I found there," he specifies, "the challenge of once again telling a story from a fictional standpoint, and of returning to Cuba, where I found my way, where I feel like I belong to, and where I made my first documentary short film [El Viejo y el lago, 2001]." "Besides," he finishes, "I could collaborate with my brother Atilio again."
Morales met the poet in 1998 in San Antonio de Los Baños' Film School (Escuela Internacional de Cine y Televisión, EICTV), and collaborated with him in his first documentary. Caballero is one of the most renowned Cuban writers who live in the island, winner of four national awards in play-writing, novel and poetry. As a matter of fact, it was in Cuba, within the 42nd Havana Film Festival, where Ekaterina premiered.
The author defines his latest work as a "simple working-class melodrama, with inexpressive characters, a piece about the last hope of a place frozen in time." Rafael, the main character, is a worker who was part of the construction crew of Juraguá's Nuclear Plant in the 80s. "We held a casting with people from the town itself and he was always our first choice. His strong presence in front of the camera surprised us, as well as everything his eyes communicate. Working with non-professional actors and actresses is also part of the challenge. We wanted to make cold, harsh cinema," explains Morales.
The filmmaker from Tenerife clarifies that Ekaterina "is not a documentary piece. It's a fiction unfolded in a real context. We wanted the actors to be from there. Viktoria Korotun, who plays Ekaterina, arrived there from the Soviet Union to work at the plant, where she met her husband and ended up staying for good."
Morales is also responsible for its cinematography and its editing. "This piece was a self-imposed challenge for me, and being in charge of its cinematography was part of that," points out the author, who stands by "a humble unpretentious tale, an explicit tribute to one of the filmmakers that have influenced me the most, Aki Kaurismaki." Thus, the filmmaker has emphasized the need to keep to an economic narrative, "of precise shots and words. We wanted the art, light, colors and atmosphere to be pretty much like his aesthetic. It's an accepted influence. The camera tries to emulate a melancholic's look." On the other hand, the editing "is something more natural in my works," he adds.
The short film's coproduction took about two months of preproduction for the Cuban crew. Then a week was spent with the locations, the essays and the art to undertake the filming "in barely five days." Then, more calmly, came the editing and postproduction work. "It took us maybe six months in total," sums up the director.
Morales admits that "it was always a dream" to present a work at the Havana Film Festival. He has finally done it with Ekaterina, and says that although "the response was very good, my personal feelings were eve better." Now he is once again present at the Las Palmas de Gran Canaria International Film Festival, to which "I'm always glad to come. This is an island where I've been treated with a lot of respect."
The director says that this Festival "has been the focal meeting point of the films made in the Canary Islands, and, somehow, also of my school, in many senses. I've participated since its second edition, when I didn't even recognize myself in my interests, in my intuition as filmmaker." Morales accepts that "my work is very eclectic, with many doors open to different ways of storytelling. I've come back to the festival in a more lucid moment, more committed to my way of looking."
Time (L)Over, by Álvaro Pinell
Canarias Cinema's 2022 selection includes big names, with solid careers in the islands and who often generate significant outside repercussion…, as well as pieces by new, brave and capable authors, who may take over this section. Álvaro Pinell belongs to the latter group, a creator from Pamplona who's worked for the past year as screenwriter (in Birdland) and now lives in Las Palmas de Gran Canaria.
In Time (L)Over the author portrays the animated drama of two lovers inside a cuckoo clock who can only meet when it strikes midnight. A drastic decision on behalf of one of the two figures will inevitably alter everything. Easy-to-discern morals and a direct visual language inhabit this animated short film by Pinell, who presents at the Las Palmas de Gran Canaria International Film Festival a tasteful exercise translated to animation.
Miguel Arrondo's music embellishes the film, which reaches a tragic tone full of symmetries and composing balance. Pinell is the director of pieces such as KM. 0 (2018) and Trasluz (2019), and an author who has already appeared at festivals such as K-lidoscopi, Navarra, Chaniartoon o Ensenada. What's more, he's starting to make a name for himself in the genre.
He arrived to Las Palmas de Gran Canaria a little bit after the confinement. "The truth is I barely knew it, but I'm liking it," he says with undisguised enthusiasm. It was during an animation course in Pamplona when he came up with the idea for his short film, "just in the middle of that complicated period." The filmmaking, he recalls, "happened very quickly: that's why there aren't many characters, for instance. But we were very careful with everything related to light and details." Time (L)Over "was thought to be produced in very little time and with plenty of time. Confinement came and on one hand it was bad, but on the other it was good because we gain a bit more time. It was ready in about four months," he stresses.
The filmmaker highlights Raúl Hernández's work as cinematographer: "From the very beginning we were pretty sure about stressing a lot through the use of light. We also worked with Barbara Ros in this: she was a great professional, as she's proved with her art direction in the film D'Aartacán. Inside the clock we had illumination more typical of a prison, and when the characters got out the whole perception changed." Regarding the ending of the piece, he admits that "at first we had a different idea for the ending, instead of the one we wound up making after deciding it together."  In any case, he is satisfied with "the feeling it instills in the audience."
Pinell stresses that the project came to fruition "thanks to Apolo Films' support: they told that if I gave them a screenplay, it'd be produced." Today, he's "more than glad" to be in Las Palmas de Gran Canaria "at a festival of this stature." And a little bit overwhelmed by sharing the screen, for instance, with a professional of the animation such as Carlos Baena, because, among other things, Pinell has found his inspiration as filmmaker in one of his works, La noria (2018). He aspires to keep growing as an author, although for the time being, "I worked as a screenwriter, I gain experience and learn a lot, and that interests me. Then I'd like to make something in the islands. I'm thinking about working on something with rotoscope: this way I'd make the most out of Gran Canaria and of animation, too."
[be e e e e e e e e e e e e e e 'e e], by ziREjA
This short film's title is the phoneme of a bleat… because the sheep and its wool are certainly important in a piece in which the filmmaking process has been as significant as the final result. In any case, the filmmaker from Tenerife (photographer and artist Irene Sanfiel, commonly known as ziREja within the Islands) has achieved an intimate piece focused on the figure, thoughts and work of artist Beatriz Ballester.
Ballester is a prolific creator, mother of five children and a woman related to art since her youth. Always around nature, around matter… She's described by Sanfiel herself, who stresses that the artist "works with wool, mainly Canarian wool. And she has mulled over the waste-resource issue and the role of wool in the Canary Islands. Her artistic production is practically unequalled: she's always creating, not only with wool, but also with fiber. She's been closely connected to ecological agriculture, has been one of the pioneers in this matter in the Canary Islands. She is," finishes the director, "a very cultured woman, with a lot of experience and who tackles art straightforwardly. I'm interested in her since I discovered her and met her."
That happened in La Esperanza, Tenerife, where ziREja moved in around ten years ago. The filmmaker recalls that meeting, which took place "once I'd become a mother for the first time, when I started to wonder again about what is art and, above all, when I started to look inside me to get to know me and to recognize what surrounded me." She found common interests with Ballester because "I'm very interested in the new artistic approaches done in the Canary Islands, and especially those from people who instead of working in the art market work from more intimate spaces."
Beatriz Ballester decided to move to El Hierro, alone, to set up her own studio, portrayed in the short film as a true creative universe. ziREja began to visit her sporadically, "accepting her invitation," without further aspirations. As time went by, the director started to "feel the need to film what was happening, because I sense some very magical relationships, a very subtle passing of time. It really grabbed my attention how she carries out her art from there, without electronic devices and isolated. How she continues with her production."
It was in that moment when the filmmaker started to portray the space "and to portray her, although she is a person who doesn't really like to be filmed. This went on since 2017. All that material suggests to me a lot of ideas, without being so sure about them yet. The truth is I continued to document her work and I felt accepted by her. And then I started to appear on scene, in a very natural, organic way, at the same time as another creator and artist, Rocío Eslava, who joined the project."
"In the end," says the director, "a lot of possibilities emerged from this footage. Among them, that of making a documentary piece, thanks to a grant from the Cabildo de Tenerife. The editing process itself turned into an artistic process, as we met with different people and started to make some decisions. In the end, we chose, and came up with this short film."
The editing was "participative, and involved ziREja's team, with Fidel Darias, Rocío, Bea herself and me. We selected those clips and went from there: for me it is always very important when making an audiovisual piece the concept of contemplation. I wanted to propose something I'd like to watch myself."
Despite starting the piece "with no real expectations besides keeping the naïve point from where we began," it was selected for the catalogue Canarias en corto. "I really surprised, pleasantly, for sure," remembers Irene. Her inclusion in Canarias Cinema was another unexpected circumstance, "especially for me, because I think it gathers the best in the Canary Islands in terms of cinema. And it is also one of the most important national festivals. When I saw the fellow selected participants, I felt super lucky to be among them." Finally, the bleat will sound in the Gran-Canarian capital, too.
Tranvia, by Carlos Baena
As capable of making Buzz Lightyear dance flamenco as of instilling fear in the audience with his real main character showing a bloody knife. Carlos Baena has made the short films Play by Play (2011) and La Noria (2018). He arrives to the 2022 Las Palmas de Gran Canaria International Film Festival with Tranvia, a film in which he distorts a daily setting through horror and suspense, embodied by its main character, Fabianne Therese. Gonzalo Diaz Yerro's music and Oriol Tarragó's sounds are also decisive when disturbing the audience of Baena's work, which appears on the screen shaped like big productions and with great potential to stun the audience.
The Canarian director, who works and lives in the USA, is well-known for his work in animated films from Pixar or Paramount. He's shown his talent and innovative approach in Las Palmas de Gran Canaria's different events, among them the Animayo festival. He thinks that the future of cinema lies with combining animation and live action. His cinematography, in fact, anticipates that vocation already. So do his professional interests: he is the founder of NightWheel Pictures, an independent company focused on animation and the darkest visual effects. He's also cofounded AnimationMentor and Artella, two supporting platforms for students and artists from these fields.
His Tranvía has already been shown at Sitges HorrorFest, Rock Horror or ClujShorts. This live-action short film is the result of a sudden inspiration. "One day I was driving to work in San Francisco and I saw through the rearview mirror one of the old trams. My imagination went wild," points out Baena. And that, in his case, is a guarantee of artistic production. "Since then, I started to build a story from a character and his relationship with a mysterious tram." There are other influences, of course. "The short film," he explains, "is also inspired by my admiration towards Twilight Zone, the series from the 50s and the 60s, and towards the most psychological cinema."
Taking this Tram to the screen was "a challenge in many ways," recalls the filmmaker. "We spent a lot of time preparing before shooting it, doing previsualization, because renting the tram was not cheap. On the other hand, the most challenging part were the special effects. In the end we were helped by a school of visual effects from San Francisco and, especially, by Catherine Tate and her students. Thanks to her and her visual artist team we have a short film."
Baena has previously claimed that the cinema of the future will be a mix of effects, animation and live action. Is that cinema here already? "Yes, of course. Shows like The Mandalorian are already using new technologies with outstanding results," points out the author, who doesn't consider himself an innovator. "It's more a matter of looking for practical ways of telling a story, given the financial and physical limitations the projects may have. In this short film we weren't lucky enough to be backed by a big studio, so we had to consider different options." Although, in sum, "technology and everything you can make with it provide some amazing options."
In Tranvía, Baena proves the importance of the piece's global impact: pictures, sounds, music and pace, besides acting. He's also made the final editing. He admits that "I love the exploration process of the editing phase, whether it's me or another person who does it. I sometimes do it out of necessity, because these independent projects take a lot of time. But it's true that editing allows you a higher degree of control. Connecting and exploring different ways of telling a story, not only through pictures, but also through music and sound, is very important for me, for the experience I want the audience to have."
The animator corroborated his tendency to direct, "no matter the medium." And he admits as well that he'd like to keep doing it, even with the necessary spirit to deal with higher pressures when tackling the projects. The issue "is finding an environment and a studio that wants to tell different things in different ways. The pressures, challenges and resources come after that, as you delve into the project," he points out.
Sitges, HorrorFest, Rock Horror. Is Baena a genre author? "Genre stories have inspired me in many ways, but I want to tell other stories, too," he says. In regards to the festivals the short film has entered, "we've been very lucky people have liked it: at first we didn't think it be like that." And when asked about the Las Palmas de Gran Canaria International Film Festival, "I really like the contents it programs, for sure. If I could be there right now, I'd stayed the whole week." Despite being from Gran Canaria, his work hasn't allowed him to do so, although his Tranvia has indeed arrived.
The Foundation, by Miguel Mejías
Tenerife-native Miguel Mejías already left his mark at the 2021 Las Palmas de Gran Canaria International Film Festival with his feature La viajante (2020). He's built his personality as filmmaker with less footage in pieces such as Nocturnos (2018), Los paraísos de Narciso (2018), Icelands (2016) or the recent Los Mundanos (2022). In this Canarias Cinema he consolidates himself with The Foundation as an author who seeks to activate the audience through a mostly visual dynamic narrative.
Mejías, who was teacher of direction in the Canarian Film Institute and now works as a teacher in Sweden, presents us the subject number 76 in a disturbing escape through empty landscapes and houses, in which the audience might be able to feel the main character's confusion and fear. And even how he's been watched in a desolating dystopian setting.
"There are three very important elements behind it which I really liked to work on independently: contemporary man's solitude, otherness and insanity, and our relationship with new technologies," points out the director. All of them are "very contemporary and domestic elements. I felt like working with it, suggesting a plot or a universe in such a subtle and intriguing way as to agitate the audience."
Mejías has certainly made a piece connected to the feelings usually aroused by specific genres. "I liked that dialogue with science fiction or horror," he explains, "how from something so simple as pictures and sound I can create an environment capable of awakening many things in the audience when they try to imagine that world."
"I wanted to have fun, but with a purpose," continues Mejías, who even agrees that The Foundation is shaped like an advance of bigger story. "Yes, it's something like that. There's also that individual drift towards psychosis, with references to Lovecraft or The Invention of Morel (by Adolfo Bioy Casares). And there's a metafilming game, with silent cinema intertitles, the format or the observation. There's, above all, a game of observations."
This particular Foundation stars Eduardo Paynter, who also made the music under the name of Edra. Something he had already done for La viajante. He's alone in the film except for the appearances on several digital screens of Glow, known for her ASMR videos.
These elements reinforce the atmosphere of a story that was edited during the pandemic and that'll now be shown at the Gran-Canarian Festival. An event Mejías follows closely. "If there's an important festival for me, it's this. Not only because of the cinema I've seen and discovered here, but because of my fellow filmmakers, the people I've met. Besides, since I travel a lot, it's an opportunity to meet them. It is a very important event for the Canary Islands' culture and for the Canarian cinema." And he finishes saying that "if there's something going on with Canarian cinema today, I think is 90% due to the festival."
The Las Palmas de Gran Canaria International Film Festival, organized by the Culture area of the Gran-Canarian capital's City Council through Promoción de la Ciudad de Las Palmas de Gran Canaria, has received public assistance by the ICAA [Institute of Cinematography and Audiovisual Arts] and the program for the internationalization of Spanish culture, PICE Visitantes, of Acción Cultural Española (AC/E).
Among the Festival's collaborators we may find Cinesa El Muelle, El Muelle Shopping Center, Hotel Cristina by Tigotan, the Elder Museum of Science and Technology or Casa África, places which also function as seats or hold activities; as well as other institutions and companies such as Audiovisuales Canarias, Music Library & SFX or the International Bach Festival. Likewise, its market, MECAS, has been possible thanks to the sponsorship of the Gran Canaria Film Commission-Sociedad de Promoción Económica de Gran Canaria and the support of Canary Islands Film and Proexca.
The University of Las Palmas de Gran Canaria, the Mid Atlantic University, the Audiovisual Cluster of the Canary Islands, CIMA Canarias, the Asociación Microclima Cineastas de Canarias [Association of Filmmakers of the Canary Islands 'Microclima'] and Repeople are also collaborators of the Festival.