 The conference will be chaired by Canarian filmmaker Nayra Sanz and is a result of the Film Festival's collaboration with CIMA and Casa África
 This free-entry talk will start at 7 p.m. on April 27 at the Events Hall of the institution located at calle Alfonso XIII, 5
Las Palmas de Gran Canaria, Tuesday 26 April 2022.- Rita El Khayat, member of the 21st FICLPGC's Official Jury, and filmmaker Alba Sotorra will lead the meeting La mujer en el cine, ahora (Women in Cinema, Now), a talk that'll be chaired by Canarian author Nayra Sanz and that'll start on Wednesday 27 at 7 p.m. at the Events Hall of the institution located at calle Alfonso XIII, 5.
This event is an example of the Festival's collaboration with CIMA (Association of Female Filmmakers and Audiovisual Mediums) and Casa África, which has been going on for years now. Thus, within the 21st edition of the Gran-Canarian Festival, in addition to this meeting, Casa África has contributed to the presence in the city of Nibagwire Didacienne (Dida), a Rwandan producer, actress and dramatist who's also come to introduce to the audience the film Father's Day, which is competing in the FICLPGC's Official Section. For its part, Cima will grant for a third consecutive year an award that highlights an audiovisual professional's work regardless of her being part of the artistic and technical  crew of a film appearing at the Festival.
La mujer en el cine, ahora (Women in Cinema, Now) will gather two extraordinary women: Moroccan writer Rita El Khayat and Spanish filmmaker Alba Sotorra. Chaired by Gran-Canarian filmmaker Nayra Sanz, they both will talk about women in cinema and the present female creators are currently living.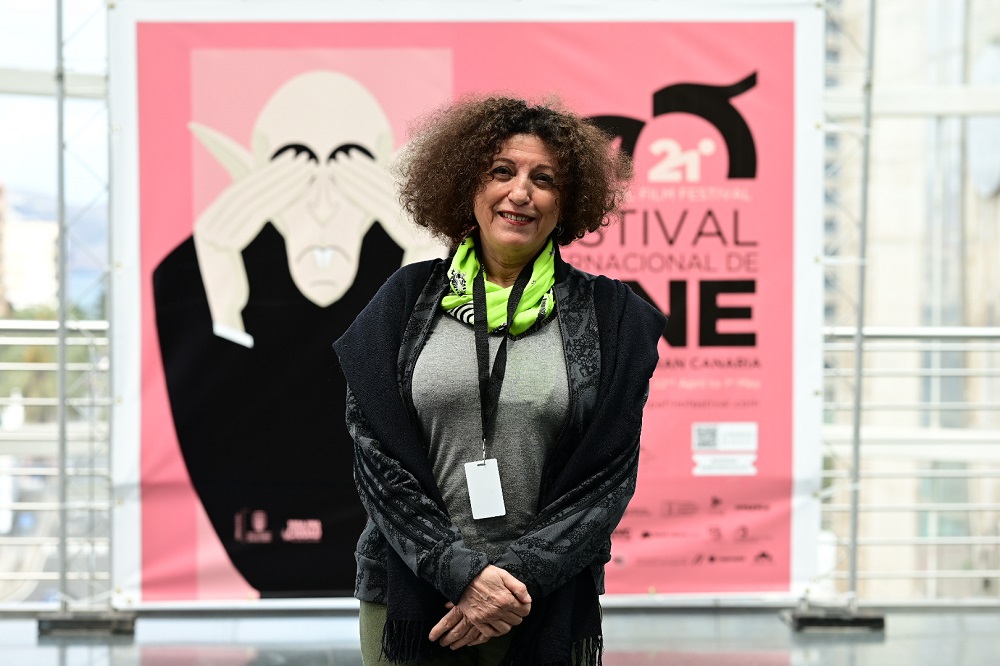 Rita El Khayat is also a physician psychiatrist, psychoanalyst, a physician specialized in aeronautical medicine and an occupational medicine doctor who graduated in anthropology from EHESS (School of Higher Studies in Social Sciences), Paris. Furthermore, she gives conferences, is a member of a number of international scientific institutions, and was a candidate for the Nobel peace prize in 2008.
Alba Sotorra is a director, screenwriter and independent producer specialized in the production of feature films for international audiences. Her films are created from a gender viewpoint, linked to the social and political reality of the time.
Undoubtedly, they both align with CIMA's objectives: women equality in audiovisual mediums so that their points of view are present as well as for women to fill the positions they deserve, that is, for women to be able to work in any professional category with the same rights and opportunities. 
With over a decade-long career, Nayra Sanz is a regular of the Las Palmas de Gran Canaria International Film Festival. The independent producer and filmmaker has been awarded on an international level in countries like Egypt, France, Thailand, Irak, Colombia, Canada, Mexico or the United States. Her work, which has also been awarded at the Gran-Canarian Festival, has been shown at numerous cultural spaces and academic contexts. As a producer and editor, she's won the Feroz Critics Award and has been nominated to the Goya Awards. She also works as a festival programmer and teacher at educational centers like San Antonio de los Baños (Cuba).
The Las Palmas de Gran Canaria International Film Festival, organized by the Culture area of the Gran-Canarian capital's City Council through Promoción de la Ciudad de Las Palmas de Gran Canaria, has received public assistance by the ICAA [Institute of Cinematography and Audiovisual Arts] and the program for the internationalization of Spanish culture, PICE Visitantes, of Acción Cultural Española (AC/E).
Among the Festival's collaborators we may find Cinesa El Muelle, El Muelle Shopping Center, Hotel Cristina by Tigotan, the Elder Museum of Science and Technology or Casa África, places which also function as seats or hold activities; as well as other institutions and companies such as Audiovisuales Canarias, Music Library & SFX or the International Bach Festival. Likewise, its market, MECAS, has been possible thanks to the sponsorship of the Gran Canaria Film Commission-Sociedad de Promoción Económica de Gran Canaria and the support of Canary Islands Film and Proexca.
The University of Las Palmas de Gran Canaria, the Mid Atlantic University, the Audiovisual Cluster of the Canary Islands, CIMA Canarias, the Asociación Microclima Cineastas de Canarias [Association of Filmmakers of the Canary Islands 'Microclima'] and Repeople are also collaborators of the Festival.