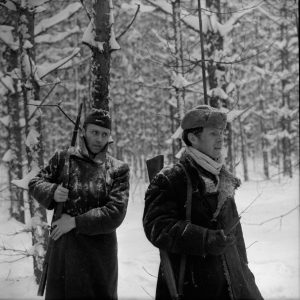 ---
Screenplay
Larisa Shepitko, Yuri Klepiko
---
Cinematography
Vladimir Chuknov
---
---
Cast
Boris Plotnikov, Vladimir Gostyukhin, Sergei Yakovlev, Lyudmila Polyakova, Viktoriya Goldentul, Anatoli Solonitsyn
---
Synopsis
Two soviet partisans fight against the nazi occupation and their own fears in order to survive in the half of the frozen russian countryside during the II World War. Lara Shepitko's film won the prestigious Golden Bear at 1977 Berlin Film Festival.
---
---
World Sales-Distribution
Mosfilm Cinema Concern
---
Filmography
FILMOGRAFÍA SELECCIONADA / SELECTED FILMOGRAPHY:
1977 VOSKHOZHDENIYE / THE ASCENT
1969 TY I YA / YOU AND ME
1969 V TRINADTSATOM CHASU NOCHI / IN THE 13TH HOUR OF THE NIGHT
1967 NACHALO NEVEDOMOGO VEKA / BEGINNINGS OF THE UNKNOWN ERA
1966 KRYLYA / WINGS

---
Notes
Festivals: Berlin, Venice, Lyon, Leeds.
---