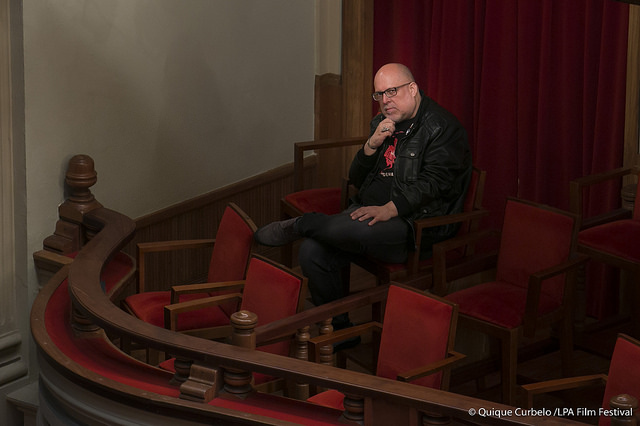 The writer and promoter of the Las Palmas de Gran Canaria International Film Festival's roguest night takes a stance against "that new hipster and politically correct cult cinema"

The festival offers the world premiere of South Korean film The Uncle (Kim Hyoung Jin, its director, will be present), the Spanish feature Matar a Dios and the disturbing Game of Death, plus the short ("very short") films Clanker Man, Fucking Bunnies and Stay  
Jesús Palacios, a writer, film critic and The Freakiest Night's coordinator within the Las Palmas de Gran Canaria International Film Festival since its inception, presents this Wednesday, April 11, at the Pérez Galdós Theater, a new edition of the rogue film marathon, which will be on Friday 13 (11 pm) at the same building and will include the screening of the short films Clanker Man, Saatanan Kanit (Fucking Bunnies) and Stay and the features Game of Death, Matar a Dios and The Uncle. Palacios defended horror cinema as a "catharsis to free ourselves from our daily pressures", taking a stance against "that new hipster and politically correct cult cinema".
Palacios emphasized The Freakiest Night as "an essential part of the festival and a counterweight to that other cinema it screens. We are talking about horror, fantastic, violent cinema…". And he recalled how "the Las Palmas de Gran Canaria Festival was one of the first that included this kind of late night showings with this sort of films: it has been a model copied by other national festivals and a very interesting way of proving that the cinematographic phenomenon is very large, even more in a festival like this one, which shows authors who don't follow commercial films' usual standards".
Within freak cinema "we may find some current bold gambles", he stressed before giving a brief insight into the titles screening at the Galdós on Friday 13, a "very suitable" date for an event of these characteristics.
Short films
"I've looked for very short shorts, that play a lot with humor. I can't tell much about them, because they are based on surprising", pointed out Palacios. "They do have in common their study of the current world, like the political correction when dealing with different neighbours", like in the Finnish Saatanan Kanit (Fucking Bunnies) (Teemu Niukkannen, Finland, 2017, 17 min.), "which has been one of the year's great discoveries, a horror and humor short film".
As for Clanker Man (Ben Steiner, United Kingdom, 2017, 10 min.), it deals with "noise pollution, the problems it creates, for which it provides a solution I cannot reveal". And Stay (David Mikalson, USA, 2017, 8 min.), which is "a black joke about what could happen if you summon the devil with a particular purpose in mind, because, when he appears, he pursues very different things from what you were expecting".
Feature films
Regarding the scheduled feature films, Palacios pointed out how Game of Death (Sébastien Landry, Laurence Baz Morais, France, USA, 2017, 75 min.), which won the Porto Alegre Fantastic Film Festival, is "a surprising variation of gore youth comedies, which mixes several formats, which may include animation, with very strong black humor and with a certain load of moral depth about what is the nature of violence and humans' at-all-costs survival instinct".
"Every year we try to have some of the Freak films made in Spain", Palacios told when introducing Matar a Dios (Caye Casas, Albert Pintó, Spain, 2017, 90 min.), "that gives what it promises: it is a black comedy, to the point that if you see the film your idea about divinity might quite altered. It works very well, and it has a pretty surprising ending, with a more dramatic or poetic twist". In addition, he said that this film "is a very original title within the Spanish tradition in which we can find features by Alex de la Iglesia or by Juanma Bajo Ulloa, but with new twists. The filmmakers' nonconforming intention is clear, but it does not make it seem like empty of meaning".
Finally, The Uncle (Kim Hyoung Jin, South Korea, 2017, 99 min.) is an example of the fact that "a great deal of good horror cinema is coming now not from Hollywood or Europe but from Eastern cinematographies such as the Japanese, the Chinese or, in particular, the South Korean one, which keeps on providing us with examples in this same tone", claimed Palacios. "We are lucky to be premiering this film, by Kim Hyoung Jin, who will be at The Freakiest Night to introduce his work", he advanced.
About this South-Korean title, Palacios explained that "it's a psychological horror film, which doesn't have supernatural elements, but still is really disturbing, not all the information is given at once: the plot itself presents a wicked and disturbing microcosm that includes incest, abuses or the claustrophobia typical of provincial life. It also shows", he continued, "a very peculiar sensitivity and sense of humor, something typical as well of Eastern cinema. This film is undoubtedly one of the year's greatest discoveries".
Vindication and catharsis
In this edition of The Freakiest Night's selection of films, Palacios attempts to "break with a pattern that is getting more and more boring with each passing year, that consists on the appropriation hipster films have made with this genre, revealing a viewpoint of a certain moral and intellectual superiority, following today's political correctness, in order to transmit certain moral values". "It's something similar to what happened to the 90s' independent cinema", reflected Palacios, who added that "in my opinion, that's basically the opposite of what the genre should aim at, because what it has to do is freeing us of our moral pressures so that evil can reign in the fantasy medium, as exorcism and catharsis. Otherwise, we harm freak cinema".
Thus, he continued, "this night's program has been selected with certain bad intention to show that within the genre we should keep being radical, violent and not that indulgent: we shouldn't aim at pleasing everyone, it doesn't have to be like that. It is about releasing our inner beast in this context while having fun".
Touristic attraction
The Las Palmas de Gran Canaria International Film Festival and The Freakiest Night have been featured recently at Niumba, Trip Advisor's rental apartment directory, as one of spring touristic attractions in Spain. Asked about it, Palacios confessed being "proud, although the Festival and its audience should be even more proud of it, because they are the ones that achieved it. It's wonderful that The Freakiest Night has also turned into a touristic attraction".
At this point, Palacios recalled the beginnings of the festival's rogue night, which also reaches 18 editions, and which "from the very first moment, it had a very passionate, critic and interactive audience. The Freakiest Night has been growing alongside one or two generations of spectators that have feel it theirs", he emphasized.