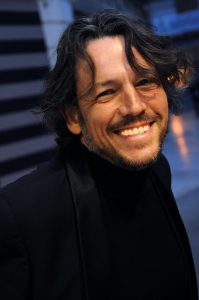 Jesús de la Peña Sevilla (Murcia, 1976) has a PhD in Art History from the University of Murcia, specialising in cinema – he presented his doctoral thesis on Fernando Fernán-Gómez as an author and director– and is a member of the Academy of Cinematographic Arts and Sciences of Spain.
He holds a Master's Degree in Cultural Management from the University of Alcalá, and is currently Head of the Audiovisual and Digital Production Department of Murcia City Council. In addition, he coordinates the Cuartel de Artillería Cultural Production Centre, the city's experimental music and sound art library, and is co-director of the IBAFF Murcia International Film Festival (Ibn Arabi International Film Festival).
Alongside being the Delegate of European programmes of the city of Murcia for the 2030 Urban Agenda of the EU's Culture and Cultural Heritage Partnership, he has been a member of the boards of directors of the European Network Cultural Centers', the World Dance Alliance Europe-Spain (UNESCO), MIAS Latina (Muhyiddin Ibn Arabí Society) with the Universities of Oxford and Berkeley, Murcia Film Office and President of the Association of Cultural Managers of the Region of Murcia.
A curator and a consultant for various exhibitions, institutions and degree programmes, he has been a member of different commissions and juries, and has collaborated and written papers and columns on cinema for various publications.