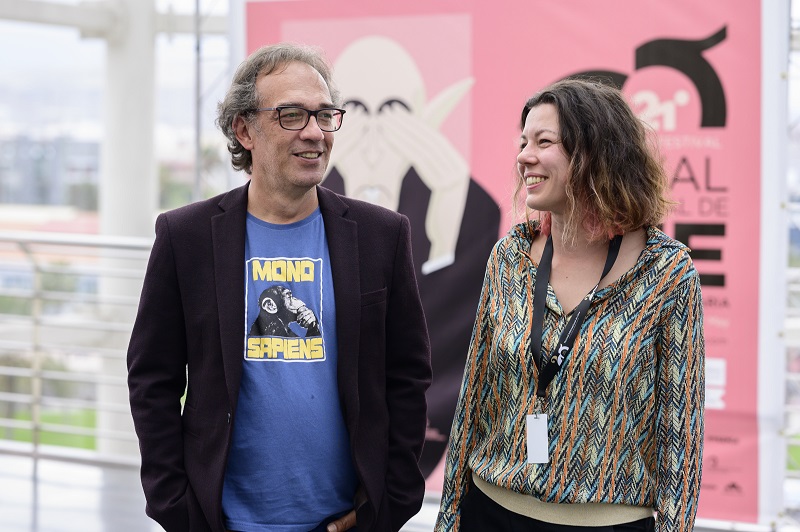 Las Palmas de Gran Canaria, Saturday 23 April 2022.- Thanks to Déjà Vu, a meeting between to Japanese-culture enthusiasts have happened: Irene González-López, lecturer in Japanese Studies at Birkbeck, University of London, and research associate at Kingston University's Visual and Material Culture Research Centre, and Luis Miranda, the director of the Las Palmas de Gran Canaria International Film Festival. They used this opportunity to have an in-depth talk about Kinuyo Tanaka's cinema, which is present on the section of the Festival that recovers film masterpieces which have remained mostly unknown and unreleased in Spain.
Before pursuing a PhD in Film Studies at SOAS (University of London), Irene lived in Japan for eight years. Her research spans Japanese creative industries, with a special focus on post war cinema and issues related to gender and sexuality, both in front of and behind the camera. Her publications explore topics of representation and censorship, stardom, and female authorship. In 2018 she co-edited the first English-language book on actress and director Tanaka Kinuyo (Tanaka Kinuyo: Nation, Stardom and Female Subjectivity; Edinburgh University Press). Luis Miranda is a graduate in Art History with Advanced Studies in Film History whose publications always revolve around topics related to Film History, Theory and Criticism. A meeting between the two of them could only lead to an in-depth interview approaching the legacy and charisma of one of the most famous faces in Japanese classical cinema, Kinuyo Tanaka.
LM. In a studio system as meritocratic and traditional as the Japanese, what meaning did it have, for the industry and among the Japanese audience, the access of such a well-known actress as Tanaka to directing? It seems from the distance that it was an isolated phenomenon and that, somehow, it was accepted that she made films because of her decades-long prestigious career in the industry. Was there a debate, controversy, when she began directing in the mid-fifties?
IG. Tanaka's debut as director caused a great stir in the industry. On the one hand, renowned directors like Ozu and Naruse fully supported her, while others (especially Mizoguchi) opposed her because they thought she'd failed as director and that'd ruin her acting career. A lot of actors supported her, and Kagawa Kyoko, for instance, said that it wasn't an actress working as a director, but the great Tanaka Kinuyo. That is, Tanaka was for many a sui generis category because her fame since the mid-twenties had turned her into probably Japan's most prestigious and respected actress. On the other hand, it was well-known within the industry that Tanaka was a very independent and tenacious woman, with a lot of resolution and always in search of new challenges, so maybe plenty of people thought that, if somebody could do it, that was her. We also can't forget that the 50s, Japanese cinema's second golden age, were a period of many changes for the industry and the way the Japanese studio system worked. Other actors, like Yamamura So, also debuted as directors during those years.
But the director figure has an intellectual, ethical and creative status that actors didn't have (who were rather appreciated because of their physical abilities to communicate and provoke emotions in the audience), and that's why some industry critics and professionals didn't had a good impression of these initiatives. As expected, some assistant directors —men who sometimes spent a decade under a director, working hard until the studio allowed them to direct a film— were the ones most wary of actors with barely no training stepping into direction. For instance, Saito Buichi, who was Ozu's assistant for many years and who worked under Tanaka in The Moon Has Risen (and later became a famous director with the series The Wanderer [Wataridori]) spoke quite contemptuously of Tanaka as a director.
This distrust in the actors' capacity to direct (and direct well) was also reflected on the press, where Tanaka was even questioned for being a woman; but in general, Tanaka's decision was welcomed by critics and her first films received a lot of media attention.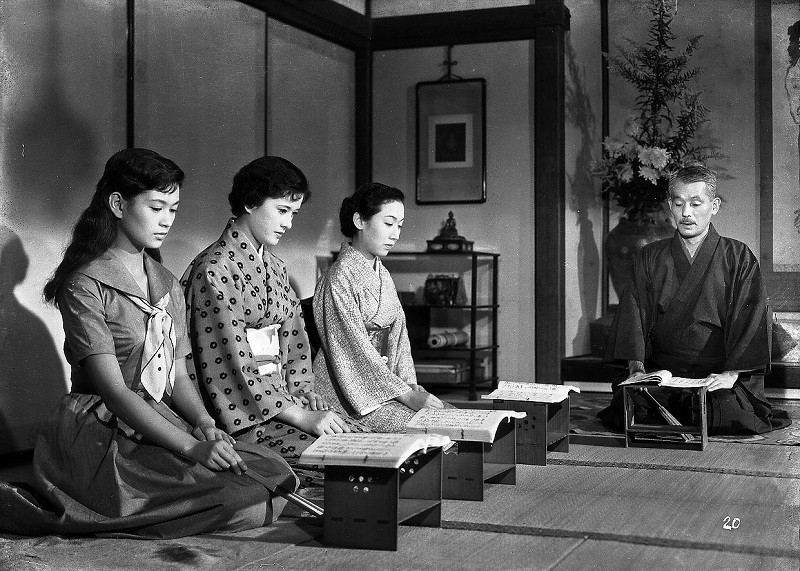 What was her films' initial critical reception in Japan?
Many were surprised by Tanaka's first film, which dealt with the sexual work issue and the scars left by the Allied Occupation instead of being, for instance, just a family melodrama, which they thought was easier for a novice. Critics emphasized the "feminine" sensitivity Tanaka should exhibit, and both the promotion and reception of the film stressed a lot the fact that a woman was behind the camera. In insist on highlighting this term because it is full of stereotypes and implies that all women share a way of experiencing and looking at the world, something we never see applied to men. Film critics never specified what femininity meant for them. Of course it is important that finally there was a woman behind the camera who offered a different perspective (especially on an issue such as sexual work), but there were a lot of generalizations and stereotypes in regards to what was expected from Tanaka.
On the other hand, in her first two films (Love Letter and The Moon has Risen), Tanaka was helped a lot by Narusa, Kinoshita and Ozu in the screenplays, the cast and technician selection, and even sometimes during the shooting itself. This was well-known by the critics and the audience, and some reviews of the time talk about her films as nearly codirected, pointing out these famous directors' stamps, which, evidently, belittled Tanaka's authorship. I think this played a key role in her decision of distancing herself from the "masters" in her third film, Forever a Woman.
On a personal note, the first time I read (I think in some of Miguel Marías' articles) that Tanaka had directed movies, and what's more, excellent movies, was almost thirty years ago. I always wondered where he had watched them, because until recently it's been very difficult to find them. Which moments have been key in recovering her work as filmmaker, both in and outside of Japan?
It's important here to distinguish between Japan and other countries. I watched her films there at the end of the noughties, and they'd already been broadcasted on television, on a channel specialized in Japanese cinema. Japan's National Film Archive wrote about her in the 70s and did a retrospective afterwards. Even so, I'd say a lot of people in Japan didn't know either that Tanaka had directed six films. 
Until recently, it was difficult to find her movies, and even more so with good subtitles. There have been retrospectives in Austria, United Kingdom, Australia and also Cataluña (2013)
But clearly there's been a rediscovery of Tanaka as of late. Lili Hinstin, at that time director of the Locarno Film Festival, programmed a huge retrospective of Tanaka as actress and director in 2020 that, sadly, was cancelled because of the pandemic. But since then, Carlotta Films has restored her six movies, which have been shown at Cannes and the Lincoln Film Center. Also, there were two very interesting restrospectives in Spain in 2020 coordinated by the Japan Foundation: in Tabakalera (Bilbao) as well as in several other cities. Now Janus Films is going to release them in DVD with English subtitles. 
I'm not trying to compliment myself, but I think the book I coedited with Michael Smith (Tanaka Kinuyo: Nation, Stardom, and Female Subjectivity, Edinburgh University Press, 2018) has had some kind of influence in this. This is the first book in the English language about Tanaka as actress and director, and I know it's been the most important reference in at least several of the last restrospectives. 
It is also interesting that, as it happened to other Japanese directors like Kurosawa with Rashomon, the attention Tanaka has received abroad lately seems to have revitalized her importance in Japan: the 2021 Tokyo International Film Festival also programmed a small retrospective about her. 
But I think that all of that also responds to an international trend towards rediscovering cinema's forgotten voices, in which feminist and postcolonial research have played a very important role. 
In The Moon Has Risen, its similarity to Ozu's cinema is counterpointed by the appearance of desire in each one of the female main characters. In her later masterpiece, Forever a Woman, one has the impression that this dualism goes far beyond that. Speaking bluntly: what seem a great married melodrama turns calmly into something really radical, with that explicit link between sexual desire and death proximity. One could say it is not that far from the rawness of the 60s' Japanese New Wave…
Without a doubt, it is an experimental and ground-breaking film, both in the topic —personally, I haven't found any previous film that focuses on breast cancer in such a realist way, while exploring the trauma and social challenge it may entail— and in terms of style. She uses a very cinematic language: pictures, movements and editing are often more important than words. It has very original resources like the mirror game, the sexual scene shot from under the actor's body with a glass and, of course, the superb bathroom scene with is technically flawless, besides being full of evocative references. 
It's interesting that you connect it to the New Wave. On one hand, the representation of sexual desire as a manifestation of an individual's subjetivity and liberation, the break with social norms, the realistic and explicit representation of cancer and mastectomies, and the crudity of disease and death, as you said, are elements that we'll find later in Oshima's or Shinoda's cinema. But, on the other hand, this film is strongly rooted in the melodrama tradition and draws a lot from classical cinema, even Hollywood, I'd say; and this represents everything the New Wave wanted to reject. But Tanaka experimented with the melodrama genre, looking for new possibilities. 
In my opinion, the most revolutionary thing about this film is precisely the representation of feminine desire and an active exploring sexuality, of social expectations about how to be a "good woman"…, and this is something most New Wave films don't achieve (even though many of them focus on women as main characters) because they are highly dominated by a male perspective of sex, gender and the individual's liberation.
Talk to me about that amazing bathroom scene in Forever a Woman… I already have it in my canon. Even though I prefer that shot in which the old sick woman says goodbye to the main character with the eyes…
It is an amazing scene, very well-made technically, choreographed to the smallest detail and full of tension. It has something homoerotic, sadomasochistic, and at the same time something very human and tender. Oddly enough, it is a domestic scene with her best friend (and not with her lover) in which the main character (Tsukioka Yumeji) is more exuberant, seducing the camera. The erotism is accentuated because, while she confesses to her friend that she fell in love with her husband, the framing and everything else remind us that we've seen that man before in that same bath, naked, obviously, and thus a very evocative connection arises. 
She demands her friend to look at her breasts' scars, she's not a passive object, but a subject demading to be seen, instead of hiding her pain; she wants to be looked at not in order to be pitied, but to be accepted as she is. But at the same time, Tanaka allows us to delight in Tsukioka's beauty and protects us from that view. It is a magnificent scene that has a lot of readings. 
Reading interviews with Tanaka and her autobiography, I always have the impression that Tanaka wasn't aware of how great her work as director was; there were very few women directing fiction films in the world on a regular basis. And the topics she dealt with in some of her films, and specially her approach, were ahead of her time. But after not making any more films at the beginning of the 60s, her memories always centered around her as an actress and even in her biography she devotes only a few pages to her facet as director. I think it must have been a complicated experience for her, though she clearly didn't give up and it wasn't the fit of a star in a crisis as some people thought at first. I wonder what would she think, what would she say if she could be here and see that spectators from all over the world are finally starting to discover her films.