A close-up is "dangerous because we build a relationship with the human being and not with the character"
The filmmaker is in Las Palmas de Gran Canaria to participate in the film series the festival devotes him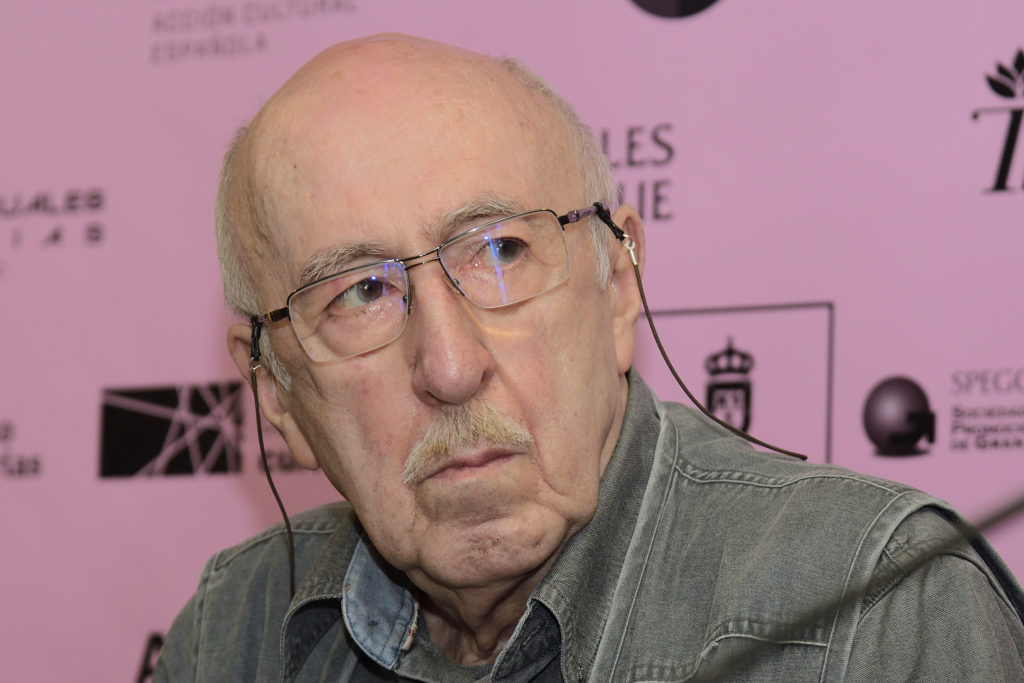 Las Palmas de Gran Canaria, Sunday, April 2, 2017.- Georgian director Otar Iosseliani, settled in Paris, to whom the 17th Las Palmas de Gran Canaria International Film Festival devotes the Iosseliani and Company cycle, has been categorical with the media during his press conference: "99% of current cinema has nothing to do with cinema". "True cinema is auteur cinema", and reiterates ironically, "auteur cinema, as if auteur music, auteur literature or auteur painting existed".
Iosseliani reasoned very smoothly during his appearance before the press to directly criticized Hollywood cinema, "they are only interested in making money with special effects that simply entertain", he pointed out. Films these days "only have happy endings, nothing to do with the cinema of Citizen Kane, Bergman, Fellini… that ends sadly. This is of no interest to commercial cinema", he complained. The Georgian director believes this cinema lacks the intelligence of great masters and pointed out, as an example, "At the silent era Chaplin or Buster Keaton solved the lack of sound with mise-en-scène".
He also recalled his Soviet Union period as a filmmaker, and said ironically "it was forbidden to make anti-Soviet films, but not non-Soviets". Despite censorship filmmakers manage to keep on making films", pointed out the Georgian director: "Among the intellectuals there would have been many that felt oppressed by the system, which resulted in a solidarity among them all".
Winter Song's author, a film that participated in the Official Section of the 16th Festival, bemoaned about the excessive use of close-ups nowadays, which he believes "dangerous because we build a relationship with the human being and not with the character". Actors, in his opinion, "are puppets" like in the ancient commedia dell'arte.
He also pointed out that, unlike what happens today, in his films as well as in René Clair's, Jacques Tati's and Pierre Étaix's, there are no shots repeated twice. "A repeated shot is a lost shot", and added, "this shot-repetition system is an invention of commercial cinema to make money".
Iosseliani used James Bond as the example of the films he considers far from "real films". These ones are, in his opinion, full of clichés that remind Prometheus' myth. Hollywood's scheme is showing a character as the great benefactor that always wins".
The Las Palmas de Gran International Film Festival has decided to fix the ignorance there is regarding this director's work, one of the great authors in European cinema of the last half-century, with the screening of a selection of copies on 35mm, joined by others directed by three masters – René Clair, Jacques Tati and Pierre Étaix-, who have influenced him in his filmmaker's vocation. "Barely five of his films have been released in Spain. And only the San Sebastian and Navarra festivals have devoted him retrospectives", clarified Gregorio Martín, a member of the festival's programming team and coordinator of the film series.