 The photographer from Navarre follows, in her debut as filmmaker, the daily routines of her two grandmothers, María Jesús and Manolita, during their final years
 The Film Festival presents this documentary film within the Panorama Spain section, today at 7:30 pm and tomorrow at 5:15 at Cinesa El Muelle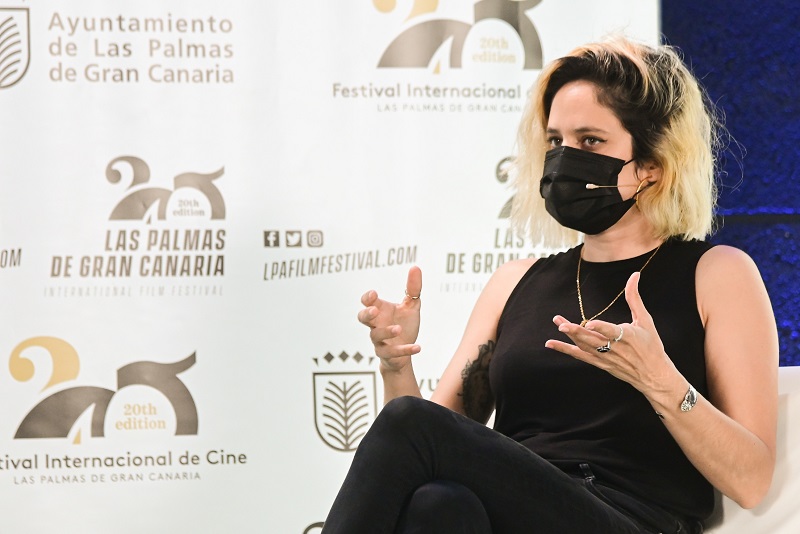 Las Palmas de Gran Canaria, Monday 12 April, 2021.- An intimate and profound portrait of old age through two octogenarians' stories. This is the result and the search process' reflection Ione Ateneo manages to portray in Enero (2019), the debut film of the young filmmaker from Navarre which will be screened at the 20th Las Palmas de Gran Canaria International Film Festival within the Panorama Spain section, today at 7:30 pm and tomorrow at 5:15 at Cinesa El Muelle.
In Enero, María Jesús and Manolita, the two octogenarian grandmothers of the filmmaker, are portrayed going about their daily routines. In her debut as filmmaker, photographer Ione Atenea follows her grandmothers' daily routines during their final years. Through an organic editing she follows their daily lives. While filming them with the camera, Ione Atenea talks to them about their life stories, the passing of time, and the death that they can both feel drawing nearer and nearer.
Ione Atenea, in a press meeting held this Monday morning, explained that the film sprang from the talks she had in the kitchen with her grandmothers about the historical moments they had lived. From their personal stories, she said, she explored that period and started to feel that "a transmission of history and knowledge" was occurring, so she decided to capture these testimonies with her camera.
Attracted by the contrast between her grandmothers' personalities and lives, she admitted that "they covered lots of aspects of a generation of women I wanted to explore since they have always been kept in the shade, in the background, and they are people who have lived a lot and have a lot to tell and a lot of wisdom to pass on".
Regarding the shooting, she said, it is "an intimate and simple film that only needed me to be there because the focus was on the relationship grandmother-granddaughter". She wanted to tackle the work "in an amateur way, highlighting the importance of those people's simple, daily routines, because they may seem to be unimportant, but the figure they represent does makes important".
Ione Atenea talked about the conversations she had with both women, from which very deep reflections emerged, the outward appearance of aging bodies, gestures, silences… Such aging, she pointed out, contrasts with their vitality, despite the film's "sometimes slow pace". All this awoke in her a need for searching the positive and vital aspects of old age and capturing them in Enero.
In this reflection on the passing of time that premiered in 2019 at the Gijon International Film Festival, where it won the Audience Award for Best European Debut Film, she also captures her own introspective process. "I started to film because of some wishes and intuitions of something that I wanted to capture, and I wanted to reflect that on the editing". This search she made paying attention to these women's daily routines, bodies, gestures, was filmed for two years, until she decided to stop and select, along with her sister Marina, producer of the film, all that legacy. A material, she admitted, "that is a gift", both the one appearing in the film and the one discarded.
The Film Festival's full program is available at lpafilmfestival.com, and tickets are on sale through their seats' traditional portals: entrees.es for Miller's programming (Camera Obscura, The Freakiest Afternoon and certain special sessions related to French filmmaker Chris Marker's centenary anniversary); and at cinesa.es (Cinesa's website), which offers the rest of the program, except for Déjà Vu, which will be screened at the Elder Museum of Science and Technology (where MECAS will be held, too).