The premiere of the film distributed in Spain by Begin Again Films will be presented as a special session tomorrow, March 23rd, at the Pérez Galdós Theater at 9:15 pm
The novel's film adaptation will be commercially released in Spanish theaters the 31st of May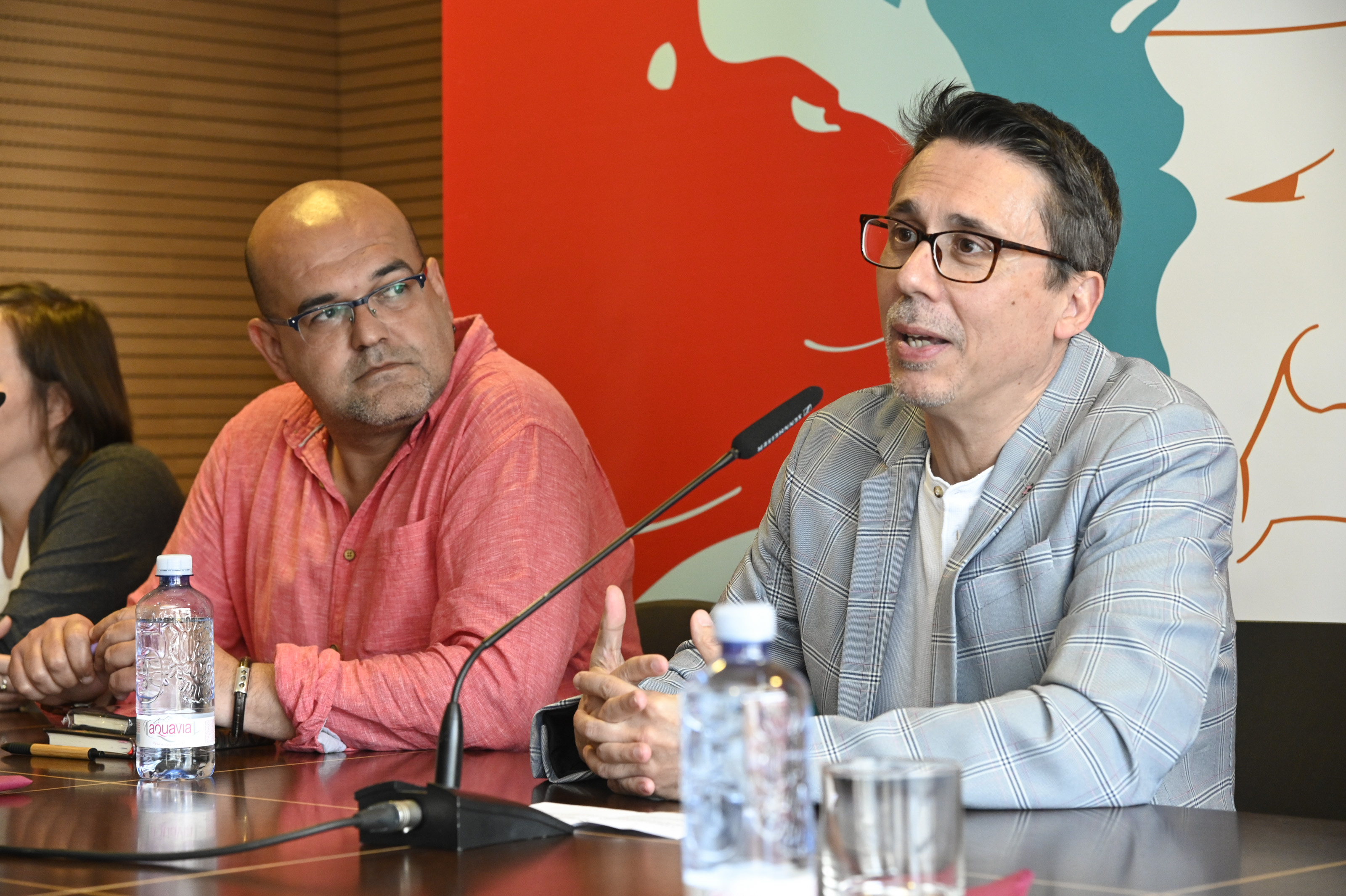 Pictures: Tony Hernández.
Las Palmas de Gran Canaria, Friday 22 March 2019. Gran-Canarian filmmaker Elio Quiroga explained today, March 22nd, that he wanted to "make justice" with his La estrategia del pequinés to Alexis Ravelo's novel of the same name. The film will premiere in Spain at the Las Palmas de Gran Canaria International Film Festival tomorrow, March 23rd, at 9:15 pm at the Pérez Galdós Theater.
Elio Quiroga revealed that in La estrategia del pequinés, a noir film, the audience will find "a story of losers, of making certain decisions, usually mistaken, and that lead to disaster when a group of people decide to make a bold but at the same time suicidal robbery, with the consequences it has in their lives".
Popular neighborhoods, exclusive hotels, urban beaches and other spaces are depicted in a film whose "lightning, color, framing and composition treatment recalls that of the Western", pointed out Quiroga, "where a series of lost souls seek redemption, despite having everything against them". Meanwhile, Alexis Ravelo said that he never thought his novel could end up becoming a film because he wrote and published it "in a very humble way", which has making him feel "very flattered and privileged". He admitted that "when I write literature I don't think in its film adaptation". Then he praised Elio Quiroga's "good work, talent and trust", with whom he worked in the adaptation of the novel. La estrategia del pequinés stars Unax Ugalde, Jorge Bosch and Kira Miró, "a Canarian actress with a huge influence in theaters", stressed the director. The film will get to the rest of Spanish theaters in May 31st thanks to Begin Again Films, a national distribution company that has supported the release of this book. Ravelo's novel has won, among other distinctions, the 2013 Lee Misterio Award for Best Female Character, the 2014 Hammett from the Semana Negra de Gijón, the 2014 Novelpol and the 2014 Tormo Award; it is currently in its eight edition.
Elio Quiroga wanted to thank the help they got to be able to make and finish the production of the film from the Cabildo de Gran Canaria, the Gran Canaria Film Commission, Televisión Española, Televisión Canaria and the agents from Las Palmas de Gran Canaria's Grupo Operativo de Intervención y Apoyo (GOIA) [Intervention and Support Operative Group]. He also thanked the Film Festival and its director, Luis Miranda, who accompanied him during the press conference alongside Nuria Guinnot, coordinator of the Gran Canaria Film Commission, and Ian Stuart, the producer of the film.
Elio Quiroga
Elio Quiroga, a Las Palmas de Gran Canaria native initiated in experimental music and videoart, made his debut in cinema in 1996 with Fotos, a cult film that won the Jury Special Mention and the Best Screenplay Award at the Sitges International Film Festival and was praised, among others, by Quentin Tarantino. His following feature films La hora fría and No–Do has been distributed in over thirty countries, thus being the most known Canarian films up to date. His animated short film Me llamo María was selected in the 2010 Oscars' Short List, and Home Delivery, an animated adaptation of a Stephen King's tale introduced by Guillermo del Toro participated in the competitive official sections of over a hundred international film festivals, winning the Best Fantastic Short Film at Fantasporto and the Silver Conch at the Bombay International Film Festival. His last feature film, the documentary El misterio del rey del cinema, won the Jury Special Mention at the Gijón International Film Festival, while his recent webseries Science Gossip was the first Canarian production to be nominated for the famous Television Rockie Awards. He is also a writer, having published the horror novels Idyll and El despertar. In 2015 he won with his novel Los que sueñan the Minotauro Award, the most prestigious prize in fantasy literature in Spain. He published in 2018 a new novel, Entre los sueños, thanks to Ediciones B.
Alexis Ravelo. Novel
Of humble origin and autodidactic formation (Las Palmas de Gran Canaria, Spain, 1971), he has stood out because of his detective novels, short stories and children's books, but he is also the author of six musical-dramatic shows, the script of a television program, some articles and dozens of lyrics for different singers. He stands up for an artisanal conception of the literary act, in which reflection, uneasiness and pleasantness are combined.