 Dácil Manrique de Lara presents in Canarias Cinema her debut film: a feature in which she revives the figure of her grandfather, in an intimate tone with which the director also shows her personal and vital path
 The filmmaker recovers an essential fragment in the history of contemporary art in the Canary Islands, in a piece praised by critics and with a recognized visual and narrative quality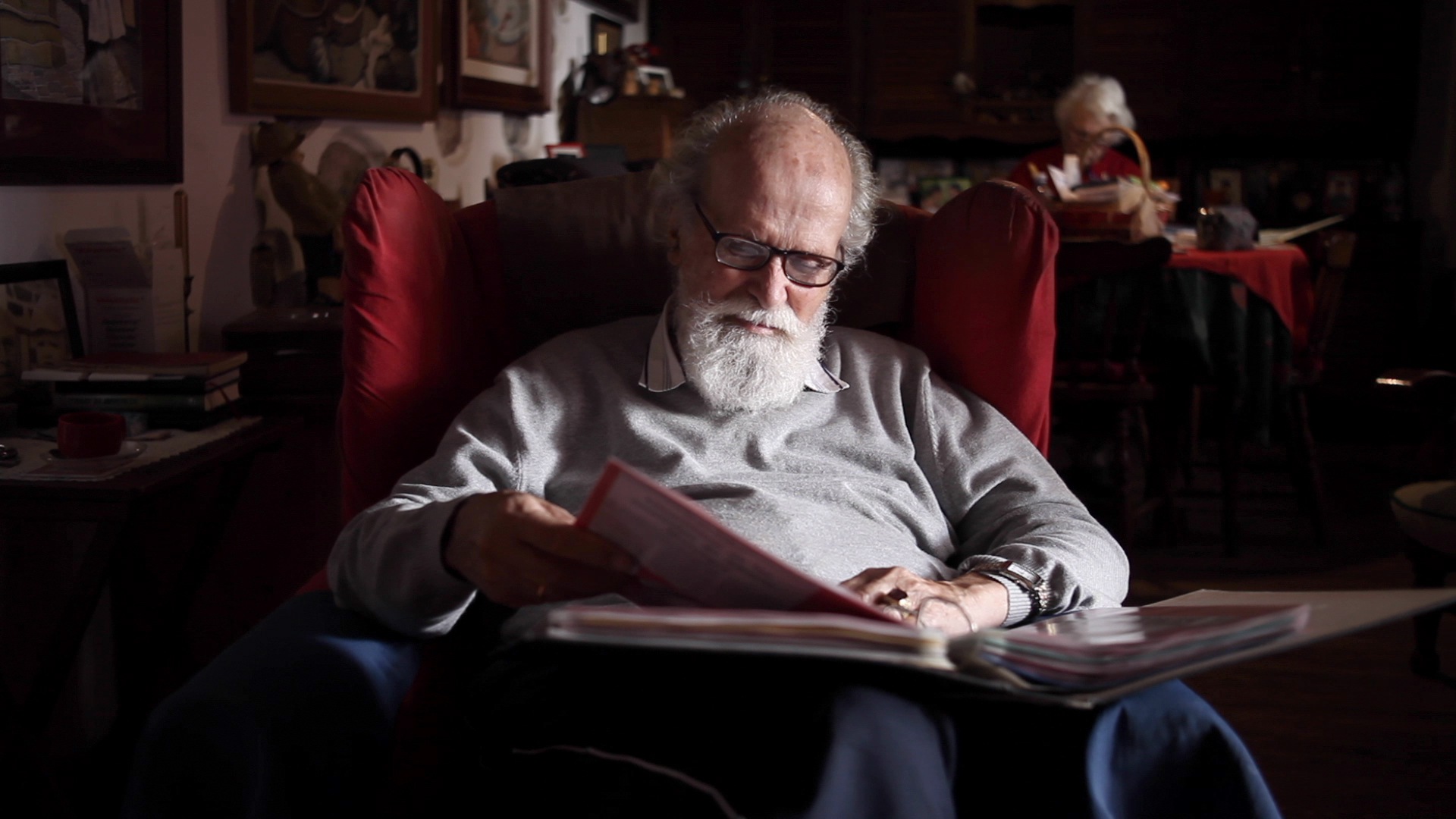 Las Palmas de Gran Canaria, Sunday 11 April, 2021.- The history of Contemporary Art in the Canary Islands and of its protagonists themselves continues to be written, still today, in an exercise of willing, surprising and revealing deciphering of some figures whose works, as time goes by and knowledge expands, tend to connect in a more direct and genuine way with Canarian society.
Part of that history belongs to painter Alberto Manrique's watercolor and stroke, who in 1951 was one of the founders of the LADAC group (Archers of Contemporary Art), alongside Felo Monzón, Juan Ismael and Manolo Millares. Alberto Manrique was the last of them: he passed away in 2018 March, leaving behind the legacy of a brilliant artist lucid in his works' different manifestations. His granddaughter, Dácil Manrique de Lara, portrays him in the intimate and personal documentary film The Last Archer (2019), her debut film. A feature that arrives to the Las Palmas de Gran Canaria International Film Festival's Canarias Cinema section.
The Last Archer, however, is not a typical documentary about an art figure. It's a personal story, because Dácil exposes herself in the film to show her peculiar connection with her "grandfather-father" and with her grandmother, violinist María Dolores (Yeya) Millares Sall. Manrique and Millares are surnames than in themselves define part of the Islands' Contemporary Art, and such an emotional approach to their family environment can never be trivial. Especially if the filmmaker, despite debuting in the genre, comes backed by a long professional career in fields such as advertising or music videos.
The motive for embarking in the shooting "was absolutely personal", explains the director. "I was sure about wanting to make a feature, although finding the time for it wasn't easy. I was even surer that my first film should be a present for my dad-grandad". Besides, she had in mind that Alberto Manrique had been involved in initiatives that have been significant for Canarian culture, such as the magazine Planas de Poesía or the aforementioned group LADAC, which promoted a concept and esthetics of abstract art and fantasy reality within a social context as abrupt as the dictatorship.
Dácil Manrique de Lara delves into her own biography to connect with her family. Is she happy with the final result? "I always think that happiness is not the word to describe what I feel. A cinematographer told me once that films are not really finished, but abandoned. Could I have mulled over it more? Included other people? Yes. Though it wasn't necessary. I am satisfied with having being able to make such a complex, intimate film for which finding founding wasn't easy. I'm also pleased with the fact of having gone this far. Us being in Toronto, the film going here and there and the reviews having been that good. That is a reward, in addition to leaving that legacy, that presentation of my grandfather".
Indeed, The Last Archer was included in the official section of the Toronto Hot Docs International Documentary Festival, and has been praised by significant voices within the circuit. It is a first-person documentary film, with an impeccable direction and a pace that gets us closer to the narrator and director's way of looking.
The fact is, Dácil points out, that "I was really interested in the archers' history. When I see a work, I think about the sort of person who has made it. Obviously, the work of all those painters, my grandfather included, exists, sure. But very few people had the chance of meeting them. That was my way of looking at it".
The main character, the painter Manrique, didn't have an easy maturity: he suffered a cerebral infarction and lost part of his memories. The documentary is, in essence, a gift by which her granddaughter intends to give them back to him, in a moving film exercise. "My grandfather", adds the autor, "was a revolutionary in his thinking". The film so reflects it, in which, among other things, there's a reflection on a painting's fate and how a museum may not be the best of them. That is, a space in which the work is subject to multiple analysis, without never reaching the peaceful and intimate destiny a family living-room could give it. Alberto Manrique "even said that he was in part lucky to suffer the stroke, because bad memories went away and stopped tormenting him. His discourse has had great symbolism for me", notes the filmmaker.
In regard to that group of artists, Dácil thinks that "in part I did have managed to get the audience closer to the spirit those youngsters had. Although sometimes you need to choose which things remain and which things are left out when you make the film. It's a perfect thing for spectators to know all that in such a close way. Some are still there, others are not. My grandfather was the last archer, although a film about all of them could've been made, too". In short, and "from a historical perspective, I do think that effect was achieved, and better told than in other places of enquiry that we hold as references. It was indeed a vital document to fix some mistakes".
Even so, the painter, or even the grandmother full of life and expressiveness (Yeya Millares), were not the main topic of the feature. Its author points out how "this film approaches art's healing capacity. I talk not only about me or my family, but, for instance, the Millares family. All of them are artists, and found, despite the suffering, a place for growth in art".
For the making of the film Manrique de Lara admits that "I've taken advantage of my professional experience". Always around pictures, because "the visual has always captivated me since I was little. Composition, color, photography… interest me a lot. I also like natural light or chiaroscuros very much. My grandfather gave me that art education as well, in addition to many other things. Since I was little he put art books in my hands and I played at guessing by whose painters were the paintings I was looking at".
However, The Last Archer was not an easy venture. "I had minimum means", recalls Dácil. "I started to shoot the film alone: I took my Canon 5D and went from there. I had little, but sometimes little is a blessing in disguise, because you make the most with what you have. It's true that I employed very good senses, and that stands out".
Dácil Manrique de Lara's debut film was selected for Canarias Cinema just at a time in which its author has settled again in the Islands, after 24 years working in Madrid. "I'm a fan of independent films, of auteur films, and I like that a lot about the Festival", she points out. Not without adding that "I'm surprised a lot this edition's selection in Canarias Cinema. I think is a great year because of the enormous quality of the selected films. I'm super happy with mine been among them".
The Last Archer is screening at noon on Monday 12 at Cinesa El Muelle's Screen 9. There's a public screening scheduled at 5 pm, too, with a previous introduction by Dácil Manrique de Lara. The event is subject to all security measures fighting the spreading of COVID-19, so masks are compulsory and social distances need to be observed at all times during screenings.