 Alba González de Molina presents in Canarias Cinema a documentary film about the work of 27 artists from the same generation settled in the Canary Islands
 The film is part of the Imaginary Laboratory project's result, set in motion by Gran Canaria Espacio Digital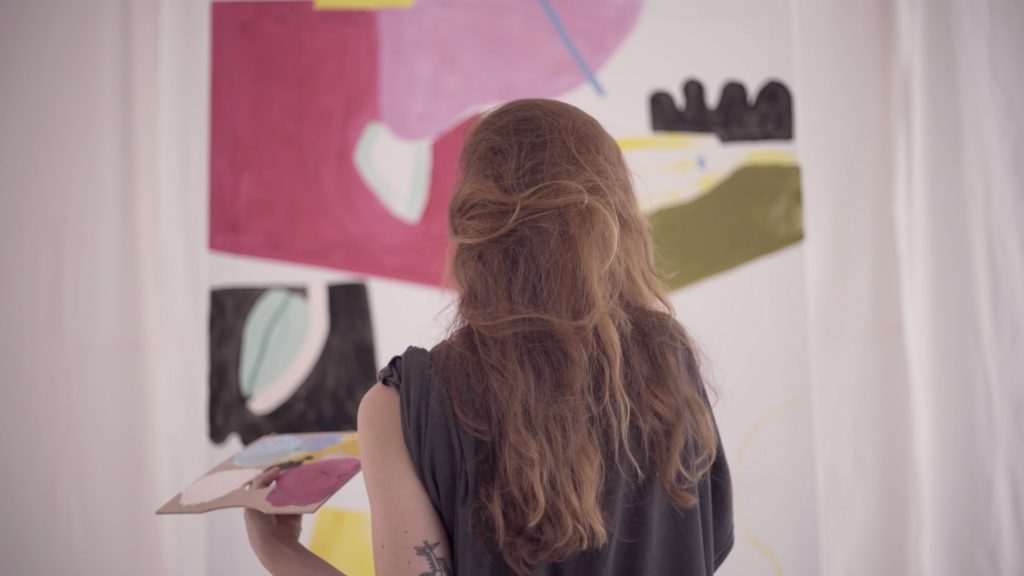 Las Palmas de Gran Canaria, Monday 12 April, 2021.- The Time Is Ours (2020) cannot be explained by itself as a typical feature. It is, in fact, part of the Imaginary Laboratory project's result, set in motion by Gran Canaria Espacio Digital. An initiative that gathered 27 artists from different disciplines, settled in the Canary Islands. Creators from different fields, who start their artistic career or are in the process of consolidating it. Filmmaker Alba González de Molina assumed the direction of a documentary piece that approaches that collection of talents' peaceful clash. The filmmaker, who in 2016 made the acclaimed fiction feature Julie, already had experience in the documentary field thanks to Stop! (2012) and Las flores de Jericó (2018), alongside Blanca Ordóñez. The result, in this case, is an interesting "dialogue among people from the same generation: a reflection on the creative process in itself".
González de Molina was precisely trying to "highlight the importance" of the path artists take to get to a work. "Something spectators completely ignore. They usually don't know what's behind it". The director wanted "to approach those interests" and "the fear itself" the person who creates must face.
In this case, a fear redefined by the development of Imaginary Laboratory: "We gave each artist eight hours to make their work, they didn't really have a lot of time to think. Besides, they didn't exactly know either where they had to start until practically the last moment", recalls Alba.
What she wanted was "to play with that pulsion, that first creative impulse. I think I've achieved it, because the whole group was very motivated to get it", she adds. The making of the documentary took two whole years of work, in which the filmmaker herself ended up participating. The artists involved in the project were Pablo García-Inés, Patricia Alvaleón, Román Pérez, Patricia Bravo de Laguna, Silvia Travieso, Jacobo Quaranta, Zhana Yordanova, Asiria Álvarez, Alan Himar, Ner Suárez, Carlos González, Octavio Limiñana, Mireia Tramunt, Óscar Latuag, Lía Ateca, Abigail Ojeda, Dácil Mederos, Irene Ferarios, Jéssica Casal, Pablo Rada, Paula Ducatenzeiler, Carlos Santana, Luciana Dos Santos, Alberto Pulido, Marta Torrecillas, Luna Bengoechea and Laura Castilla.
The director confesses that "what the project gave me was completing that mental puzzle: that universe has always interested me, especially in regard to creative processes. Not only mine, but everyone else's too. Every time I can talk with an artist, I try to delve into that, asking her how it works in her case". Besides, Alba met in the project with "people from my own generation" Her interest in the piece was redoubled.
Regarding Imaginary Laboratory's combined actions, the director thinks that "it did work in that sense. I keep in touch with some of the artists, though I knew many of them from before. I discovered the others. And collaborations have emerged among themselves, too". A whole crop after their experience-sharing session.
Has that mission of finishing a work within a time limit resulted in a sort of raw art? "Yes, that concept if raw art. You could define it like that", she points out. "You have eight hours for yourself, that's why the idea of The Time Is Ours. It has that tone of purity, and within it it's precisely where their biggest fears are discussed. For instance, nostalgia or sadness".
Alba González de Molina returns now to the Las Palmas de Gran Canaria International Film Festival, which had already selected her Julie in 2017 (a film that earned her the Best Debut Film Award at the Malaga Film Festival). The Festival had selected as well her short film Baise moi, por favor (2014, codirected with Marine Discazeaux). "I love this Festival: its bold commitment to films that don't necessarily get away from the audience", says the filmmaker. "On the contrary, I think it tries to get closer to them from different standpoints of looking at cinema and at life. It is quite a complete Festival and I like its proximity a lot, far from how presumptuous other festivals can be. I find it, as a director, a very close and easy festival, where everybody is on the same place. A meeting in which all of us can grow arises from there. It's been super important for us to share these interests in here".
The Time Is Ours is screening at noon this Tuesday 13 April at Cinesa El Muelle's Screen 9. There'll be another screening at 5 pm that will include a previous introduction by Alba González de Molina. The event is subject to all security measures fighting the spreading of COVID-19, so masks are compulsory and social distances need to be observed at all times during screenings.