 The Canarian company 2RC Teatro, led by José Luis Masso and with the collaboration of Luis O'Malley, will be in charge of directing the opening ceremony, that will take place next Friday, April 6, at the Pérez Galdós Theater
 El Gran Wyoming and his band "Los insolventes" will give a concert on Saturday, April 7, at The Paper Club, within the framework of the Festival
 On April 6's evening, Última experiencia, the name of the group when José Miguel Monzón is not playing with them, will take the Nasdaq club with their own songs
Las Palmas de Gran Canaria, Thursday, March 1, 2018. El Gran Wyoming [The Great Wyoming] will be the one in charge of conducting the opening ceremony of the 18th Film Festival, next Friday, April 6, at the Pérez Galdós Theater, in an event that will have José Luis Massó and Luis O'Malley, both closely connected with the Canarian company 2RC Teatro, running its stage and artistic direction. As previously revealed, the opening ceremony shall finish with the screening of El pintor de calaveras, a documentary film produced by Andrés Santana and directed by Sigfrid Monleón, devoted to universal artist Pepe Dámaso.
El Gran Wyoming will be the one introducing the Canarian master, the director and the producer of the film after having taken over the conducting of the film festival's opening ceremony, on an evening in which the Pérez Galdós Theater shall as well accommodate the members of the juries, guests and the coordinators of the different sections of the Festival.
In addition to this film and television popular figure, José Miguel Monzón Gran Wyoming, the opening ceremony will also have two great names within the theatrical sphere: José Luis Massó and Luis O'Malley, whose work will be visible through the artistic and stage direction of the evening, since the Festival's team has given this job to the Canarian production company 2RC Teatro, to which both Massó and O'Malley are strongly related.
The participation agreement of these representatives of the film, stage and art scene is a result of the meetings and talks the ones responsible for the Festival have hold throughout these months with them, securing they could all save some time for this small event that has been gaining prominence and renown within the festival circuit.
The agreement with Wyoming has been on the making since late 2017. The good predisposition of the doctor, actor, comedian, columnist, host, musician and filmmaker ―he shot in 2004 the segment Muertos de segunda, within the multi-part feature Hay motivo, and released in 2016 the documentary film El Severo me duele, among others― regarding emails was followed by talks that ended up in a meeting between him and the director of the festival a few weeks ago in Madrid. Wyoming will work alongside his team and under José Luis Massó and Luis O'Malley in Las Palmas de Gran Canaria, securing all together a ceremony that will provide equal doses of good humor and rowdy critical spirit.
A few decades have gone by since that young doctor, José Miguel Monzón (Madrid, 1955), found out on the stage of the bar La Aurora that his eloquence would be his way of earning a living. Eight consecutive years in such place doing what back then nobody used to, talking on a stage while Maestro Reverendo played the piano, were more than enough for his natural talent to connect with the audience to draw upon him the attention of those who made decisions in television networks. Since then he's been showered with parts in very successful sitcoms and shows, such as the eight consecutive years in Tele 5 with Caiga Quien Caiga and twelve years hosting El Intermedio in La Sexta, both of which have granted him significant awards and which, in case of the last one, keep on introducing him to the homes of the Spaniards, who applaud the honesty, irony and sense of humor he uses when dealing with current topics without disregarding those who have turned him into what he is today, his fellow citizens.
He has appeared in more than thirty films, has written columns in the newspaper Público and has published seven books. Despite all that, he still hosts his tv show daily and travels around the Spanish geography on alternate weekends, playing with his band "Los insolventes", a group of youngsters approaching their thirties and with whom he gets some fresh air while having fun and filling up clubs and bars with rock and roll songs. Let's not forget it was music the first temptation that moved him away from medicine, a romance still alive today and which kept him connected for 20 years with musician and arranger Ángel Muños Alonso, Maestro Reverendo.
Festival evenings with Última Experiencia, Gran Wyoming and Los Insolventes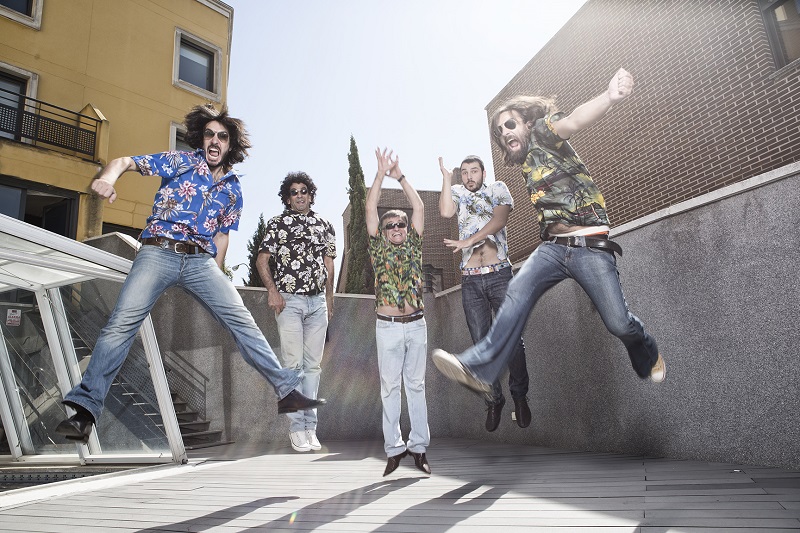 Wyoming's stay at the Film Festival will be prolonged one more evening, providing the Gran-canarian audience with the chance of attending a concert that his band will give on April 7 at The Paper Club, a welcomed visit for those who have travelled to Las Palmas de Gran Canaria in those days. Also, in the evening of the very same April 6, Miguel Ángel Ariza (voice and guitar), José Alberto Solís (bass) and Carlos Lahoz (drums), known as "Última Experiencia" when Monzón is not playing with them, will present at the Nasdaq club, within the framework of the Festival, their last album, Cultura caduca, a new exponent of their own repertoire that reminds sounds from the most genuine rock of the 60s and 70s.
The opening ceremony will be marked by May 1968's spirit of cultural agitation
Thus, the Film Festival will have a big weekend starting off with an opening ceremony designed by José Luis Massó and Luis O'Malley, two names connected to the Canarian scene that will take May 1968's philosophy and its free and protest spirit to put a show that feeds from works, ideas and the spirit of the decade.
José Luis Massó, trained as a stage designer and actor by Real Escuela Superior de Arte dramático of Madrid, which he then expanded at Webber Douglas Academy of Londres and at the Italian Tag (Teatro alla giustizia) of Venice and the Vicolo Theater of Reggio Emilia, he is, besides an actor and stage designer, a teacher of Commedia dell'arte, a fencing instructor, a 3D animator and a painter.
In addition to his long career as an actor, Massó has directed several shows connected to the city of Las Palmas de Gran Canaria and has worked as an assistant director in the staging of shows by important companies such as Centro Dramático Nacional, Compañía Nacional de Teatro Clásico, Noviembre Teatro or National Company of Turkey (Develet Tiyatrosu). His long career as a stage designer has also been recognized with prominent awards and connections with important companies and festivals: Massó has been art co-director of the Compañía Nacional de Teatro Clásico, which is under the Spanish Ministry of Culture, for seven years and has also won the Agora Award at the International Festival of Classical Theater of Almagro in recognition for his 20-year work at the Festival.
Together with him arrives Luis O'Malley, an assistant director of  2RC Teatro, a company of Repertorio, who was born in Las Palmas de Gran Canaria and graduated in Dramatic Art at the Escuela de Actores de Canarias. He has directed the staging of some shows for several companies such as Salvando la sal, La Quinta Pared or Los tres mosqueteros.