 Javier Sales and Virginia García, from Días de Cine, present the cycle Film and Philias, designed by TVE's veteran show
 Vida en sombras, by Llobet Gracia, Peeping Tom, by Michael Powell; Me Earl and the Dying Girl, by Alfonso Gómez-Rejón; Le Mépris, by Jean-Luc Godard; Through the Olive Trees, by Abbas Kiarostami; The Cameraman, by Buster Keaton; Berberian Sound Studio, by Peter Strickland; The Man with a Movie Camera, by Dziga Vertov, and Persona, by Ingmar Bergman, are the titles selected by the classic television show's team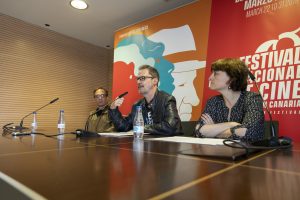 Las Palmas de Gran Canaria, Saturday 23 March 2019.– Javier Sales, deputy director of the show Días de Cine, presented in today's press conference the cycle Film and Philias programmed by the 19th Las Palmas de Gran Canaria International Film Festival. He was accompanied by one of his colleagues, Virginia García. This cycle offers nine films that look at cinema from love and that "reflect a love for films, the cinephilia", which is "the starting point of the work" of TVE's La 2 show, explained Sales.
The deputy director of Días de Cine also explained that the cycle Film and Philias is made up of nine masterpieces that revolve around four different sections: Love / Passion / Cinema; Shot / Reverse Shot; Soundtrack and Film Apparatus / Camera Obscura.
Vida en sombras, by Llobet Gracia (Spain, 1949), in a restored copy; Peeping Tom, by Michael Powell (United Kingdom, 1960) and Me and Earl and the Dying Girl, by Alfonso Gómez-Rejón (USA, 2015) make up the section Love / Passion / Cinema. They are films that deal with the absolute necessity of filming, of staring at life through a camera, and that "in this case Spanish cinema has a lot to contribute to", pointed out Sales.
The Shot / Reverse Shot section gathers three films that focus on the reverse angle "of what it is shown onscreen, of the other side of the story, even of film history or of its own inner-history": The Cameraman, by Buster Keaton (USA, 1928); Le Mépris, by Jean-Luc Godard (France, 1963) and Through the Olives Trees, by Abbas Kiarostami (Iran, 1986).
Berberian Sound Studio, by Peter Strickland (United Kingdom, 2012) is included as a tribute to sound, "cinema's poor brother", according to Sales, in a third section called Soundtrack.
Lastly, Film Apparatus / Camera Obscura gathers two titles that, according to Días de Cine, "reveal cinema's material nature, the substance dreams are made of": The Man with a Movie Camera, by Dziga Vertov (USSR, 1929) and Persona, by Ingmar Bergman (Sweden, 1966).
Javier Sales was very grateful for the Festival's invitation to participate in it with this cycle because "it has been a huge challenge that they had never done before". He also stressed Las Palmas de Gran Canaria International Film Festival's importance for what it provides as opposed to other festivals.
Likewise, Virginia García highlighted the Film Festival's line of work, "since it is always looking at the present and to the future but never forgets about the past, knowing thus how to combine a good programming".