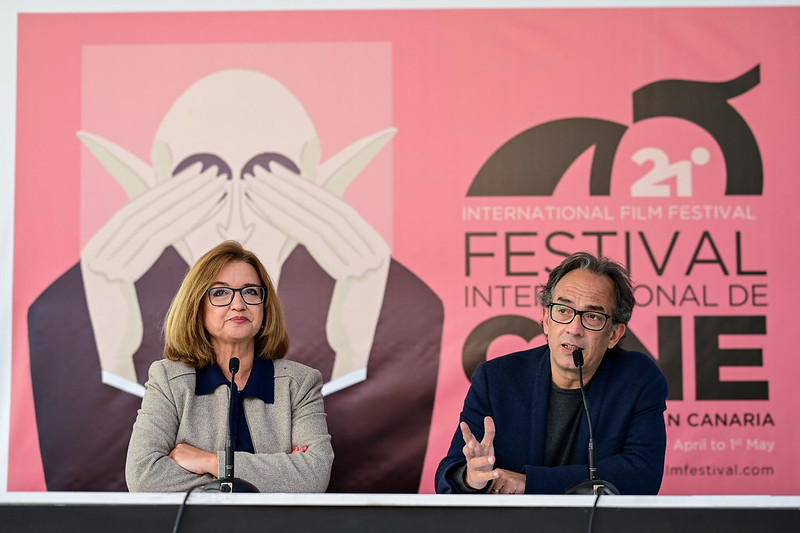 Las Palmas de Gran Canaria, Wednesday 6 April 2022.- Las Palmas de Gran Canaria International Film Festival's Official Section will offer a selection made up of ten features and twelve short films, one of them out of competition. In addition to these 21 works, there are nine more from Bande à Part, nine others from Panorama Spain, fifteen short films from Canarias Cinema and three other features from the same section. Thus, a total of 57 titles will compete for the awards of this 21st edition.
Over the past few weeks, those in charge of the Festival have been advancing the titles selected for the different sections until arriving to the final selection that provides every festival with its identity, that is, its Official Section.
To introduce the selection of films competing for this edition's awards, Luis Miranda, the director of the Festival, has been accompanied by Encarna Galván, city councilwoman of Culture, in a press conference in which they have both thanked the involvement of public and private institutions in the development of the Festival. Its main venues will be the screens of Cinesa El Muelle, Edificio Miller (for Camera Obscura and the Second Conference on Film Work) and Hotel Cristina by Tigotan, which will become the space for the Festival's market and press conferences, in addition to accommodating this year's guests.
According to what they revealed, after closing the reception period last February 18, the Selection Committee has watched 600 titles (290 features and 310 short films) for the Official Section; 83 for Bande à Part; 165 for Panorama Spain and 73 for Canarias Cinema. A task they carried out by selecting a collection of works that respect the essence of what defines the Gran-Canarian Festival within the international circuit.
Regarding the selected feature films, programmer Andreea Pătru claims in her introductory text in the catalogue that "innovative and surprising, controversial or self-reflective, the films included in this Official Section offer a new perspective on the state of cinema". Something Miranda agrees with when defending this mostly intimate collection of works. On this regard, Pătru claims that many of them "exude intimacy and come from first-person experiences, memories, and personal anxieties".
The selection includes fiction and non-fiction, political essays, pandemic dramas, personal crisis, losses and other topics. A sort of cinema "resistant" to the system and the conventional ways of portraying reality, works that challenge and demand reflection from the audience.
"It's a program of films in conversation with onea nother, hoping to do what cinema ultimately does: bringing us together", points out the programmer in the catalogue.
Vietnamese Ha Le Diem's Children of the Mist (2021, 92 min), about the tradition-independence dilemma some women from the community face; French Bertrand Bonello's Coma (2022, 80 min.), a depiction of an eighteenth-year-old birthday during the confinement, that of the filmmaker's daughter, who was obsessed with an influencer, Patricia Coma; Rwandan Kivu Ruhorahoza's Father's Day (2022, 111 min.), three linked stories on paternity and maternity crisis in Rwandan society; Canadian Jacquelyn Mills' Geographies of Solitude (2022, 103 min.), a depiction of the conservationist Zoe Lucas' life in Nova Scotia's Sable Island; Argentinian Alejo Moguillansky and Luciana Acuña's The Middle Ages, (2022, 90 min.), a ludic film about the lives of these filmmakers and their daughter Cleo during the confinement; Kim Quy Bui's Vietnamese and German coproduction Memoryland (2021, 99 min.), a series of interrelated stories that explore attitudes about death in Vietnam; American Erin Wilkerson and Travis Wilkerson's Nuclear Family (2021, 95 min.), again a personal story and the burden of an obsession, the nuclear war that will have a huge influence on the Wilkersons and their three kids' road trip; Lithuanian Laurynas Bareisa's Piligrimai (2021, 92 min.), a loss shared between two people and two ways of enduring death in a noir-like title; American Jordan Lord's Shared Resources (2021, 98 min.), a title about the importance of the material and sentimental debt Lord experiences after ending up broke due to the Katrina hurricane; and Ursula Meier's Swiss, French and Belgian coproduction La ligne (2022, 101 min.), a family conflict founded on reproaches. These are the films the Official Jury will have to judge in order to grant the corresponding awards.
The members of this jury, as it has already been anticipated in previous news, are filmmaker Lucile Hadzihalilovic, to whom the Festival is going to dedicate a retrospective; 2008 Nobel peace candidate Rita El Khayat, writer, anthropologist  and president of the Moroccan Cinematographic Centre (CCM who will give a talk in Casa África on April 27 at 7 pm, and Tiina Lokk, director of the Tallin Black Nights Film Festival.
Short Film Competition
Regarding the competing short films, alien to the industry's pressure, it has prevailed the commitment to relevance. This is what the programming department claims, who, according to one of its members, have made a selection that "confronts us with different styles, moods, genres, and origins, resonating and leaving a mark in the spectators' minds".
All titles will premiere in Spain as part of Las Palmas de Gran Canaria Festival's contents. A total of 11 works (Ashkhar is out of competition) will be judged by producer Carla Sospedra, founder of Edna Cinema; John Canciani, programmer of events such as the Swiss Youth Film Festival in Zúrich and the Internationale Kurzfilmtage Winterthur, as well as expert, film collector and creator of a film club in Winerthur; and Sarah Schlüssel, cultural worker, film programmer, manager of Berlinale Talents' Short Form Station and member of the Berlin Film Festival's Berlinale Shorts Selection Committee.
The works competing in this section are:
A Guitar in the Bucket by Boyoung Kim (South Korea, 2021, 15 min.)
A Human Certainty by Morgan Quaintance (United Kingdom, 2021, 20 min.)
Biting the Dust by NEOZOON (Germany, 2021, 13 min.)
Curupira e a máquina do destino by Janaina Wagner (Brazil, France, 2021, 25 min.)
I Remember It Rained by Connor Simpson (USA, 2021, 12 min.)
Madrugada by Leonor Noivo (Portugal, 2021, 28 min.)
Mater inerta by Adrià E. Goy (Spain, 2022, 28 min.)
Saei Mikonam Faramoush Nakonam / I'm Trying to Remember by Pegah Ahangarani (Iran, Czech Republic, 2021, 16 min.)
Somleng Reatrey / Sound of the Night by Chanrado Sok, Kongkea Vann (Cambodia, 2021, 20 min.)
Soum by Alice Brygo (France, 2021, 31 min.)
When Night Meets Dawn by Andreea Cristina Borțun (Romania, 2021, 20 min.)
Ashkhar, out of competition by Christine Haroutounian (USA, Armenia, 2020, 22 min.)