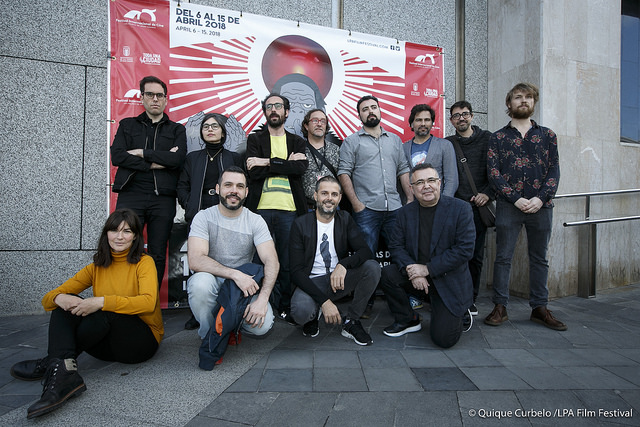 The Festival screens the second session of Canarias Cinema Short Films (seven, with a duration of 82 minutes) and the features Telúrico and Apocalipsis Voodoo 
Víctor Rosales, programming coordinator of the Las Palmas de Gran Canaria International Film Festival, presented this Sunday, April 8, at the Pérez Galdós Theater, the authors of the second group of screenings within the Canarias Cinema section (sponsored by Binter): seven short films and two other features, the documentary Telúrico and Apocalipsis Voodoo (this one out of competition). A strong accent on social and political conscience, other views of love or even animation define this group of works that share today their first screenings, and which completes an eclectic and colorful portrayal of the films made nowadays in the Islands and shown at the festival.
Amaury Santana, Hugo Herrera, Daniel León Lacave, Miguel Ángel Mejías, Manuel Reyes Halaby, Samuel M. Delgado and Helena Girón, in addition to a group of students from Escuela de Cine Infantil y Juvenil Cámara y Acción, make up this second group of short films' authors competing in Canarias Cinema.
Hugo Herrera pointed out that in his short film, Insight, "we tell the story of two women living under extreme conditions who through a card game reinterpret the rules of their own micro-society".
Amaury Santana made Clavijo tu amor, which "was made for Lanzarote's Bienal: the challenge there was to freely work on Agustín Espinosa's Lancelot. I focused on a chapter that talked about Clavijo Fajardo, who has inspired other dramatists in Europe, like Goethe, who created a work entitled like Clavijo's. That's what inspires my short film".
Actor Niklas Schmich defended in front of the media the short film Nocturno, in the name of Miguel Ángel Mejías, a work that deals with "a film topic: a love triangle, but from a current point of view, shot in a very independent way and at our own pace".
Rosa Escrig, director of escuela de Cine Infantil y Juvenil Cámara y Acción, explained that Morir en el intento, made by her own students, "is the first professional short film the school presents. It's a short film made by 16 teenagers and supervised by professionals from the audiovisual sector. There was nothing in the world that made us more excited than to present it to this festival".
Manuel Reyes is Nouvelle Cuisine's author, "an animated short film made with love and patience. It took me nearly six years to make it", pointed out the director, to add that the short film "is pretty simple and I hope people like it. I thank the festival for having me here, because I am now working in London", he stressed.
Ángel Valiente, producer of La muñeca rota, a work by Daniel León Lacabe, portrayed "a short film about child exploitation. We managed to shoot it at the end of last year and we are very happy with the final result", he explained. "It's a short film that seeks to make people think about a problem that is apparently far away from us, out of our frontiers, but with which we collaborate every time we buy a product made in those places", he added.
Helena Girón, director of Plus Ultra together with Samuel M. Delgado, explained that their work deals with the motto Plus Ultra, "which is the motto of the Spanish state, with a heroic representation of the past that we find awful. Back then it was used in the Middle Ages as a way of putting pressure on seamen to cross the Atlantic. We hope people like it", she concluded.
Feature films in Canarias Cinema
Sergio Morales and Ulises Morales talked about the motives for their Telúrico, a documentary film "that plays with fictional elements, counting on the audience's capacity to interpret them". A feature that "revolves around personal relationships, but which is also something of the utmost relevance, like the relationship we have with the land we inhabited. In the Canary Islands' case, this is something specially important for all of us".
Ulises Morales stressed that the film is for all audiences. And Sergio Morales, who already made Estación Andamana (a documentary previously shown at the Festival), said that "we are indebted to a culture that is dissapearing: Estación Andamana was about rescuing that oral memory of the city's port history. Telúrico, in the same way, is about recovering the culure that is dissapearing and is part of our heritage". Morales added that "things being so ephemeral today give us more energy to reflect that history through this kind of documents, about our way of life, as Telúrico is. It is about leaving some remains for the future".
Finally, Vasni Josedec Ramos is the author of Apocalipsis Voodoo, an out-of-competition feature film which was at the Cutrecon in Madrid, "where we sold out and the film received plenty of applauds". The director thanked the Festival "the possibility of showing a film like ours in a Festival that follows a specific line, quite related with independent and experimental cinema, and we are in another more conventional one". "We've made a pretty joking short film, and in the end we decided to make it a feature", he explained: "Two cops fight a voodoo master who turns people into zombies playing them music. We've made it with a lot of love, with a budget a hundred times inferior to a conventional film's [40,000 euros]. We have a lot of people who is as crazy as us, who has pushed it to see it done", he finished.
In any case, his film follows the tradition of this "joking" cinema the festival has strenghened with sections such as The Freakiest Night. Ramos agreed his film "is made by a group of friends that are close and eager to have fun. We hope that leads to wondering if there's more cinema like ours, we'd like it so".