 A CIMA Canarias jury will grant the Dunia Ayaso Award, designed by the recently deceased Martín Chirino, which recognizes the work of a female professional in the Official Section's films or in a film from this section that promotes gender equality
 The sessions, led by great industry professionals, will take place on March 23rd and 24th at the Gabinete Literario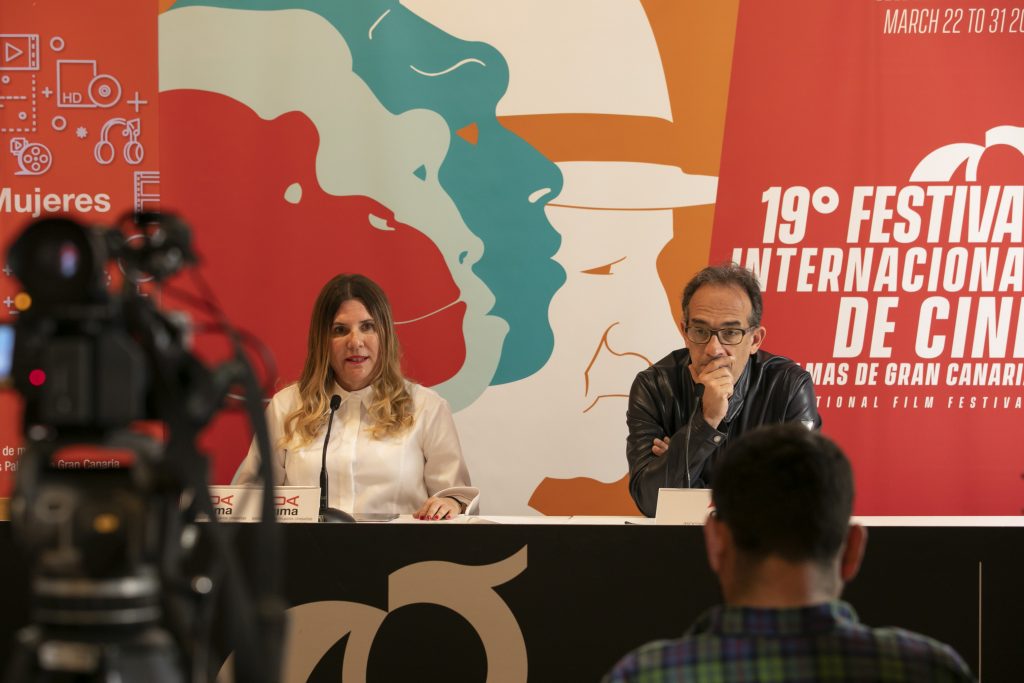 Las Palmas de Gran Canaria, Friday, 15 March 2019. Under Las Palmas de Gran Canaria International Film Festival's safety net, the delegation of the CIMA Asociación de Mujeres Cineastas y de Medios Audiovisuales [Association of Female Filmmakers and Audiovisual Medium Female Workers] in Canarias will present the I #MOREWOMEN Sessions.
The sessions will gather at the Gabinete Literario during the first weekend of the Festival, on March 23rd and 24th, a considerable group of women, experts in different topics related to the audiovisual medium, who will share their experience and solve any doubts the audience may have in the different meetings and master classes.
Additionally, CIMA Canarias will grant the Dunia Ayaso Award, designed by the recently deceased Martín Chirino, which, besides paying tribute to the Gran-Canarian filmmaker, will recognize either a woman that takes part in a film from the Official Section of the Festival as a director, producer, actress or team leader, or rather a film that promotes gender equality values. CIMA members Marta de Santa Ana, Mariola Pestana and Silvia Sánchez make up the jury charge with granting the award.
At 11 am on Saturday, March 23rd, CIMA Canarias delegate Marta de Santa Ana will open the sessions, which have been presented to the press this morning, Friday 15th, by the delegate herself alongside Luis Miranda, the Festival's director.
According to Marta de Santa Ana, #MoreWomen was born to deepen the will to implement policies of equality in the field of culture, a goal supported by the Las Palmas de Gran Canaria Film Festival, which has shown from its beginning an absolute respect for creative freedom and talent independently of the genre of the author of the work.
These sessions' program has been designed around two points: master classes and panel discussions. Two of both are scheduled for Saturday, March 23rd, and focus on film journalism and documentary production; while a third panel discussion, as well as a master class, are scheduled for Sunday morning and focus on the new directions of independent cinema and the current ways of audiovisual product consumption.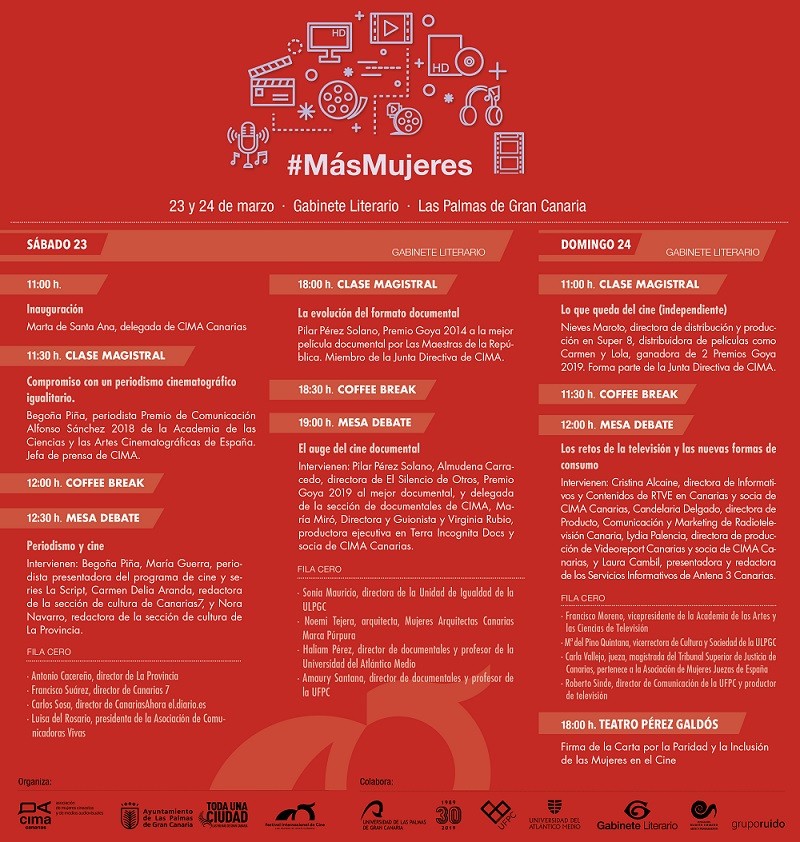 Begoña Piña, a screenwriter and journalist specialized in culture who has been recently granted the 2018 Communication Award Alfonso Sánchez of the Spanish Academy of Cinematographic Arts and Sciences, will be the one in charge of opening the sessions on Saturday 23rd at 11:30 am with the master class «Commitment to an egalitarian film journalism». Piña, who currently writes for Público, directs the magazine La Gran Ilusión and collaborates with different publications, is CIMA's press officer and one of the most respected journalists in the industry.
At half past noon, after a coffee break, Begoña Piña will be joined by journalists María Guerra ("La Script"), Carmen Delia Aranda (Canarias 7) and Nora Navarro (La Provincia) in the panel discussion «Cultural and film journalism». A dynamic and committed discussion is thus secured thanks to the prestige these speakers bring to the table: María Guerra, hostess of La Script in Movistar Plus, as well as founder and director of La Script in Cadena Ser, is one of the most renowned film editors in the industry; Carmen Delia Aranda and Nora Navarro are both culture-specialized journalists in Las Palmas de Gran Canaria.
Saturday's afternoon is devoted to documentary films. An hour will separate the master class «The evolution of the documentary film» (6 pm) from the panel discussion «The rise of documentary film» (7 pm). The former will be held by Pilar Pérez Solano, winner of the 2014 Goya Award for Las maestras de la República; while the latter will be held by the same filmmaker together with Almudena Carracedo, director of El silencio de los otros, which won the 2019 Goya Award for Best Documentary, as well as screenwriter and director María Miró and Virginia Rubio, executive producer on Terra Incognita Docs. All of them are members of CIMA.
On Sunday morning, before the closing of these first sessions set up by CIMA Canarias, producer and distributor Nieves Maroto will give at the Gabinete Literario the master class «What is left of (independent) cinema». This meeting, which will take place at 11 am, is a must within the Festival's framework because of its speaker's career, which includes two 2019 Goya Awards for Carmen y Lola, by the Spanish distribution company Súper 8, where Maroto works. She also collected dozens of awards and titles when she was the manager of extinct Alta Films, and is currently one of the board members of CIMA.
Lastly, the panel discussion «The challenges of televisión and new ways of consumption» will put an end to these first sessions. Cristina Alcaine, head of News and Content of RTVE in the Canary Islands and member of CIMA; Candelaria Delgado, Director of Product, Communication and Marketing of Radiotelevisión Canaria; Lydia Palencia, production manager of Videoreport Canarias and a member of CIMA; and Laura Cambil, anchor and editor for Antena 3 Canaria TV News, will take part in the discussion.
All the meetings will reserve the front row to professionals whose careers are related to the topics discussed. They are the following: judge Carla Vallejo, Asociación de Mujeres Juezas de España; Francisco Moreno, vice-president of the Academia de las Artes y las Ciencias de Televisión; Mª del Pino Quintana, ULPGC's vice chancellor of Culture and Society; Roberto Sinde, Communication director of the Fernando Pessoa Canarias University and television producer; Antonio Cacereño, La Provincia's editor; Francisco Suárez, Canarias7's editor; Carlos Sosa, CanariasAhora's editor; Luisa del Rosario, president of the Asociación de Comunicadoras Vivas; Haliam Pérez, a documentary director and professor at the Universidad del Atlántico Medio; Sonia Mauricio, director of ULPGC's Unidad de Igualdad; Noemi Tejera, architect, Mujeres Arquitectas Canarias Marca Púrpura; Amaury Santana, a documentary director and professor at the Fernando Pessoa Canarias University.
Thus, men and women, both representative of different associations and universities, have been invited to join this debate space whose goal is to keep on raising awareness on equality.