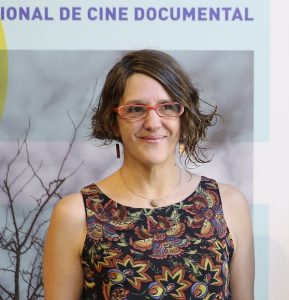 Cultural manager and filmmaker. Artistic co-director of DocumentaMadrid International Documentary Film Festival.
Of Chilean origin, she was born in Madrid and grew up in Cuba. She studied Computer Engineering in Havana, Direction of Photography in the EICTV of San Antonio de los Baños and Audiovisual Distribution in the ECAM, Madrid. She worked professionally in the audiovisual field from 1993 to 2011, in shootings and film festivals. She has been a coordinator and programmer for DocumentaMadrid; FIDOCS (Santiago de Chile); Miradas-Doc (Tenerife); Festival de Málaga and others. In 2011 she creates El Mar Films to distribute and program independently auteur films.
In 2007 she founded DOCMA, the Documentalists Association, which she leaded until 2016, to promote and spread non-fiction cinema in Spain. In DOCMA, she directs and coordinates multiple seminars and showings with international figures. She has programmed documentary cinema in Filmoteca Española, Intermediae-Matadero, Casa de América, Cineteca Madrid, Sala Berlanga, Instituto Cervantes and cultural associations. She creates and directs the /3XDOX/Encuentro de Creadores festival,since 2012. She has participated as a jury in film festivals (Morelia Mexico, Seminci Valladolid, Filmadrid, Alcances Cádiz, Mostra de Lleida and others) and collaborates as an assistant for institutions such as Consejo Cine del Ecuador, Proimágenes Colombia or Canarias Cultura en Red).