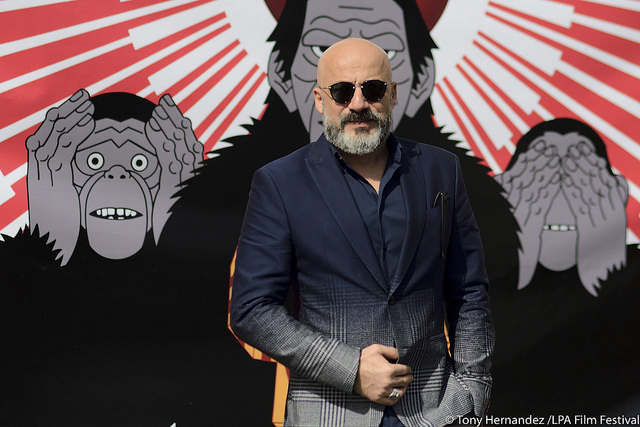 No Date, No Signature's protagonist, Amir Agha'ee, presented in his Sunday press conference at the Pérez Galdós Theater this film competing in the Official Section (sponsored by Cajamar Foundation) of the Las Palmas de Gran Canaria International Film Festival. Agha'ee, who appeared before the media next to Antonio Weinrichter, defended a story that "deals with a universal issue", the guilt a doctor involved in a traffic accident that resulted in a child's death must face. Shot in a real hospital, the actor had to face his own fear in order to play a role that determines the Iranian film's pace, whose first screening at the festival will be today.
The performer was "very grateful for being here at the festival, I hope the audience likes the film: I've heard my films are like more by the Spanish public", he pointed out in a relaxed tone. Agha'ee confessed his fear of hospitals and how hard it was for him to approach a work in which he saw "dead bodies passing around us. I had to fight myself to look like a doctor".
The Iranian actor ended up joking with this circumstance when he said that "if I were the director of the film I wouldn't have kept this role for myself: I've had plenty of liberty because of my personality". Then he praised Vahid Jalilvand's work, the author of a highly dramatic title, which "deals with an issue that may be relevant in any society: if the film would've been shot in Madrid or any other country the story would be just as effective".
Agha'ee referred to the butterfly effect to point out that "in our life there'll be little accidents, which can become a wave over time. What happens in the film is the greatest of accidents. People come and go very quickly in our lives, but there are incidents whose consequences remain".
"In the film, I'm not the person responsible for the traffic accident the story revolves around", said Agha'ee, "but in the end such a specific incident destroys a family and I lose my own life. We can talk about fate, or not…".
No Date, No Signature wil be screened again on Monday, April 9, at the Monopol Multiplex at 5 pm.