 The release of the film, distributed in Spain by Begin Again Films, will take place as a special session on Saturday, March 23rd, at the Pérez Galdós Theater
 Elio Quiroga and some members of the crew that adapted Alexis Ravelo's novel will come to Las Palmas de Gran Canaria to present their work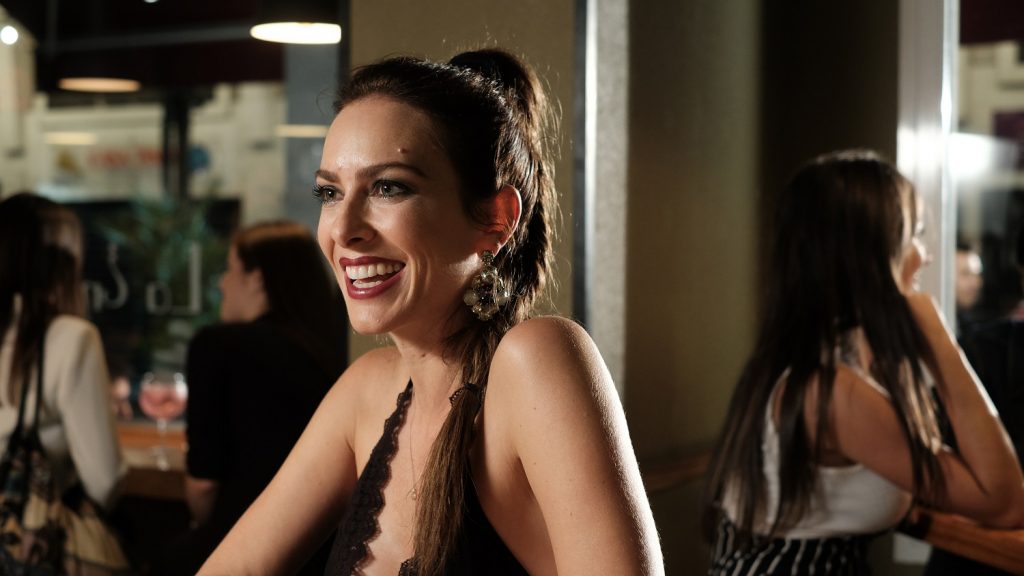 Las Palmas de Gran Canaria, Monday 4 March 2019. La estrategia del pequinés [The Pekingese's Strategy], by Elio Quiroga, based on a novel by Alexis Ravelo, will premiere in Spain within the Las Palmas de Gran Canaria International Film Festival's framework. As a special session, the film starring Kira Miró, Unax Ugalda and Jorge Bosch will take the Pérez Galdós Theater's screen on Saturday, March 23rd, after being introduced by the Gran-Canarian filmmaker and some members of the crew.
La estrategia del pequinés will be released on May 31st thanks to Begin Again Films, a national distribution company that has supported this novel's leap to theaters. Among other distinctions, Ravelo's book has won the 2013 Lee Misterio Award for Best Female Character, the 2014 Hammett from the Semana Negra de Gijón, the 2014 Novelpol and the 2014 Tormo Award; it is currently in its eight edition. The film, produced by Zanzíbar with the participation of TVE and TV Canaria and the collaboration of the Cabildo Insular de Gran Canaria, has been funded by the ICO.
According to the promotional text accompanying the title, Elio Quiroga portrays in his film "hopeless people, watered-down escorts, drug traffickers, corrupt policemen and money launderers meet in a choral story about losers in which the most important thing is not knowing who the killer is, but who is not dirty in a suffocating and lost society, where money buys everything, including freedom".
"La estrategia del Pequinés is noir cinema, and Canarian, too", points out the filmmaker, who keeps on saying that "it is very interesting to re-examine these islands' crime reports, which is surprisingly substantial, and that's precisely what Alexis Ravelo did to write the little gem of noir literature this project's script is based on".
Popular neighborhoods, exclusive hotels, urban beaches and other spaces are depicted in a film whose "lightning, color, framing and composition treatment recalls that of the Western", points out Quiroga, "where a series of lost souls seek redemption, despite having everything against them".
Elio Quiroga
Elio Quiroga, a Las Palmas de Gran Canaria native initiated in experimental music and videoart, made his debut in cinema in 1996 with Fotos, a cult film that won the Jury Special Mention and the Best Screenplay Award at the Sitges International Film Festival and was praised, among others, by Quentin Tarantino. His following feature films La hora fría and No–Do has been distributed in over thirty countries, thus being the most known Canarian films up to date. His animated short film Me llamo María was selected in the 2010 Oscars' Short List, and Home Delivery, an animated adaptation of a Stephen King's tale introduced by Guillermo del Toro participated in the competitive official sections of over a hundred international film festivals, winning the Best Fantastic Short Film at Fantasporto and the Silver Conch at the Bombay International Film Festival. His last feature film, the documentary El misterio del rey del cinema, won the Jury Special Mention at the Gijón International Film Festival, while his recent webseries Science Gossip was the first Canarian production to be nominated for the famous Television Rockie Awards. He is also a writer, having published the horror novels Idyll and El despertar. In 2015 he won with his novel Los que sueñan the Minotauro Award, the most prestigious prize in fantasy literature in Spain. He published in 2018 a new novel, Entre los sueños, thanks to Ediciones B.
Alexis Ravelo. Novela.
Of humble origin and autodidactic formation (Las Palmas de Gran Canaria, Spain, 1971), he has stood out because of his detective novels, short stories and children's books, but he is also the author of six musical-dramatic shows, the script of a television program, some articles and dozens of lyrics for different singers. He stands up for an artisanal conception of the literary act, in which reflection, uneasiness and pleasantness are combined.