➢ The Argentine film, by Leandro Koch and Paloma Schachmann, which premieres in Spain as part of the 22nd Film Festival, mixes documentary and fiction around the world of Hebrew melodies
➢ Best First Feature Award at the Berlin Film Festival, this work competing in the Official Section will be screened today, April 18, at 5:45 p.m. at Cinesa El Muelle Screen 9 after an introduction by its directors, and on Thursday, April 20, at 8:15 p.m. at Cinesa El Muelle Screen 5
➢ The catalog and full schedule are available on the official website lpafilmfestival.com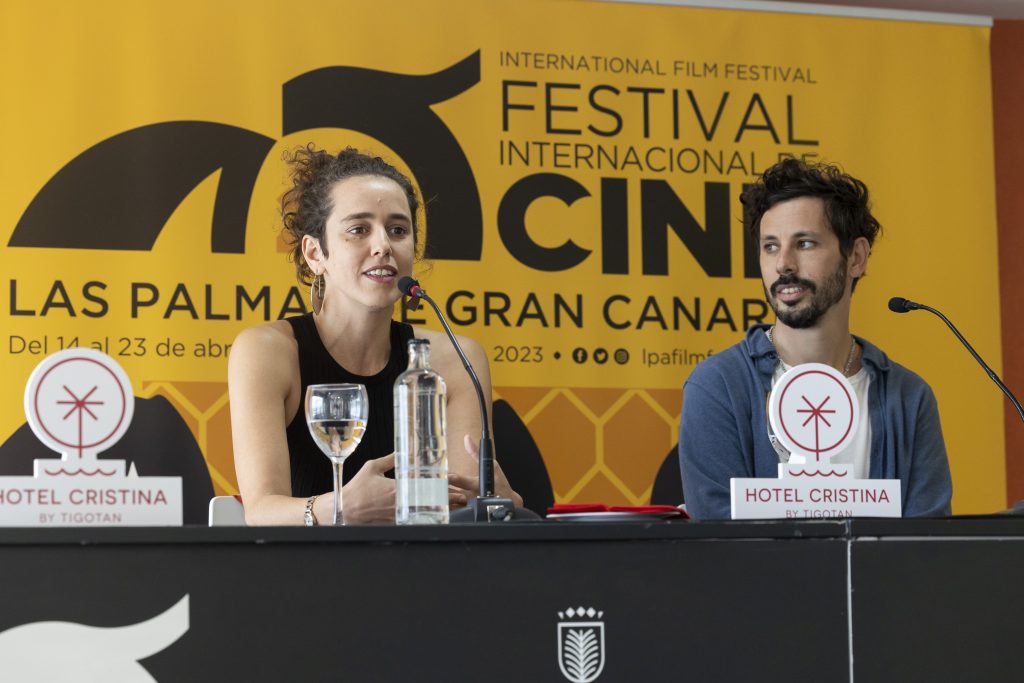 Las Palmas de Gran Canaria, Tuesday, April 18, 2023.- The Official Section of the 22nd Las Palmas de Gran Canaria International Film Festival includes the Spanish premiere of The Klezmer Project (Austria, Argentina, 2023, 117 min.) by Argentine filmmakers Leandro Koch and Paloma Schachmann. This piece, which won the Best First Feature Award at the Berlinale, mixes documentary with fiction and will be screened today, April 18, at 5:45 p.m. at Cinesa El Muelle Screen 9 after being introduced by its directors, and on Thursday, April 20, at 8:15 p.m. at Cinesa El Muelle Screen 5.
Argentine cameraman Leandro makes a living filming Jewish weddings. During one of his jobs, he falls in love with Paloma, the clarinet player of the wedding band. To seduce her, he pretends to be filming a documentary about klezmer, the traditional Yiddish folk music. What Leandro doesn't know is that his fake film project will take him on an unscripted journey through Eastern Europe in search of the last remaining klezmer melodies of an endangered cultural heritage.
The Klezmer Project is the journey of a filmmaker and a clarinetist in search of the roots of klezmer music. It is a portrait of multiple villages in the countries of Ukraine, Romania and Moldova where variants of this type of music are still played. A film centered on a road trip in which the directors travel, get separated and reunite again with a love story in between. A documentary that pays homage to the Jewish family and cultural heritage in this border triangle of Eastern European regions where the community has practically disappeared after World War II.
At the press conference, the co-directors of The Klezmer Project Leandro Koch and Paloma Schachmann explained that the shooting was "quite a challenge" despite having a written script. At first their idea was to make a portrait of klezmer music, something that also ended up leading them to investigate Yiddish culture, where this musical genre was born.
But as they delved deeper, they realized the story's potential and decided to include fiction in order to capture everything they had discovered about "how Yiddish culture used to be, its disappearance and the remaining marks of such folklore." This turned the process they were embarked on into something "much bigger than they had imagined at the beginning."
This shared process, the result of seven years of work, finished "with the purpose of both showing and leaving an audiovisual record of all that material that is difficult or even impossible to find," in addition to "making it accessible to those outside that niche so that tomorrow they can take that first approach," explained Paloma Schachmann.
"A music transmitted by ear from generation to generation, playing and listening, since it was not written down. In fact, the musicians who filmed it learned it from their parents because Jews were not allowed to play at weddings," said Leandro Koch. Hence, "the film carried some urgency because we had to leave a record of those melodies before this generation disappeared and they get lost since gypsies know them, but not the Jews," he pointed out.
On the other hand, they found "very striking the coexistence of cultures," of Jews with Gypsies, in the era prior to the war. They tried to "capture the interculturality which made them mutually nourish each other, that is, music as a cultural element, as a part that was shared and used indistinctly by the culture to which one belonged, accompanying the lives of all the people living together in the same territory," the filmmaker emphasized. Which, "for them, as Jews from Buenos Aires, is a striking situation, because that coexistence is a very sensitive issue today," the filmmaker noted. Also, it was "beautiful for them to discover that there was a Jewish culture living peacefully with their neighbors, since it had not always been as it is today."
Portraying all these people "was very motivating" because in 2016, when they made their first research trip, they discovered "these small communities of gypsies who live in the countryside and who keep the klezmer melodies, which they learned from their parents and who coexisted with the Jews." For the film, they explained, "it was very exciting and motivating to portray these people." Both filmmakers agreed that "the reception was unexpectedly beautiful," when their film received a standing ovation from the audience at the Berlinale, where they obtained the Best First Feature Award.
The Las Palmas de Gran Canaria International Film Festival, organized by the Culture area of the Gran-Canarian capital's City Council through Promoción de la Ciudad de Las Palmas de Gran Canaria, has received public assistance by the ICAA [Institute of Cinematography and Audiovisual Arts] and the program for the internationalization of Spanish culture, PICE Visitantes, of Acción Cultural Española (AC/E).
Among the Festival's collaborators we may find Cinesa El Muelle, El Muelle Shopping Center, Hotel Cristina by Tigotan, the Elder Museum of Science and Technology or Casa África, places which also function as venues or hold activities of the film event; as well as other institutions and companies such as Sagulpa, Hospitales San Roque, Audiovisuales Canarias, Music Library & SFX or the International Bach Festival. Likewise, its market, MECAS, has been possible thanks to the sponsorship of the Gran Canaria Film Commission-Sociedad de Promoción Económica de Gran Canaria and the support of Canary Islands Film and Proexca.
The University of Las Palmas de Gran Canaria, the Mid Atlantic University, the the CIFP Felo Monzón Grau-Bassas, the Canary Islands Film Institute, the Audiovisual Cluster of the Canary Islands, Digital 104, CIMA [Association of Women Filmmakers and Audiovisual Media], the Asociación Microclima Cineastas de Canarias [Association of Filmmakers of the Canary Islands 'Microclima'] and Tusity are also collaborators of the Festival.