Thirteen gems compete for the Cajamar Foundation Golden Lady Harimaguada, sixteen short films will compete for its category's award, and the Canarias Cinema section will have five features and twelve short films
The 17th Las Palmas de Gran Canaria International Film Festival will include the Silver Bear Grand Jury Prize, Félicité, in its Official Section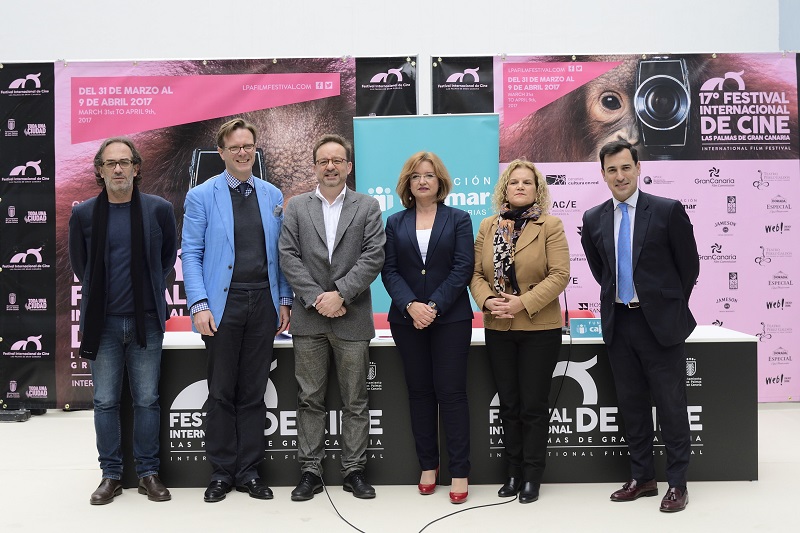 The Las Palmas de Gran Canaria International Film Festival's 17th edition will offer in its Official Section thirteen gems that arrive to the Gran-Canarian capital backed by nominations and awards at important film festivals. The American Katie Says Goodbye, Wayne Roberts' first feature film, will open the Festival and its competitive section next Friday March 31, after visiting the Toronto Festival, among others.
Thus, between March 31 and April 9, the audience will be able to enjoy the Official Section with a program made up of 13 films among which we shall find last Berlinale's Silver Bear Grand Jury Prize, Félicité, by Alain Gomis (France, Germany, Belgium, Lebanon, Senegal, 2017), the Silver Bear for Best Director, The Other Side of Hope, by Aki Kaurismäki (Finland, 2017), the film awarded at Cannes' Un Certain Regard, Harmonium, by Koji Fukada (Japan, France, 2016), the Oscar-nominated I Am Not Your Negro, by Raoul Peck (USA, 2016), and Venice Golden Lion, The Woman Who Left, by Lav Diaz (Philippines, 2016).
In addition, the Gran-Canarian Festival will have again some of Alex Ross Perry's work, to whom it devoted a retrospective in 2015, with the screening of Golden Exits (USA, 2017); it will show Albertina Carri's last film, Cuatreros (Argentina, 2016), a title screened in Berlin; as well as Bitter Money, by Wang Bing (China, France, 2016); Kékszakállú, by Gastón Solnicki (Argentina, 2016), Knife in the Clear Water, by Wang Xuebo (China, 2016), Pariente, by Iván D. Gaona (Colombia, 2016), and Still Life, by Maud Alpi (France, 2016), all of them screened at first-class international festivals.
In this way, the Festival's director, Luis Miranda, accompanied by the Las Palmas de Gran Canaria City Council's Culture councilwoman, has described this morning, Tuesday February 21, ten days from the Festival's opening, the works competing in this edition's Official Section. The I+D+I, Energy and Economic Development minister, and SPEGC's president, Raúl García Brink; the Canarian Government's Culture managing director, Aurora Moreno; the Auditorium and Theater Foundation's president, Tilman Kuttenkeuler, and Cajamar Foundation's Business director in the Canaries, Manuel Sánchez Pérez, are several of the representatives of some organizations and companies that have contributed to hold this edition, and who attended the meeting, where they stated their commitment to the Festival.
Encarna Galván thanked the support this edition has received, which will count, for the second consecutive year, on Canarias Cajamar Foundation's help, an entity which sponsors and grants the highest award the submitted films aspire to: the Cajamar Foundation Golden Lady Harimaguada; as well as on Spain's Public Agency for Cultural Action's help (AC/E), a public entity dedicated to drive and promote Spanish culture and heritage, in and out of its frontiers; and on the cooperation of the Canarian Government, Gran Canaria Economic Promotion Society and Gran Canaria Film Commission, on behalf of the Gran-Canarian Cabildo, and on the Canarian Audiovisual Cluster, CLAC, for the Market's organization and production.
The Auditorium and Theater Foundation's collaboration has allowed the Pérez Galdós Theater to become this 2017 the place holding the opening ceremony, the Official Section's screenings and the fantastic and horror films marathon. On the other hand, the Elder Museum of Science and Technology's screening room opens its doors to the No Future: the New Science-Fiction cycle, scheduled by film critic and writer Jesús Palacios, and Casa Africa has set the wheels in motion so that Félicité's main actress, Véro Tshanda Beya Mputu, may attend the festival.
In 2017, the Festival will again be supported by Dorada Especial, Audiovisuales Canarias and Jameson, and adds more help thanks to Hospitales San Roque, Web Energy Drink, 928 Ron and The Hotels.
Apart from revealing the films competing in the official section, in which 16 short films that have been screened at important festivals, and brought to Spain by the Festival, will also participate, Luis Miranda detailed the selection competing in the Canarias Cinema section, five features and twelve short films that reflect a generation of filmmakers that have decided to express themselves with the means in reach. In that respect, the Festival's director has mentioned that it is a sector which has moved around the same interests that define the directors who were present in the D-generación cycle, the digital generation.
Fogueo by David Sainz, Julie by Alba González de Molina, La forma del mundo by David San Ginés, Maresía by Dani Millán, and The Vanished Dream by José Betancor are the Works competing for the Richard Leacock Award for Best Feature. On the other hand, the short films selected for the category dedicated to those works whose length is 40 minutes or less are: Concoct or Wander by Lila Organa, El desembarco by David Pantaleón; Icelands by Miguel Ángel Mejías, La campaña by Macu Machín, Montañas ardientes que vomitan fuego by Samuel Delgado and Helena Girón, Naúfragos by Iván Lpéz, Osito by Coré Ruiz, Paraíso por descubrir by Amaury Santana, Popoff by Domingo de Luis, Pozo negro by Miguel G. Morales, Sub Terrae by Nyra Sanz and Toreros by Nacho Bello.
Besides, Panorama recovers some of this year's key works in what means the return to the program of a series of authors who belong to the Festival's history. Thus, this edition presents Korean master Hong Sang-soo's last work, Yourself and Yours, maybe the renowned Korean master's most up-to-date surrealist film, awarded the last San Sebastian Festival's Silver Shell for Best Director.
In addition, the section that gives meaning to the word Festival has programmed titles such as Auzterlitz, by Sergei Lonitza, to which the Gran-Canarian competition devoted a retrospective in 2012; or Herminia y Elena, by Matías Piñeiro, a filmmaker that has previously participated in with El hombre robado, in 2008, Todos mienten, in 2010, Rosalinda, in 2011, and Viola, 2013. By Bruno Dumont, an author already known to the Gran-Canarian audience thanks to Hors Satan, in 2012, Camille Claudel 1915, in 2013, or P'tit Quiquin, in 2015, the festival proposes Ma Loute. Also, we shall found within Panorama Personal Shopper, by Olivier Assayas, an author who attended the festival for the cycle Reescrituras de Cahiers du Cinéma (2008) as well as for the retrospective devoted to Jean Pierre Léod, in 2011, among others.
Last but not least, this informative section will offer Certain Women, by Kelly Reichardt, Best Film in London; Porto, Gabe Klinger's second work, supported by Jim Jarmusch's executive production, and winner of the Locarno International Film Festival Special Jury Prize and the Mar del Plata Film Festival Best Director; Scarred Hearts, by Radu Jude, a Rumanian author the Festival included last year within the Neo-western cycle with Aferim!; and Glory, by Kristina Grozeva and Petar Valchanov, winner at Gijón (Best Film, Best Screenplay and FIPRESCI Prize).
During the press conference, it has also been detailed the Panorama Spain's titles, a selection that celebrates ten years of D-generación, The Freakiest Night, the cycle devoted to the Science-Fiction: No Future; and the selection of films youngsters will be able to watch in the Magic Lantern, on special screenings arranged with their schools, and the two titles aimed to children. The list of titles per section is already available on the Festival's website: lpafilmfestival.com