 On Wednesday, March 27th, at 9 pm, the Monopol Multiplex will screen a marathon day so that the public may enjoy all the short films competing in the Canarias Cinema section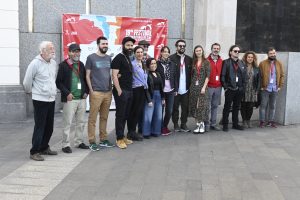 Las Palmas de Gran Canaria, Saturday 23 March 2019. The Las Palmas de Gran Canaria International Film Festival gathered this afternoon, March 23rd, the directors of Canarias Cinema section's finalist eleven short films, selected out of the forty that were submitted to the contest, to meet the media and give a glimpse of each and every one of their ambitious works. All of them showed their gratitude towards the festival's organization and thanked, both the seven directors that have already competed at the festival and the four that are going to live their first experience in this 19th edition, the possibility this festival give them to screen their short films. One more short film will be screened, too, out of competition.
Hitchcock Schamann, by Saúl Macías, Eliana Melián, Andrea Roura and Jacobo Santiago (2018, 4 min.) was the first short film of the first group that was presented in the press conference. Andrea Roura, who did not wanted to make spoilers, explained that, in their short, "which is very short", they tell the story of director and producer Alfred Hitchcock, who "was in Schamann to treat an arthritis problem he had". A story narrated through his doctor's son.
David Pantaleón explained that El Sueño Beato (2018, 4 min.) is a piece made during La Palma's Festivalito and was grateful for sharing the spotlight "with many friends".
Shelma Zebensuí, director of Abrazo (2018, 14 min.), advanced that her work is "a very visual story that aspires to arise feelings with images and music" and deals with "the problem couples' routine has".
Nayra Sanz Fuentes has tried in En esas Tierras (2018, 12 min.) to make, with a symbolic and somehow poetic language, "a reflection, on a moment as agitated as the current one, about how we shape our identities after we think about this historic moment through the legacy we've received from the Reconquista".
Miguel Ángel Fuertes, who came on behalf of Carlos Baena, director of La Noria, (2018, 12 min.), revealed that Baena's short film is about "how to get your fears to be your allies".
Pablo Fajardo, author of 300 All Expenses Included (2019, 14 min.), said that his story "begins with a woman renting a room in the apartment where she lives" and that, through "this adventure", it intends to show the housing problem as background, while portraying incommunication both in city centers and family households.
Sara Álvarez, who opened the second group of short films, presented Lo vívido y lo vivido (2019, 6 min.), a documentary short film that talks about "dreams of connection to other worlds, dreams of connection to death and guide dreams, all mixed in an oneiric language with symbolic shots".
Jose Manuel Vilageliu Ponsa, creator of Teatro de Sombras (2018, 20 min.), has used genre films' language and forms, in his case "ghost films", as an excuse for talking about loneliness and lack of love.
Macu Machín presented the piece Quemar las Naves (2018, 12 min.) "an exercise of image appropiation through the Canarian silent film La hija del Mestre". A work the director has faced "as a game in which working with foreign materials from another time could reflect on genre roles throughout cinema history".
Rafael Navarro Miñón, the most veteran of the filmmakers", tells in Mi Profesora de Salsa (2019, 11 min.) "a thing related to his salsa teacher", he pointed out amid some laughs.
The last competing short film was REM (2018, 4 min.). Lamberto Guerra, on behalf of its director, Tomas Alejo Wilhelm, said that REM is "an unambitious lark".
The festival will also screen out of competition Jonay García's work Las otras camas (2018, 15 min.), a portrayal "from fiction"of sexual assistance for disabled people, because, according to its director, "we all need affection to feel alive".