 Miguel Ángel Mejías' debut film arrives to Canarias Cinema as a piece of pure auteur cinema: a small visual symphony that plays with time, conceived to be lived, rather than watched
 The director proves his maturity as filmmaker in a festival "that has nourished my identity as filmmaker"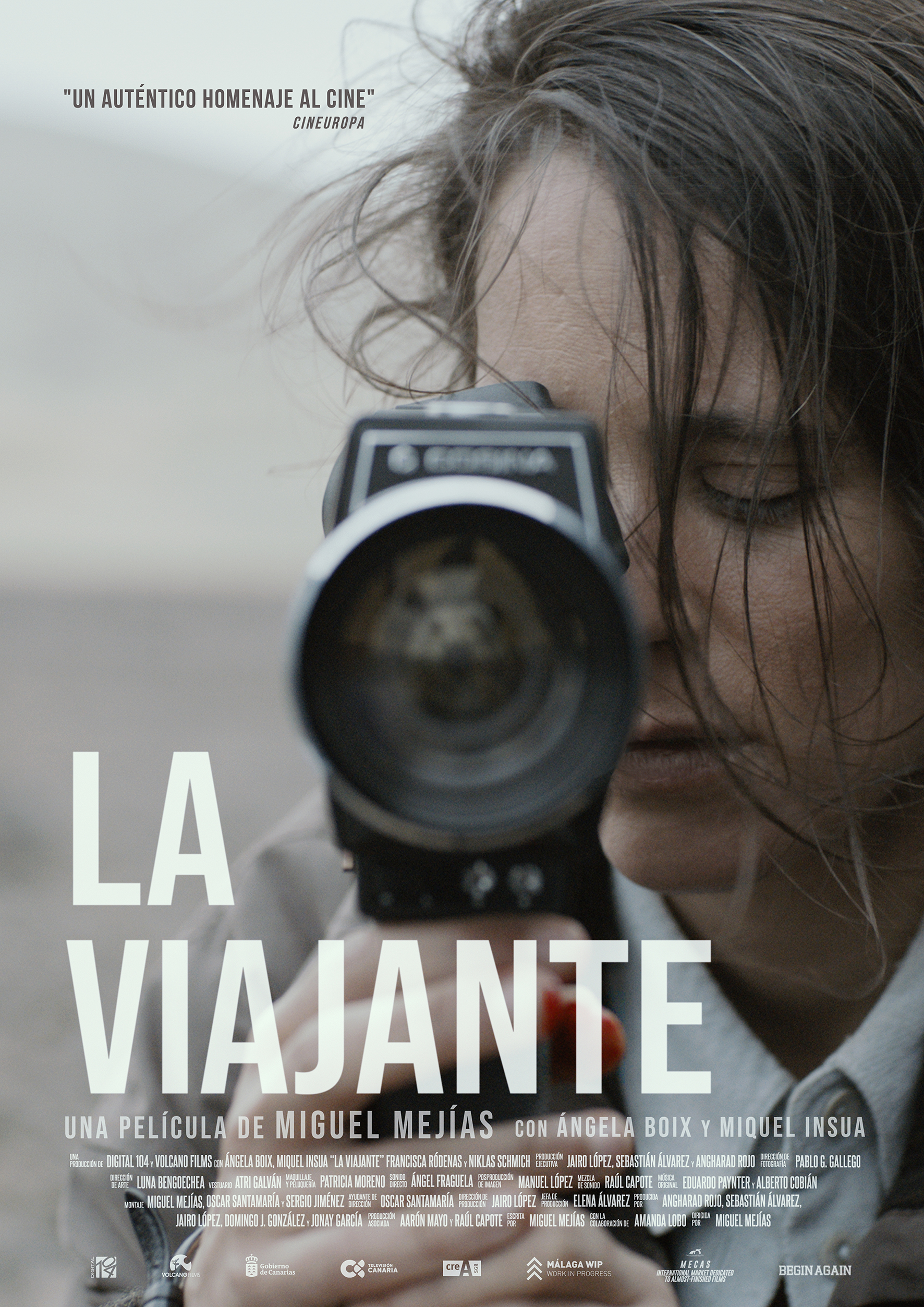 Las Palmas de Gran Canaria, Sunday 11 April, 2021.- The Wanderer (2020) is pure Las Palmas de Gran Canaria International Film Festival: Miguel Ángel Mejías' debut film is the crystallization of a director who has grown immersed in the Festival, assimilating its influences edition after edition. "It's true, my identity as filmmaker has been nourished by everything I've lived at the Festival", pointed out the filmmaker himself, who has made a first feature with undeniable auteur hallmark and conceived to be enjoyed in theaters. Mejías himself set its own pace and certain patterns before trying to get a project with such a noticeable conceptual design off the ground.
The Wanderer tells Ángela's leap in the dark (Ángela Boix), her meeting with a mysterious traveler (Miquel Insúa), a concealed drama and an interest in filming insects in a peculiar road movie, which has its own pace. "I wanted to play precisely with that: this film is made for the audience to immerse in it in cinemas, for they to take their time watching it", notes the director.
Mejías explains that "questioning how we interact nowadays with time" was included in the purpose The Wanderer pursued. "It's a small subversive act on my behalf, in a film which is like a small symphony, with its modulations. There's a narrative line, in which I take the liberty of pausing, going out and then coming back. From that is where questions emerge".
That's why the film, rather than for being watched, is made "to be lived, to inhabit all those places that are shown and travelled around". Spaces not necessarily indentified, which, in general, allude to the Universe. And which were in fact the natural set for the five weeks of shooting it took The Wanderer to be filmed in Tenerife, Fuerteventura and Gran Canaria. Landscapes "around which I've got to walk every day in my daily life", he explains.
The screenplay was conceived in advance for Ángela Boix (regular actress in Mejías' previous short films) and Miquel Insúa. So their performances fit like a glove to the film's own pace. Besides, both the director and lead actress had the unlucky coincidence of enduring the illness of a close relative during the shooting, a circumstance that was also crucial in the film. "That made me have a very special connection with Ángela", points out Miguel Mejías, "which sometimes allowed us to understand each other with a single look. It really appeared a magic there, because we didn't need any words".
The landscape ended up being relevant in the film, although rather because everything was moving, "despite the characters remaining still", explains Mejías. As it happens with those shots of Ángela driving. On other occasions, however, those characters expose themselves to tragic situations as mere witnesses, who don't necessarily resist the temptation of filming that harsh reality.
The Wanderer arrives to Canarias Cinema as a title which have been growing within the circuit. It's been screened at Trieste (Italy) and Valencia. "It seems it's had a good run, which haven't finished yet", says its author, already immersed in his next feature project.
Of the Las Palmas de Gran Canaria International Film Festival Mejías have "great memories, always, it's too bad I cannot be there this year", due to professional engagements in Sweden, where he currently lives. In any case, his signature is part of the Festival's previous history, thanks to short films such as Icelands (2016). His work returns to Canarias Cinema as that of a matured author, who acknowledges the impact the Festival has had on his formation and, above all, he thanks "the meetings I've been able to have there with other filmmakers with whom I've shared interests, references and influences", he stresses.
The Wanderer is screening at 10 am on Monday 12 at Cinesa El Muelle's Screen 9. The event is subject to all security measures fighting the spreading of COVID-19, so masks are compulsory and social distances need to be observed at all times during screenings.