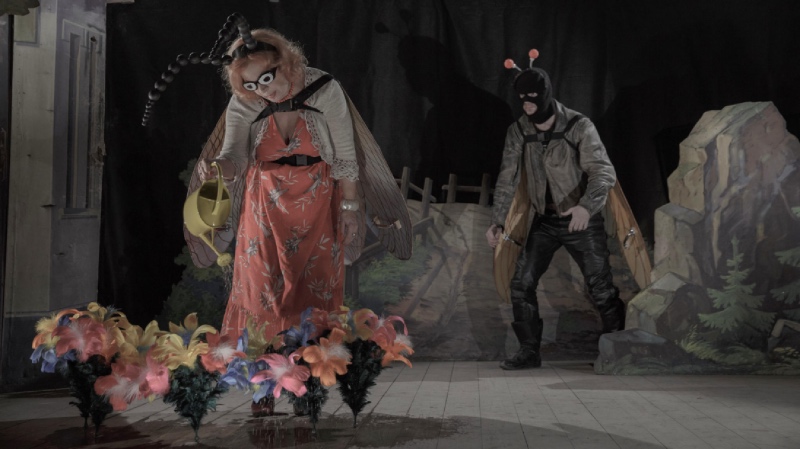 Las Palmas de Gran Canaria, Tuesday, April 10, 2018.- The 18th Las Palmas de Gran Canaria International Film Festival's official section presents out of competition on Wednesday, April 11, Hymz (Insect) (Czech Republic, 2018, 98 min.), Czech animation master Jan Svankmajer's last feature. The film will be shown at noon at the Monopol Screen 3 and at 7 pm at the Pérez Galdós Theater. Its second public showing will be on Thursday 12, at 10 pm at the Monopol Screen 3.
Previously screened at the Rotterdam Festival, Hymz (Insect), true to this surrealist master's characteristics, portrays an amateur theater company who is trying to perform The Insect Play, a famous satirical work from 1922 by the brothers Karel and Josef Čapek which features insects with decidedly human traits: greed, egocentrism, jealousy.
This Czech filmmaker's relationship to Las Palmas began in 2010, when the festival, under Gregorio Martínez's coordination, programmed the film series Jan Svankmajer. The magic of subversion, which included five features and twenty six short films by one of the undeniable masters of film animation and one of the most original figures in modern cinema. A year later, the Festival programmed his then last film, the imaginative collage Surviving Life (Theory and Practice).
Svankmajer's work, with obvious surrealist roots, explores in an original way the imagination of the sinister: poet of metamorphoses, his use of stop-motion allows him to give life to lifeless things and transform the living things in mechanical ones.
Svankmajer studied applied and performing arts, then started his career at Prague's famous Semafor Theater and debuted in cinema in 1964. His work has stood out because of his use of claymotion. Alice was his first feature film, followed, among others, by The Lesson of Faust and Lunacy.
The Festival's Official Section is supported by Cajamar Foundation.