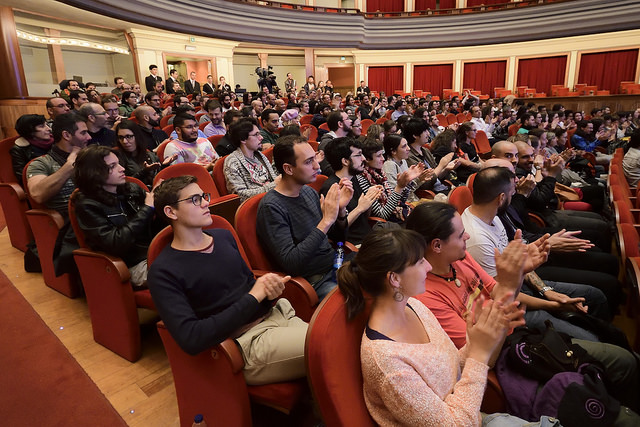 Killing the freak. Jesús Palacios
Maybe it is time to kill the freak. Indeed, you have read right: killing the freak. Because that which is not destroyed and reinvented every now and then becomes old and gaunt and ends up blowing up… Lately -almost in an eschatological sense, by the way- the freak has fallen into the hands of something far worst than death: the hipster. Or, if preferred, the hipster trend. Taking genre films by where it hurts most, the hipster wave prefigured by the indie of the 90s and the modern of the 80s, much more honest but with their share of blame in the massacre, has turned it into a sanitized and pretentious vehicle for politically correct messages, empty aesthetics, impersonated nostalgia and false trends, deprived of an authentic past and subject to a lack of future, trapped in a dead-end street of amusing proposals without any fun, usually moralist, which makes them appear as misappropriations of the classics without the insolence of cheap and genuine imitations, aimed at a well-informed audience that has no clue.
New freaks cannot laugh at good bad films, but laughs at themselves as if ashamed of enjoying it, despite organizing festivals devoted to such films. They do not understand that a bad film of Martians or Amazons may please them more, much more, than a masterpiece of romantic comedy or the best war drama, only because there are Martians and Amazons in them. And that you can really like. They do not understand that extreme films are there to break the limits of taste, patience and morals, that messages are not to be in bold and highlighted, but read between the lines and discovered by one self… If there is any to be read. That's why this year's The Freakiest Night bets on brief and shameless short films, in a variety of styles and proposals that share, nonetheless, the same abyssal depths: through the absurd, questioning reality. Hence our long trips, once again, are uncomfortable, violent, weird.
Short Films:
Clanker Man (Ben Steiner, UK, 2017, 10 min.)
Saatanan Kanit (Fucking Bunnies) (Teemu Niukkannen, Finland, 2017, 17 min.)
Stay (David Mikalson, USA, 2017, 8 min.)
Feature Films:
Game of Death (Sébastien Landry, Laurence Baz Morais, France, USA, 2017, 75 min.)
Matar a Dios (Caye Casas, Albert Pintó, Spain, 2017, 90 min.)
The Uncle (Kim Hyoung Jin, South Korea, 2017, 99 min.)
Director
Coordinated by Jesús Palacios
---
Notes
MARATHON OF ROWDY CINEMA: SINGLE TICKET FOR SIX FILMS
---