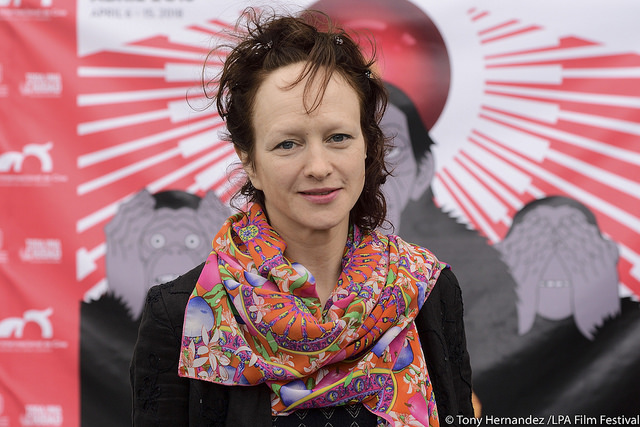 Actress Elena Morozova presented this Thursday morning at the Pérez Galdós Theater the film The Bottomless Bag, by director Rustam Khamdamov: one of the features competing in Las Palmas de Gran Canaria International Film Festival's Official Section. Morozova, who was accompanied at the press conference by film critic and writer Antonio Weinrichter, mentioned that the main message the film attempts to convey is that "everyone can have their own view of history, there isn't a single and only truth".
Elena Morozova said that "in Russia we have an old saying, a bottomless bag [Meshok Bez Dna], to define something infinite". An expression that gives its title to the film she stars, and which tells different versions of a fairy tale about a 13th-century prince murdered in the woods in strange circumstances. A screenplay based on one of Japanese writer Ryunosuke Akutagawa's short stories, adapted to Tsar Alexander II's times.
"As I understand the film, and according to what I've spoken with Rustam", explained the Russian actress, "it tries to convey that everything in life has different versions, different points of view: we attempt to explain that we all have our own truth regarding a story. We can't talk about a single and only truth".
"Khamdamov is a genius", Morozova added before comparing the director's role with the film narrator's: "He looks a lot like Rustam, he tells us the tale and then disappears in the Infinite". She also pointed out that the entire shooting of The Bottomless Bag was "very, very long, around five or six months. At first we waited several days for the sun to come up, and then we managed to film the entire feature with natural light". Morozoca recalled that "a year later we had to add some winter scenes, which were very important, to portray the sensitivity of the thief's character, who also has a good side".
Morozova, who said goodbye to the media at one of the Pérez Galdós Theater's rooms with an spontaneous "I'm in love with Las Palmas", mentioned that in her opinion "this story also shows how art is infinite, regardless of the time we are living. In our world fantasy, imagination are essential, no Government can live without them". Although she also confessed that "honestly, it's hard for me to say what drove me to the project, actually I always find something new every time I see the film".
The Bottomless Bag will be shown this Thursday, April 12, at the Pérez Galdós Theater at 7 pm; and at the Monopol Multiplex tomorrow at 10 pm.