 At 6:15 pm at Cinesa El Muelle's Screen 2, it will take place the award ceremony honoring Iranian filmmaker Asghar Farhadi, as well as his meeting with the audience; later, at 7:15 pm, it will be shown on Screen 3 the film that won him the 2007 Golden Lady Harimaguada, Fireworks Wednesday
 The Cinesa El Muelle Multiplex, the Edificio Miller and the Elder Museum of Science and Technology will host screenings, conferences and events related to the Film Festival from April 9 on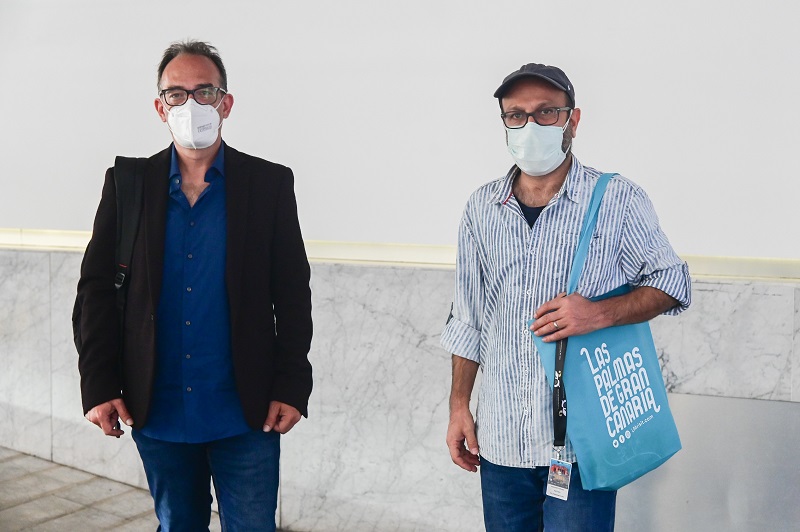 Las Palmas de Gran Canaria, Thursday April 8, 2021.- The Las Palmas de Gran Canaria International Film Festival starts its most special edition tomorrow Friday April 9 with the screenings, until April 18, of over a hundred films. This 20th edition will add to its "Official competition" and to "Band à Part", a section devoted to films made on the margins, its regular sections "Panorama" and "Panorama Spain", "Magic Lantern", "Déjà Vu", "Camera Obscura", "The Freakiest Afternoon", "Anthology 20th Anniversary" and "Special Sessions", as well as the 4th Market of Almost-Finished Films (MECAS). The Cinesa El Muelle Multiplex, the Edificio Miller and the Elder Museum of Science and Technology will host the Festival's 20-year celebration.
The Las Palmas de Gran Canaria International Film Festival, which again emphasizes its commitment to a philosophy committed to talent, to that sort of cinema born without commercial intent and far from conventionalisms, has scheduled for its first day the first of this edition's five tributes, to Iranian filmmaker Asghar Farhadi. The ceremony will take place at 6:15 pm at Cinesa El Muelle's Screen 2.
Farhadi's Honor Award reception will include a meeting with the audience, at 7:15 pm at Cinesa's Screen 3, followed by the screening of 2007 Golden Lady Harimaguada Fireworks Wednesday. Tickets grant access to both the screening of the film and the previous award ceremony, which will be broadcasted live through Lpafilmfestival'a Facebook page and through Promoción de la Ciudad: Las Palmas de Gran Canaria's Youtube Channel.
The first ones taking up Cinesa El Muelle movie theater, at 10 am on Screen 9, will be Canarias Cinema's Session 1 Short Films: Ocean (2020), by Fernando Alcántara; Pillimpo (2019), by Rafael Montezuma; Lila (2020), by Lamberto Guerra; Whence Comes The Rain (2019), by Elio Quiroga; The Infinite Confinement (2020), by Víctor Moreno; and Irmandade (2019), by Samuel M. Delgado and Helena Girón. They make up the first round of short films made by locals, which will be screened again at 5 pm after an introduction by the filmmakers themselves.
Canarias Cinema's first feature film, Between Dog and Wolf (2020), by Irene Gutiérrez, is scheduled for noon on Screen 9. The film produced by Canarian José Alayón, along with Marina Alberti and Viana González, portrays the adventure of three Cuban of the Angolan War who continue with their annual ritual of reliving their training as soldiers.
Panorama Spain's short films, Autoficción (Laida Lertxundi, Spain, USA, New Zealand, 2020, 14 min.), Homeless Home (Alberto Vázquez, Spain, France, 2020, 15 min.), The Martyr (Fernando Pomares, Spain, 2020, 19 min.), Foreigner (Lucía Aleñar Iglesias, Spain, 2020, 19 min.) and Solar Noise (Pablo Hernando, Spain, 2020, 16 min.) will be shown at 5 pm on Screen 4.
This section includes a fundamental title, Karen, Extremaduran María Pérez Sanz's second feature and first fiction film. Starring Christina Rosenvinge, who also wrote the score for the film, Karen focuses on the relationship the Danish colonist maintains with her Somalian servant Farah Aden, portrayed by American Alito Rodgers Jr., right at the time when her attempt to set in motion a coffee plantation in her farm at the foot of the Ngong hills turns into a failure. It will be shown at 7 pm on Screen 5 after an introduction by María Pérez Sanz and Christina Rosenvinge.
Panorama's four features La Nuit des Rois / The Night of Kings (Ivory Coast, 2020, 90 min.), by Philippe Lacôte, Fauna (Mexico, 2020, 70 min.), by Nicolás Pereda, Rizi / Days (Taiwan, 2020, 127 min.), by Tsai Ming-liang, and 76 Days (USA, China, 2020, 93 min), by Weixi Chen and Hao Wu, will be shown on Screens 6, 7 and 8.
At 6 pm at Cinesa El Muelle's Screen 9 it will be shown Pina (Germany, France, 2011, 103 min.), by Wil Wenders. Shot in 3D with the ensemble of the Tanztheater Wuppertal Pina Bausch, Wim Wenders pays tribute to the heartbreaking and unique art of this great German choreographer, who died in 2009. Following her path, the film accompanies the dancers beyond the theatrical space and enters with them into the Wuppertal landscape, the place that was the home and center of Pina Bausch's creative life for almost four decades.
Due to her inability to travel to the island, French cinema muse Julie Delpy, to whom the Festival pays tribute, too, alongside Asghar Farhadi, Isaki Lacuesta, Víctor Moreno and Claudio Utrera, will make a virtual introduction before the screening of the first of her films included in this edition's program, Le Skylab (France, 2011, 91 min.) At 7 pm on Screen 4 it will be shown this tender film about family relations that won her the Special Prize of the Jury at San Sebastián.
The Film Festival's full program is available at lpafilmfestival.com, and tickets are on sale through their seats' traditional portals: entrees.es for Miller's programming (Camera Obscura, The Freakiest Afternoon and certain special sessions related to French filmmaker Chris Marker's centenary anniversary); and at cinesa.es (Cinesa's website), which offers the rest of the program, except for Déjà Vu, which will be screened at the Elder Museum of Science and Technology (where MECAS will be held, too).