30mar11:00- 13:00Book Presentation: Shoah. El campo fuera de campo11:00 - 13:00 The Paper ClubTipo de evento:Panorama Informative Section
Detalles del evento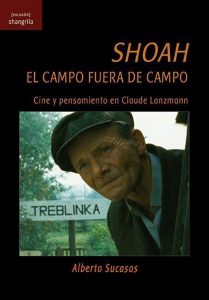 SHOAH. EL CAMPO FUERA DE CAMPO
Cine y pensamiento en Claude Lanzmann
Alberto Sucasas
(Shangrila, Santander, 2019) In SHOAH, and by extension in the entire filmography of Claude Lanzmann (1925-2018), two creative matrixes come together: on the one hand, a radically innovative work on film expression, with the aim of exposing an event – the Nazi extermination of European Jews – that challenges the powers of the contemporary audiovisual; on the other hand, an implicit reflection on the status of the image (its problematic relationship with the reality it seeks to represent; its potentially alienating effects on the spectator; its paradoxical complicity of presence and absence…) that, indirectly enunciated through the decisions of staging, constitutes a first-order contribution to the theme of the iconic. Both dimensions, aesthetic and thought-provoking, make this film a superb example of 
thoughtful cinema
. To be elucidated, that duality invites us to travel two paths. The first one explores the presence in SHOAH of the overdetermined problem of the production of images: its anthropological foundation (the link between icons and consciousness of mortality); the ancient dispute between 
iconophilia
 and iconoclasm; the variegated scenario of contemporary iconography, where three fundamental vectors (technical innovations; emergence of the avant-garde; critical discourse of philosophy and the human sciences) come together. As for the second, it focuses on the irreducible specificity of SHOAH's poetics, the result of the encounters between two of the greatest signs of identity of the last century: the proliferation of barbaric practices on a historically unprecedented scale and the hegemony of the film apparatus as the main artistic medium of contemporary creation. The analysis has to account for how, from an initial impossibility (to represent that, the Thing, of which in advance it renounces to offer any image: In SHOAH, the field is out of the field) and of a double material (the face, speaking or silent, of the witness; the silent presence of the spaces of genocide, filmed decades after their perpetration), Lanzmann's genius has been able to create a filmic monument where the invisible ends up acquiring, in spite of everything, a spectral presence.  Serving this objective there is an artistic device that, from formal austerity or asceticism, takes the filmic representation to one of the maximum achievements of its entire history. And it renews, with unprecedented radicalism, the language of film, particularly the image/sound dialectic and the prominence of editing.
Alberto Sucasas
Philosophy professor in the University of A Coruña, his birthplace. His publications are focused on the presence of Jewish tradition in contemporary thinking (primarily, Lévinas and Derrida) and the philosophic impact of the Shoah: 
El rostro y el texto
 (2001), 
Memoria de la Ley
 (2002); 
Lévinas: lectura de un palimpsesto
 (2006); 
Celebración de la alteridad
 (2014). In 2014 he was awarded with the XV Miguel de Unamuno Essay Award for the work 
La Shoah
 en 
Lévinas: un eco inaudible
 (2015). He is also interested in the philosophy of the limit by Eugenio Trías: 
La música pensada
 (2013). He has translated books from philosophers such as Paul Ricoeur, Henri Meschonnic, François Jullien, André Neher or Pierrre Bouretz. Alberto Sucasas is a member, since its foundation in the mid-90s, of the Judaism research group directed by Professor Reyes Mate in the Institute of Philosophy at the Center for Human and Social Sciences of the Spanish National Research Council (CSIC). With this essay he is trying to fraternize his dedication to philosophy with a highlighted 
cinephilia
.
Hora

(Sábado) 11:00 - 13:00
Localización

The Paper Club

Calle Remedios, 10, 35002 Las Palmas de Gran Canaria, Las Palmas